1974 Porsche 911 Turbo 3.0 Review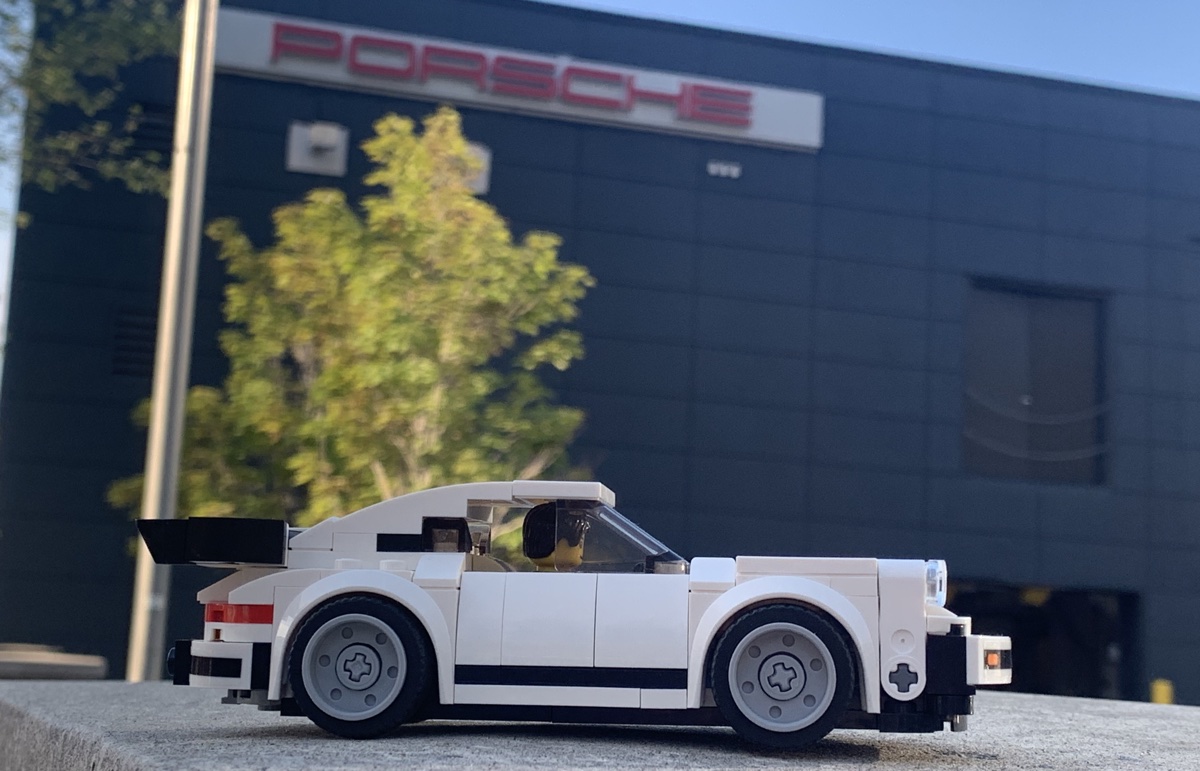 So here it is, the first new LEGO Speed Champions release since we launched this site in mid-May, the much rumoured and even video game featured white 1974 Porsche 911 Turbo 3.0 model. Of course while we might be super excited to see a new set, it's not like we haven't seen this exact model before - the Porsche 911 RSR and 911 Turbo 3.0 set featured this exact model in a lime green colour. In a recent interview the design manager for Speed Champions was clear that this release is about getting the '74 911 Turbo in more hands, making it more accessible, which is a nice move by LEGO.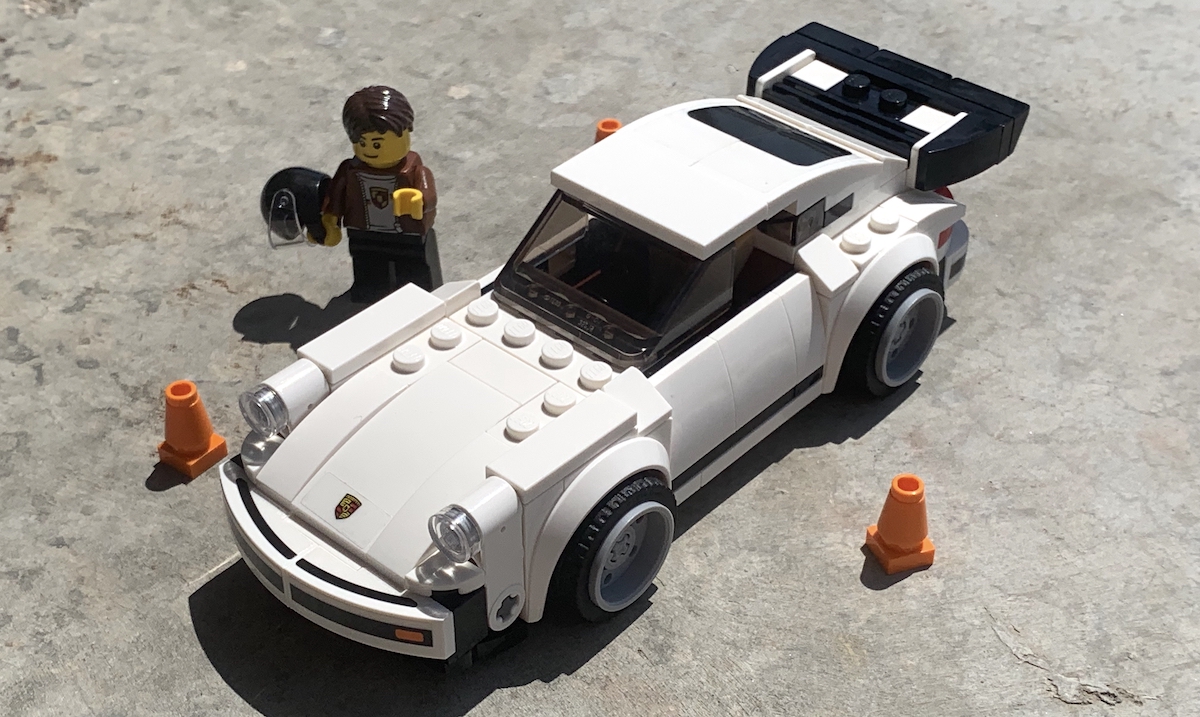 Putting this set in white was a great move, White is a traditional motorsport color for Germany and Porsche specifically, and these 70s and 80s cars can often be seen in the color. Additionally, since the model (and real life vehicle) feature a lot of black detailing, there's a great contrast look to the set without having too many colors involved - it really makes the Porsche badge and that red rear light pop.
A small but important detail for you MOC creators out there, this is one of the first sets to come with completely transparent stickers. What does that mean? Well, unlike the lime green 911 where stickers like the rear window contained a green background, all the stickers in this set are on a clear background, meaning they could be stuck onto any colour brick behind. We're very excited to have a go at some custom creations based on Porsche's historic motorsport liveries (Brumos anyone?) thanks to this sticker set.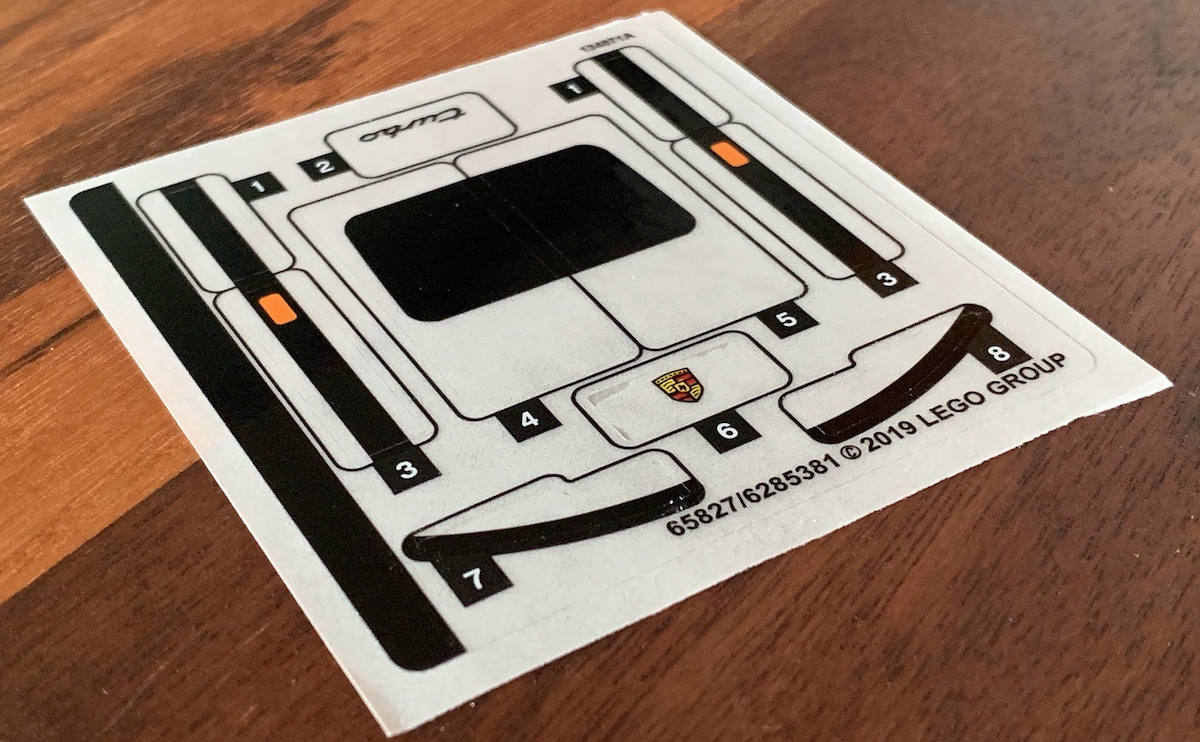 The front of the model is absolutely exceptional, with vertically oriented rounded pieces and round circular lights forming the unique profile of the front of a Porsche 911 from this era. The 'tea tray' rear wing is ever present, with lots of side and rear texturing to capture the scooped nature of the real-world rear spoiler. The rear wing is actually so huge on this car you can barely see the 'Turbo' badging on the model, just above that distinctive full-width red rear light modelled here with a full width piece (could pose an issue for anyone planning build a Guards Red MOC of this set!)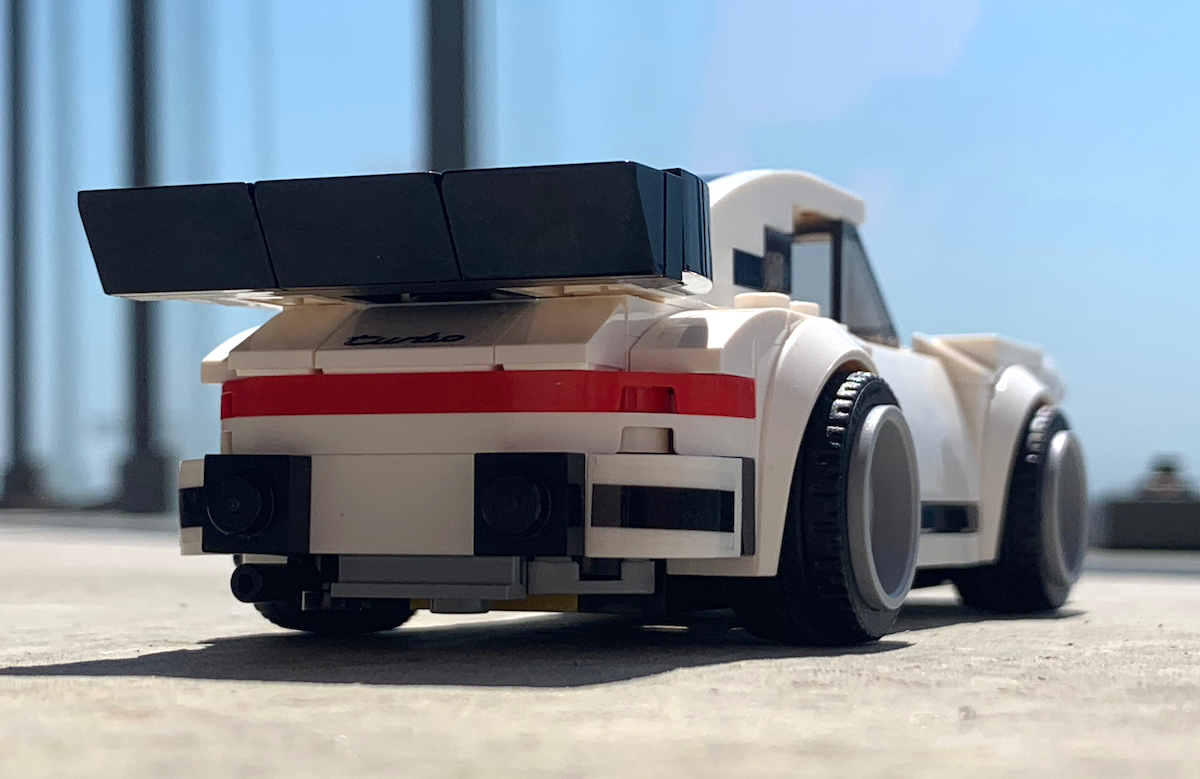 It may just be the case that I haven't built any Speed Champions with this model style recently, but the wheels mounting to full width axels and using wheel nuts to retain the wheels adds a nice chunky look to the wheel. I'd have preferred to see slightly wider tyres for this model, having the wheel rims stick out significantly from the tyres detracts a little bit but it's not too much of a big deal.
There's even a tiny single exhaust pipe tucked under the rear of the model, a great detail, along with some underbody detailing which does a good job of hinting at the rear engine and undertray on a 911. The prominent bumper overriders are even captured in the model at the back which is really specific to the 70s and 80s era cars.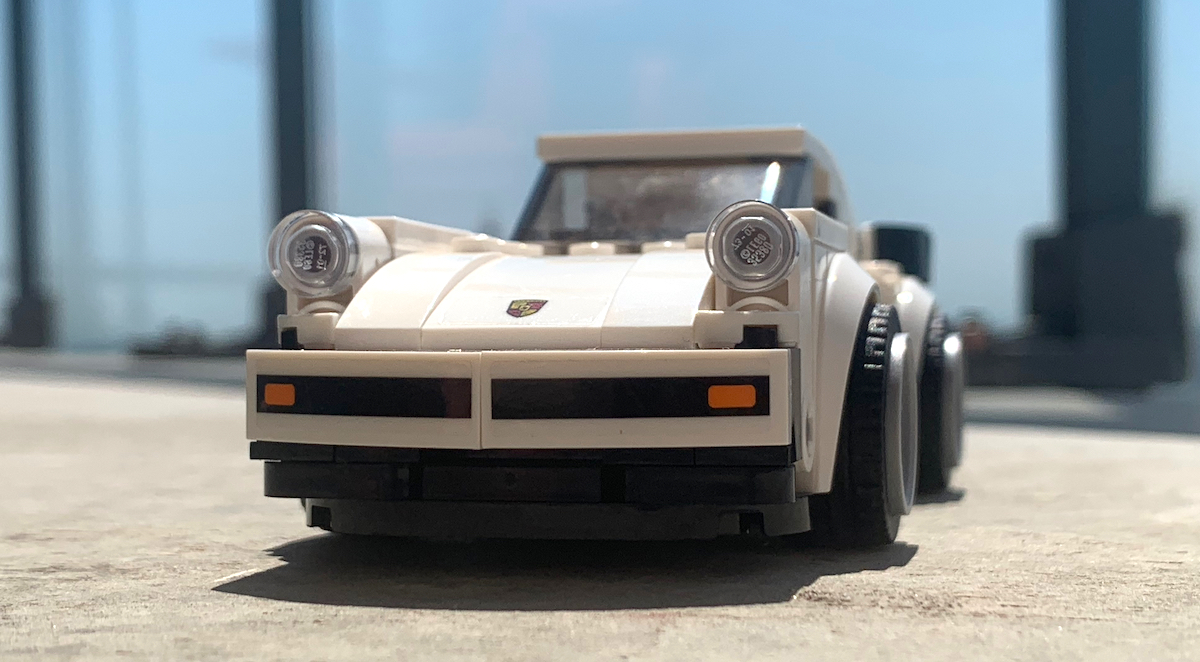 We've already mentioned the transparent stickers at length, one small note of caution when you're building this set - if you begin to peel transparent stickers they are much less forgiving of marks and folds, starting to look bad very quickly, especially on a white background like this. The model itself has very minimal stickering and it's great - the stickers really accentuate and bring the model to life, with a trademark black stripe around the car between blocks and on the bumpers and just the badging and rear window apart from that.
The use of such minimal stickering on Speed Champions models is a real hallmark of these latest sets (the McLaren Senna is another good example) - I think using so few stickers shows a confidence in the ability of the detail built into the model to reflect the real life vehicle and capture the key elements and character. This model really is exceptional in that regard and shows the level of work that goes into these sets.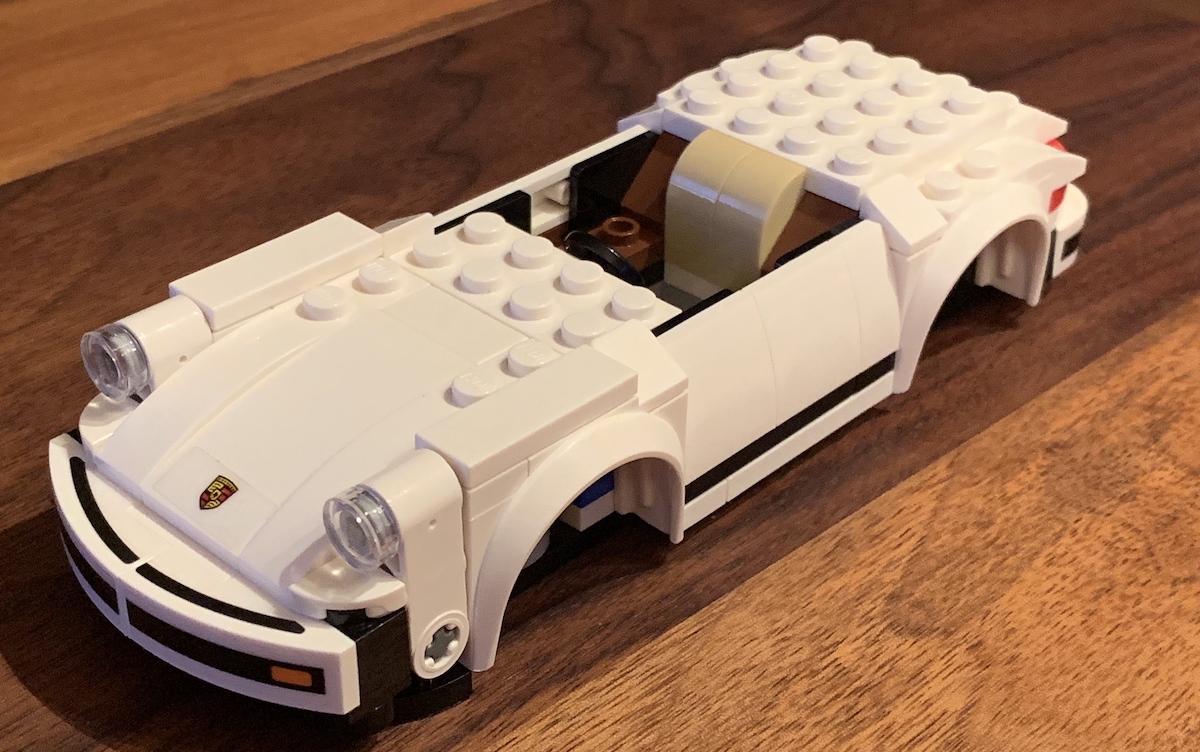 The model itself is really solid, with strong mounting of the sides and a very rigid structure through the center of the model - this would stand up to being played with easily, although even in just a day or two's experience with the model it's easy to lose the exhaust and rear wing in transport. The rear wing itself is also a little fragile.
Now for something controversial - this model would be better with at least two extra stickers. If you're a fan of this era 911, or if you even look at the real life model pictured on the box art, you'll see that real life 911s come with stickers covering the front of the rear arch, protecting it from stone chips. These are very distinctive, especially on the 70s and 80s cars. Adding a sticker to this model would really add an extra touch to the black character line around the car but it would have been a very challenging sticker to design and place so I understand why LEGO chose not to.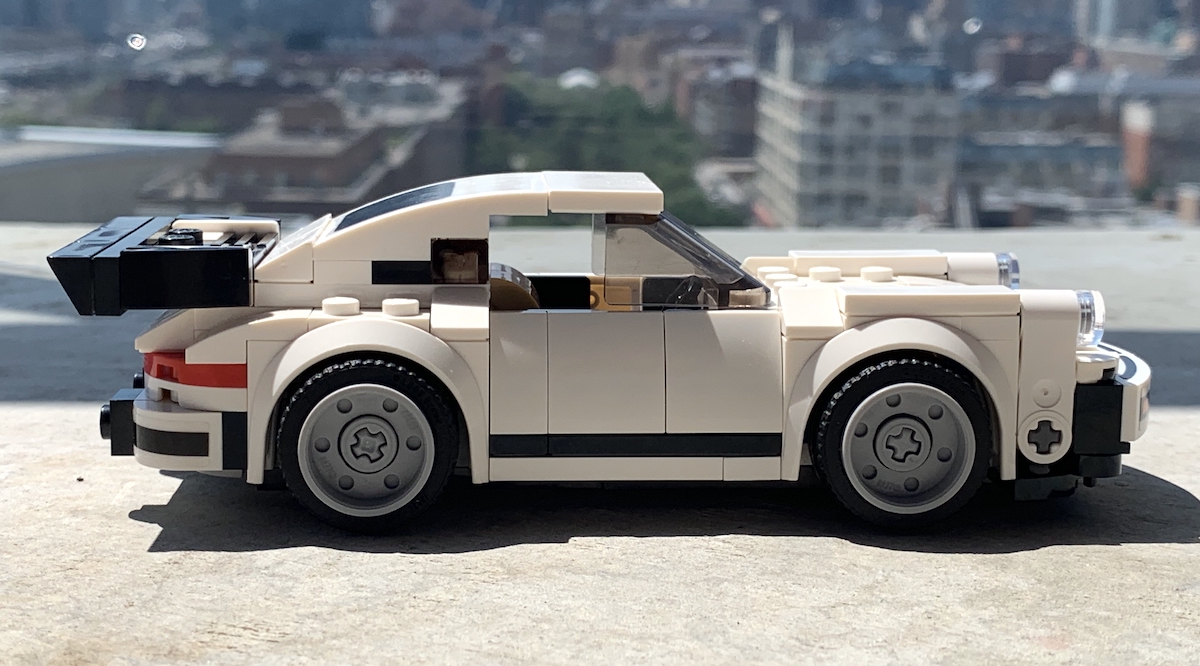 Speaking of the set box, it features some great imagery - being set at Porsche's Leipzig test track and featuring the iconic Diamond tower with Porsche logos heavily in the background. There's also prominent "Drive in Forza Horizon 4" branding on the front of the box - although there are some catches with actually driving this car in the game. Firstly, you must own the Speed Champions expansion for Forza Horizon. Secondly, inside the expansion itself, the car is not selectable from the beginning and has to be unlocked by completing a significant portion of the expansion and finding it's secret location in a barn. Not a huge deal, but worth bearing in mind if you're a LEGO fan and were planning to jump your Xbox or PC to race this car around virtually.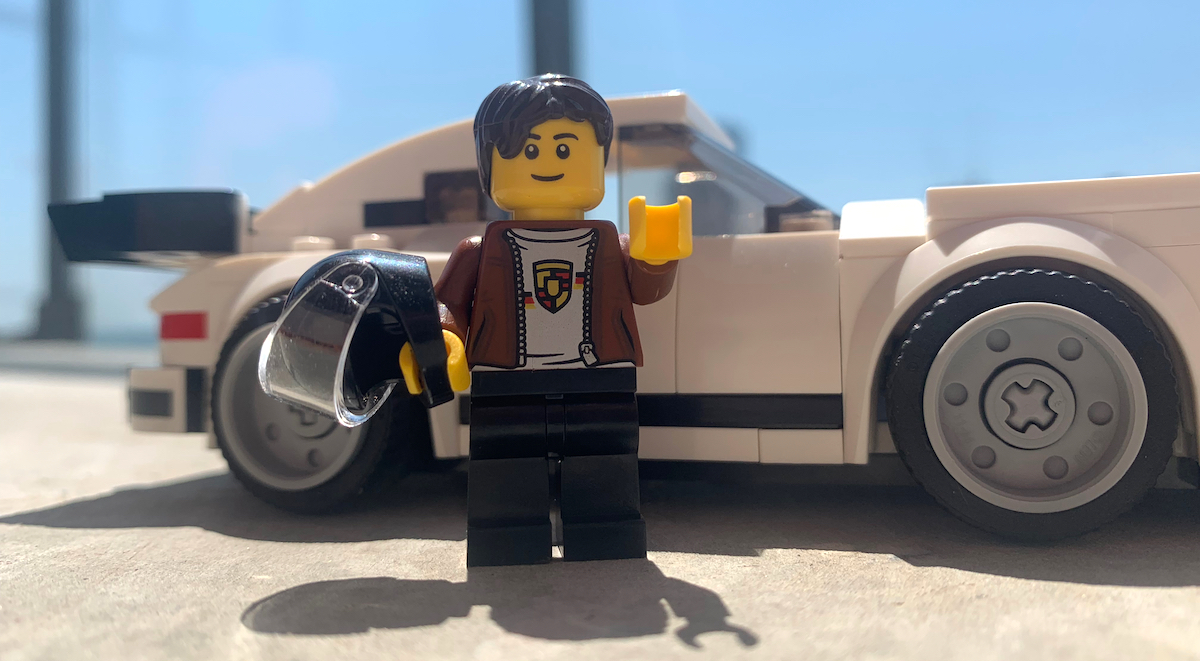 The minifigure included this set is a nice touch too, coming with both a race helmet and hair so you can street or track this 911. The Porsche T-shirt the figure is wearing below their leather driving jacket is actually the rare Edition 01 - Porsche Crest collectors shirt issued a few years ago now in the Porsche Drivers Collection range. The Minifig is also easy to get out of the car due to the cab design, with the windscreen and front roof not rigidly attached to the back of the model.
The accessories included with this set are even more minimal than those included with the McLaren P1 with just 3 cones/pylons making it up. The overall piece count of 180 for this set is super low given the level of detail on the vehicle, for comparison the 2019 McLaren Senna set 75892 has almost 220 pieces. The minimal accessories in this set make total sense given the intention was to let more people get access to this sweet 911 model at a lower price - anyone wanting a whole bunch of accessories or a bigger set should definitely be looking at the RSR/Turbo 3.0 double pack in set 75888 instead.
Real World Stats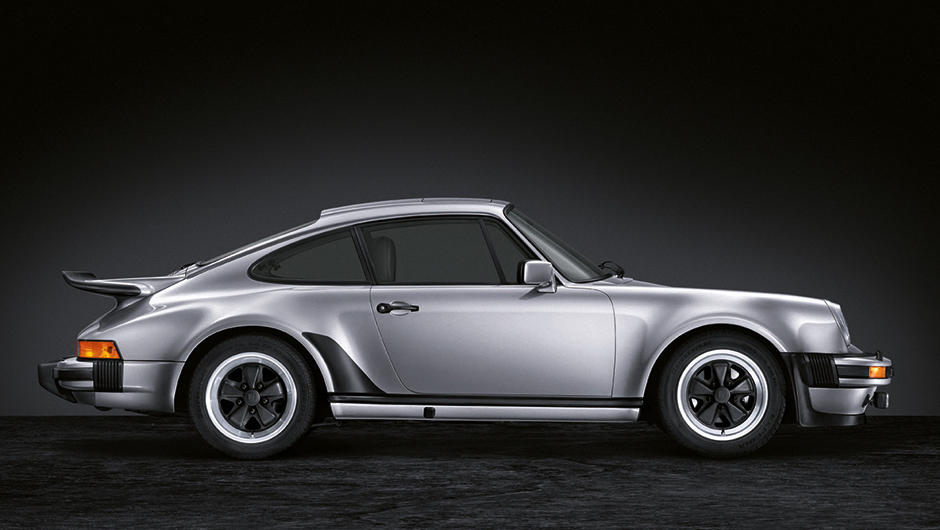 The 1974 Porsche 911 Turbo 3.0 was the very first Turbo 911. At the time of release it was the fastest mass production car in the world. Producing 260 horsepower a 3.0 Turbo engine it could reach a 155 MPH top speed and go from 0 to 60 MPH in 5.5 seconds - a figure that's still reputable today, nearly 45 years later. The car came with a 4 speed manual transmission and a huge rear wing to meet the cooling demands of that turbocharged engine.
Designated the 930 internally at Porsche, only around 2800 3.0 Turbo cars were produced in total before production switched to the later 3.3 engine in 1978. The car was initially produced to meet homologation regulations for the 1976 FIA Group 4 and 5 race series but gained a cult following. Tricky handling coming from the rear-engine weight bias and turbo lag of the car gained it the nickname 'Widowmaker'.
Rating
Overall: 92 (How we rate sets and models)
| | |
| --- | --- |
| LEGO-ness | 5 |
| Detail | 5 |
| Build | 4 |
| Display | 5 |
| Accessories | 4 |
The LEGO-ness of this model, how it trades looking like a LEGO model with being accurate is a masterclass. The designers have clearly put a lot of thought into where to leave studs visible and expose components to give it that LEGO look but absolutely nailed the shape and proportions. Top it off with a very minimal and well executed set of stickers and it's perfection.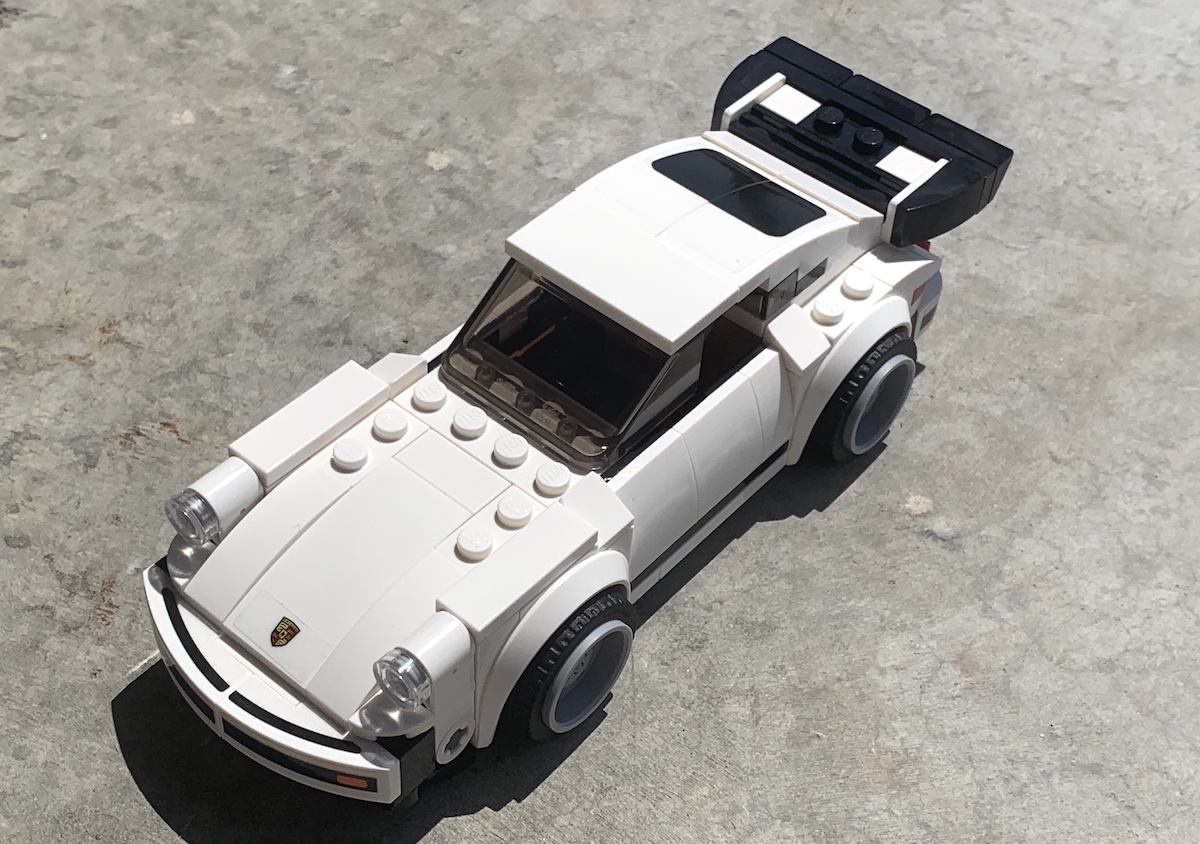 Between the scores for Detail and Build I had to knock a point off somewhere - for the back end of the model being totally solid inside. While there's some attempt at suspension towers behind the wheels, there's no detail work when you build up around the engine of the car which is a shame, although it's minor and doesn't affect the look of the model.
Apart from this the model is amazing, great for Display and with a lot of nice touches. The accessories are forgettable, but so they should be in a set like this. If this is a taste of what we can expect in the Speed Champions line in 2020 we're in for an amazing year ahead with the potentially 4 additional new sets we're expecting to see.
On the topic of 2020 releases, re-releasing individual models from multi-model sets as an ongoing trend is interesting. I'm hoping we aren't going to see a huge amount more of this - I'd really like the teams to prioritise putting models they want to see individually in single model sets to begin with. As the Speed Champions line has a relatively fixed number of sets at any given time, any re-releases take away from the variety of manufacturers and models we're going to get over time, which would just be a little sad when there are so many awesome cars and manufacturers out there.