2021 LEGO Speed Champions Sets Announced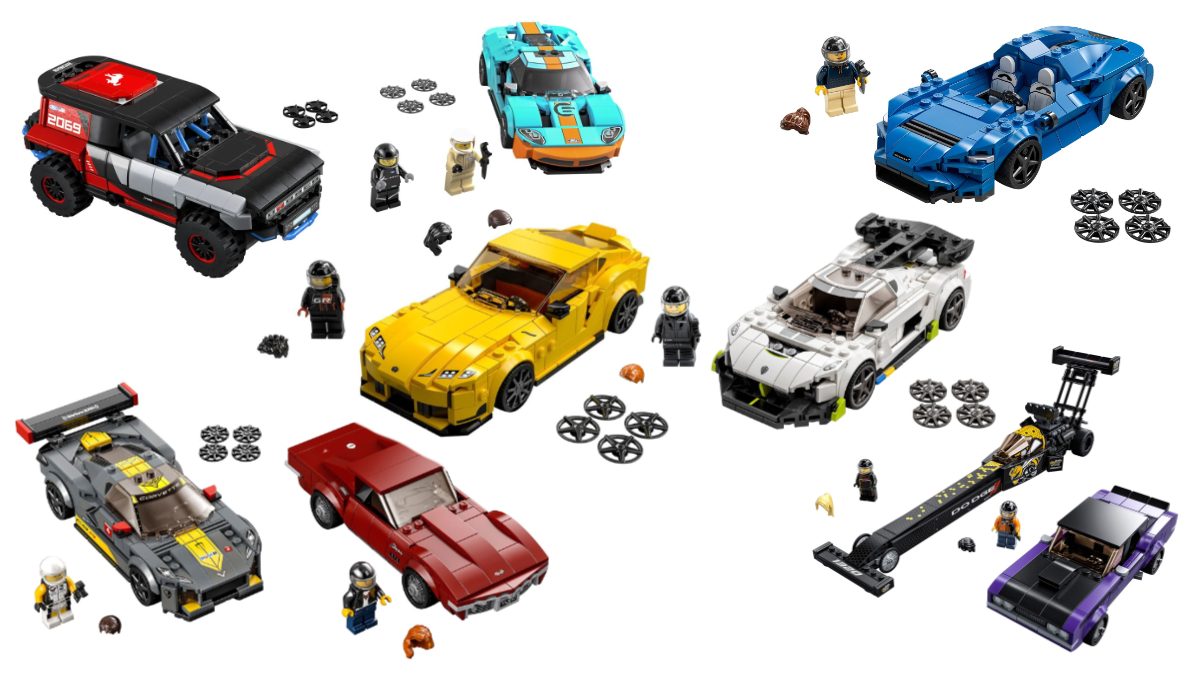 For Speed Champions fans out there, this is the big drop, with six new sets that we're going to see from LEGO in June, replacing the existing range that brought us our first look at the 8-wide format. It goes without saying LEGO have stuck with the bigger models - last years sets were arguably some of the most detailed and impressive to date and the larger piece count no doubt contributed to a slight raise in price/selling point for the sets. We've also seen a continuation of all the pieces being dedicated to the vehicles themselves, no detailed background builds like the Ferrari Ultimate Garage.
Here's what's coming to the line this year:
LEGO have gone America heavy this year, with almost two thirds of the models being from US brands, indeed all three two-packs this year feature American brands. With many of the vehicles not sold in Europe, overall the choice seems unbalanced for a world market. Gone are the Ferraris and Lamborghinis of Speed Champions releases gone by. There's also a pretty niche following for the Koenigsegg Jesko and McLaren Elva - leaving only the Toyota GR Supra as a world wide, mass market vehicle. Time will tell if any of these are potential classics.
Koenigsegg Jesko (set 76900)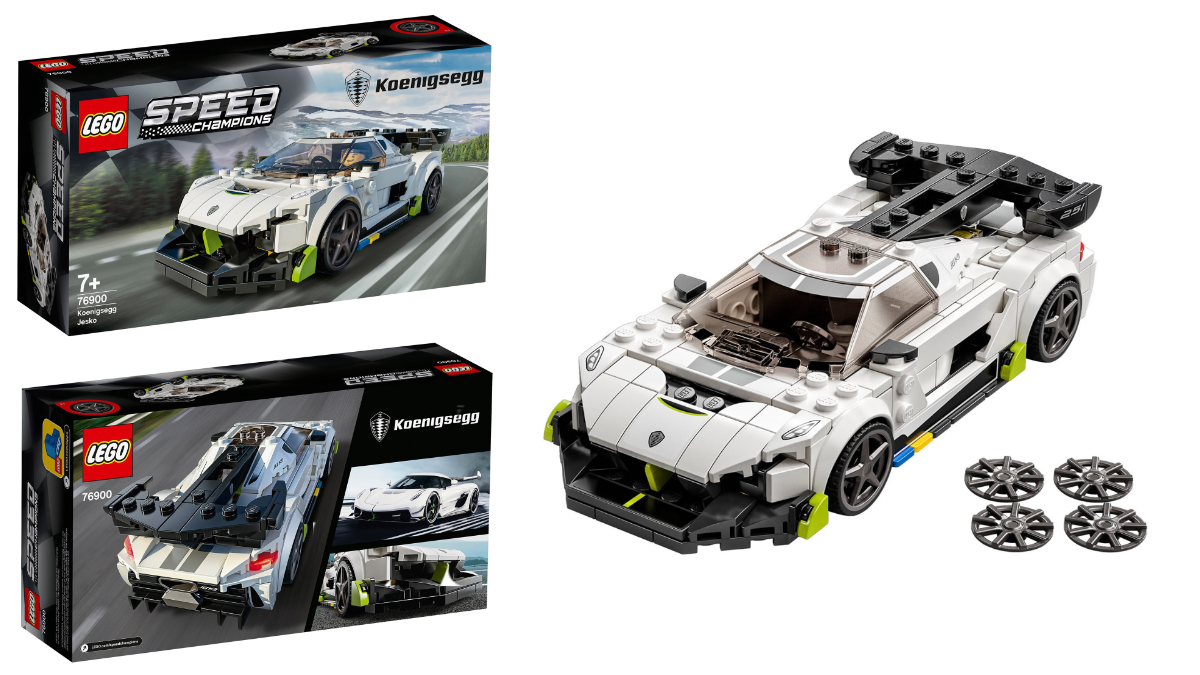 The Jesko picks up the mantle of the hypercar tier for Speed Champions - we've had a Bugatti Veyron in the line before, and it's surprising to see a licencing deal between the small Swedish hypercar marker and LEGO given their long standing relationships with brands like Ferrari and Porsche. With the modern trend toward small LED lights on cars, it's understandable the designers have had to rely on stickers, but it's at least nice this car isn't in a race livery and there are some brick-built details like the rear spoiler.
Toyota GR Supra (set 76901)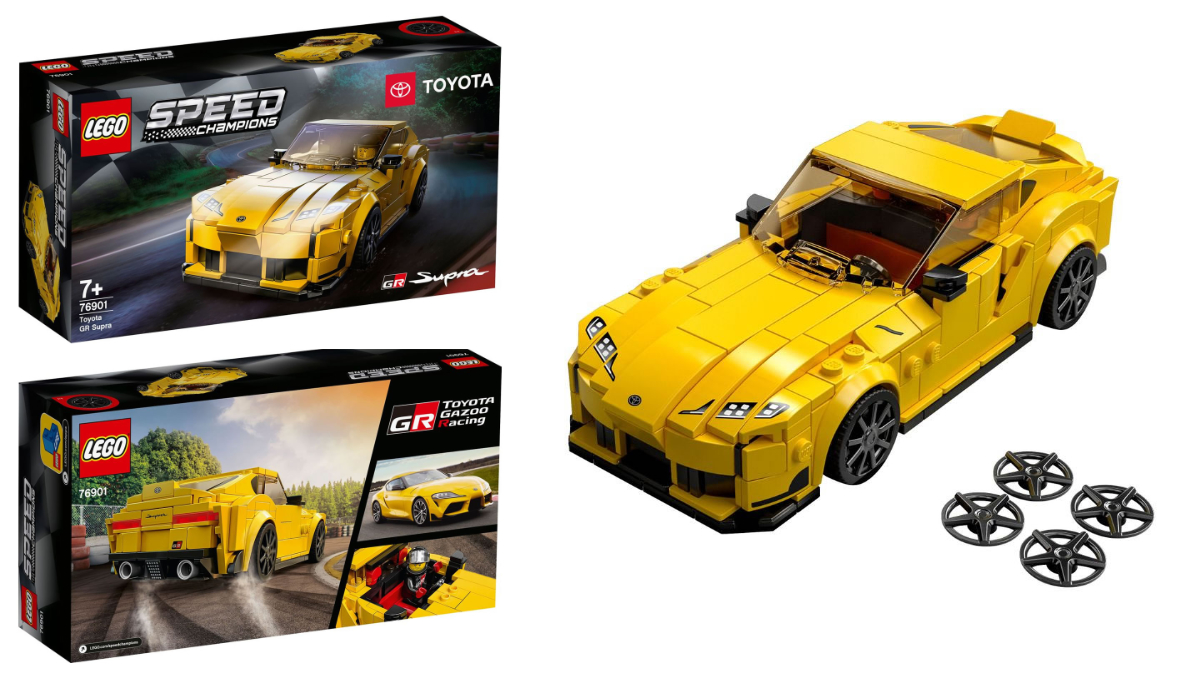 The GR Supra isn't a new car - Toyota released this fifth generation model all the way back in March 2019. Speed Champions really hadn't done too many Japanese cars before last year's Nissan GT-R NISMO set, and as Toyota competes in the highest levels of endurance motorsport it's surprising LEGO didn't take the opportunity to make this a twin-pack with an R92CP or TS050 prototype Le Mans race car. On the other hand, the new Supra is expected to be a feature car in an upcoming Fast & Furious movie and yellow is it's signature color for 2021. The model overall has an odd shape, replicating the long-nose small cabin look of the car, it'll be interesting to see how good this one looks in real life. Our favourite element of this one is definitely the twin tailpipes.
McLaren Elva (set 76902)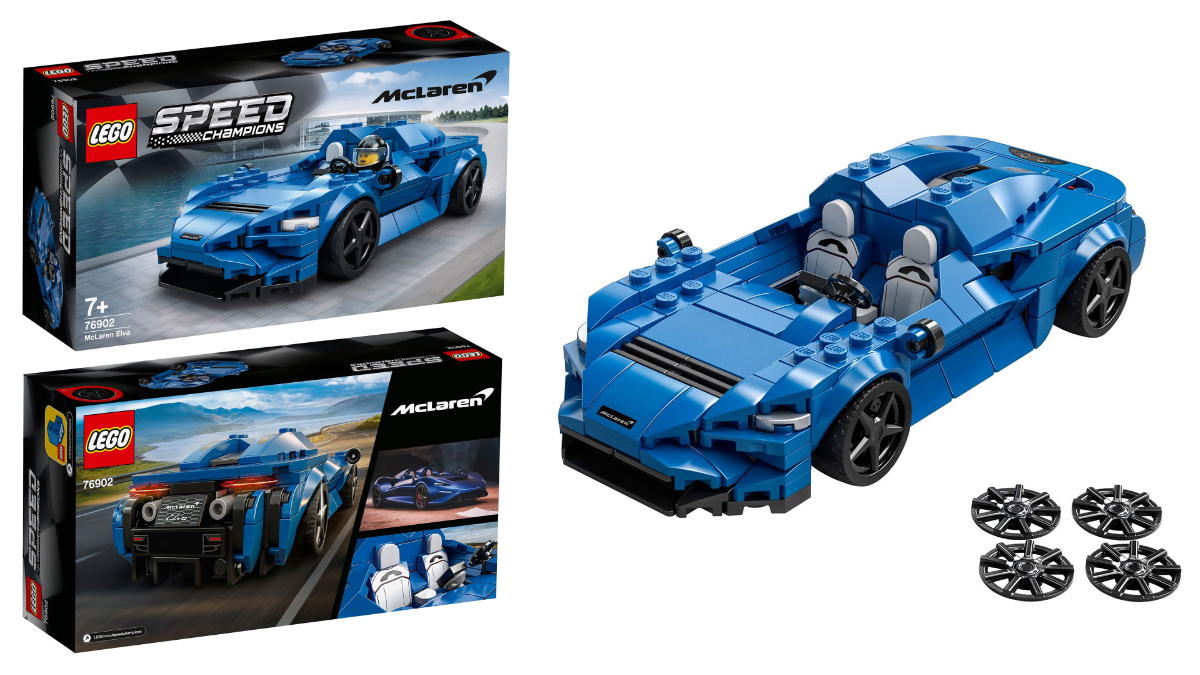 Last year we saw the first Speed Champions polybag - the Lamborghini Huracan EVO, which came out after the 8-wide Speed Champions version of the Huracan. This time around, the polybag of this Elva came out all the way back in December and we've waited until now to see the full-size version. It's hard to say whether the Elva qualifies as the most notable for feature from McLaren's lineup - but given we've seen the P1, 720S and Senna already it's at least something different with no windscreen and a fairly minimal footprint.
From a build perspective, most of this model appears to be around two blocks high - unusual, and certainly going to yield a low, sleek profile. One thing though, much like Ferraris are to red, to our eyes a McLaren suits the trademark orange hues we see them in a lot more than this blue.
Chevrolet Corvette C8-R Race car and 1968 Chevrolet Corvette (set 76903)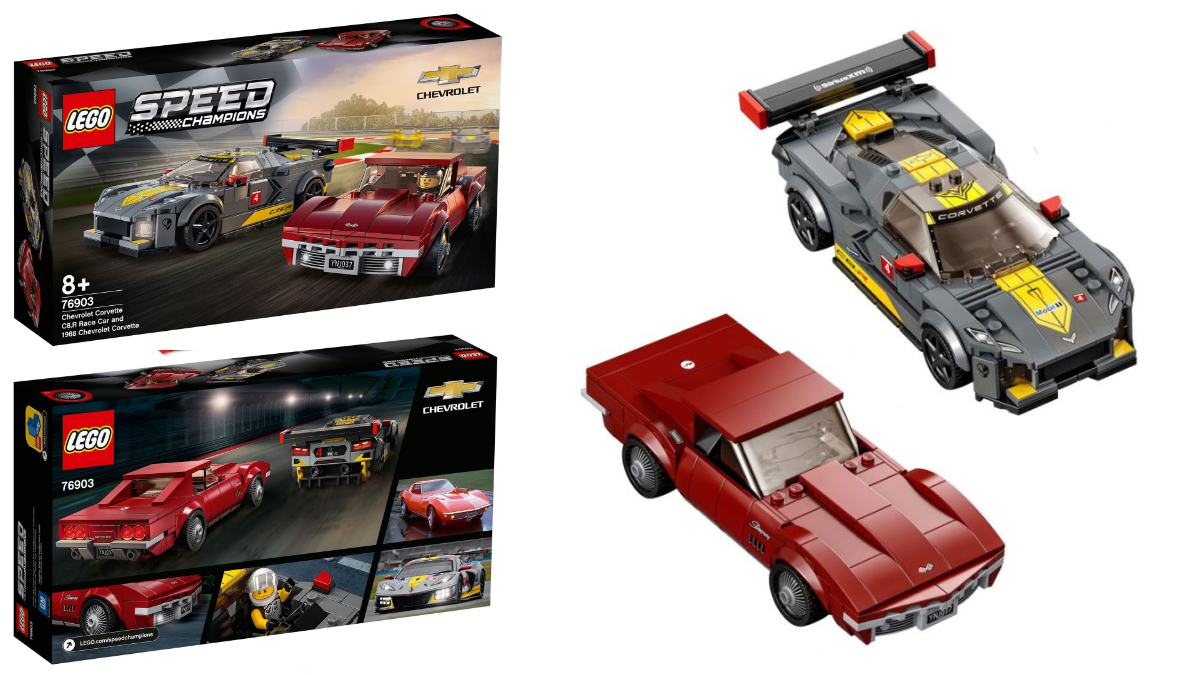 We saw a roadgoing Chevrolet Corvette C7 model as part of the 2016 set releases, and we've been speculating about when we'd see the new mid-engined C8 Corvette feature in Speed Champions for a while now. Some fans might find it controversial that LEGO have gone for the grey colour here for the Corvette, given Corvette Racing's often yellow race livery - there seems to be a lot of built detailing on the modern race car here and not an overly heavy stickered livery, so lots to like.
Accompanying the race car is a classic '68 Corvette C3 in red - LEGO have made some interesting moves with the way they've not used standard Speed Champions wheels for this and the Dodge Challenger set, and it does look from the pictures the two classic American muscle cars have been built low and wide to really capture how they should look.
Mopar Dodge/SRT Top Fuel Dragster & 1970 Dodge Challenger T/A (set 76904)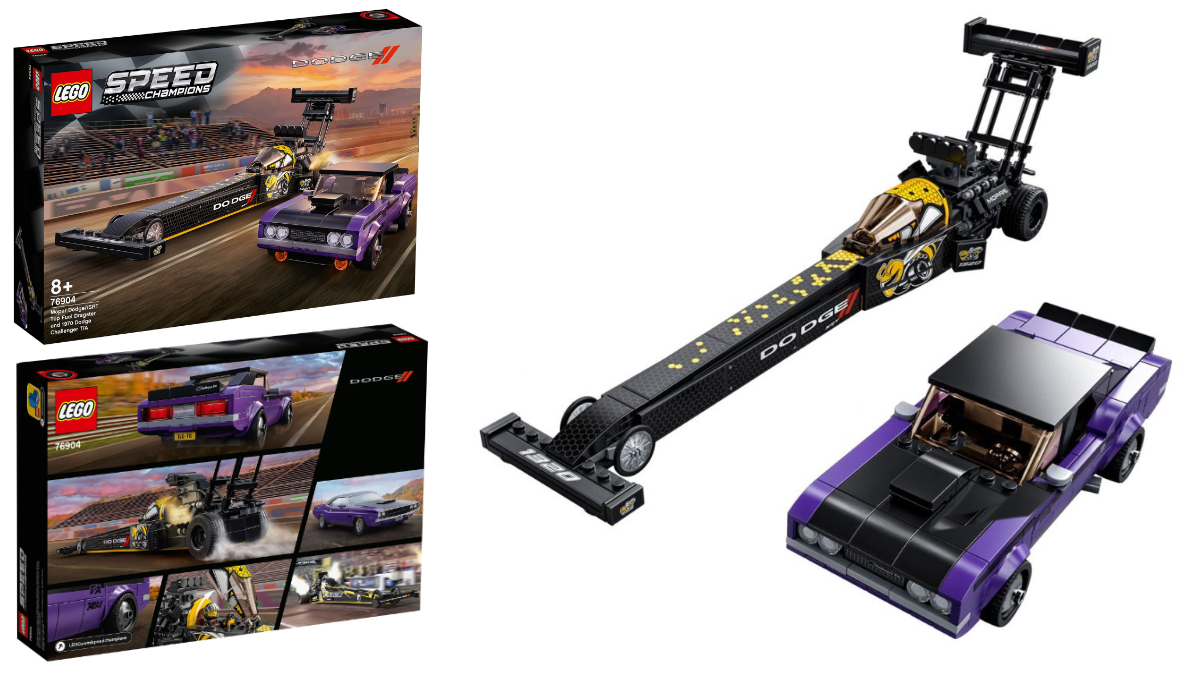 There's no doubt this is probably the most controversial set in the release - the Mopar/Dodge SRT dragster is accurately represented here, but makes heavy use of stickers for the livery and overall doesn't have many of the styling cues from production vehicles that in our opinion, make the Speed Champions theme interesting as being somewhere between LEGO sets and model vehicles. The detailing on the Challenger looks good, so in some ways it contributes some interest for those less interested in the top fuel dragster.
We've had previous drag sets from Dodge in the Speed Champions line; the combination of the 2019 Challenger SRT Demon and a 1970 Charger R/T being particularly reminicent of the Challenger from this set - certainly the Challenger here also completes the American theme to this year's releases with the '68 Corvette C3.
Ford GT Heritage Edition & Bronco R (set 76905)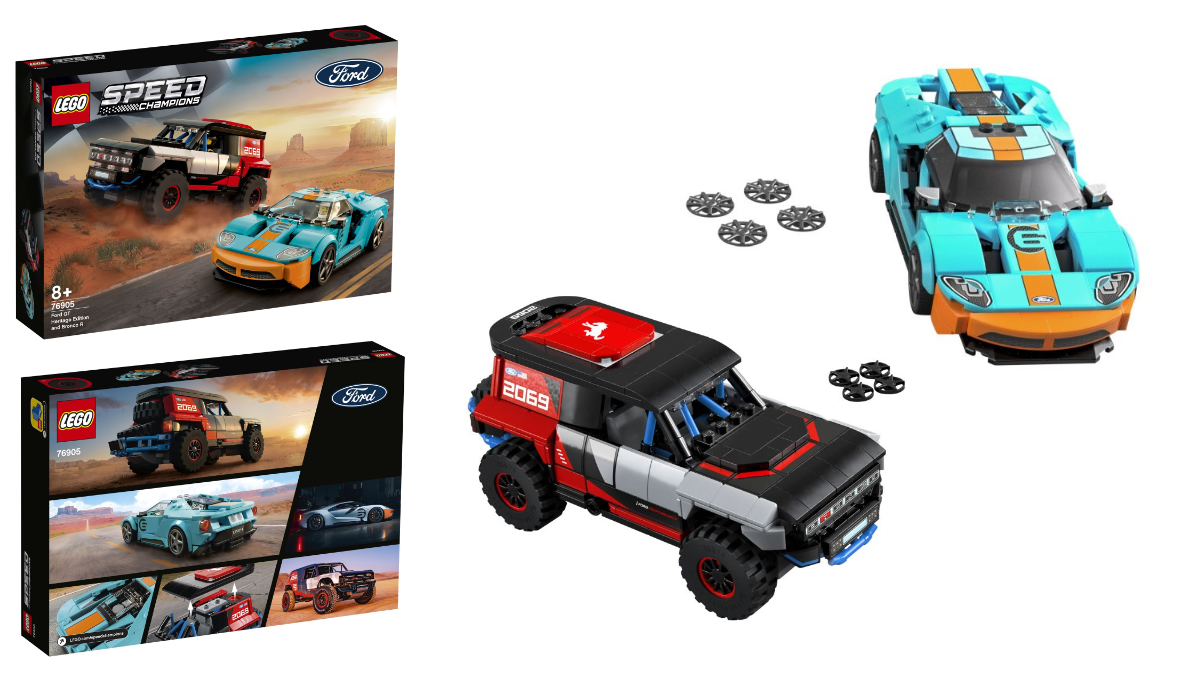 Last year we had two twin packs that featured a combination of a sports car and an SUV, this year it's just one as LEGO combine the Ford GT and the much hyped Ford Bronco (albeit in race trim as the Bronco R) here. If you feel like you've seen a Speed Champions scale Ford GT before, you wouldn't be wrong - back in 2017, LEGO released a twin-pack featuring the 2016 Ford GT race car and a 1966 GT40. For this set, LEGO have chosen the heritage edition, which while technically not a race car still features a livery, and in this case it's in the Gulf colour scheme (although notably missing any Gulf branding). The Ford GT here is essentially the same vehicle as its 7-wide sibling from 2016, so we'll be interested to see what, if any design differences have made their way into this model.