2018 Dodge Challenger SRT Demon and 1970 Dodge Charger R/T Review
I'm going to start this review with probably the most important sentence in it - If you were on the fence about buying this set, just do it, you will not regret it. For all of the YouTubers and reviewers stating that 2019 was a weak year for the LEGO Speed Champions collection, this set definitely proves them wrong. So with that said, let's look at what is so good about Set 75893 where we will go racing with a 2018 Dodge Challenger SRT Demon and a 1970 Charger R/T.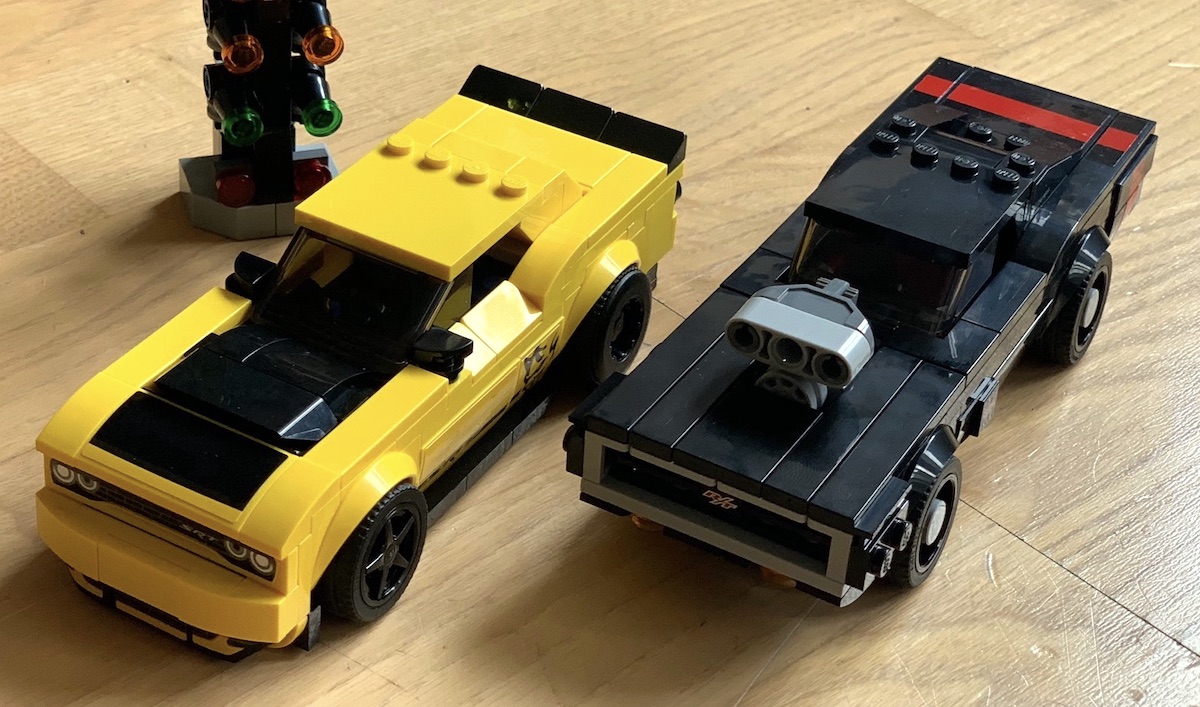 So where we first saw Speed Champions start was in the 'holy trinity' - supercars such as the Enzo, the P1 and the 918 Spyder. In later years it diversified but still remained very biased towards the European manufacturers. Around 2017/2018 we started to see American muscle creep in, and now here in 2019 I honestly thing they've honed their craft and created one of the best sets yet. That's coming from someone who's not ordinarily a huge fan of muscle cars.


So what do you get in Speed Champions 75893? Well, you'll be looking at shelling out more money than usual because it's a two car set. Let's start with the 2018 Challenger SRT Demon, an absolute beast of a car in real life. First thing you notice about the LEGO version? They haven't gone with the brochure red that all of the press photos and cars were, and I really like this choice. Yellow makes the model really pop and going with the 'Bumblebee' colour scheme of accentuating the main body colour with black hood scoop and wing as well as vinyl graphics I think it's a brilliant choice.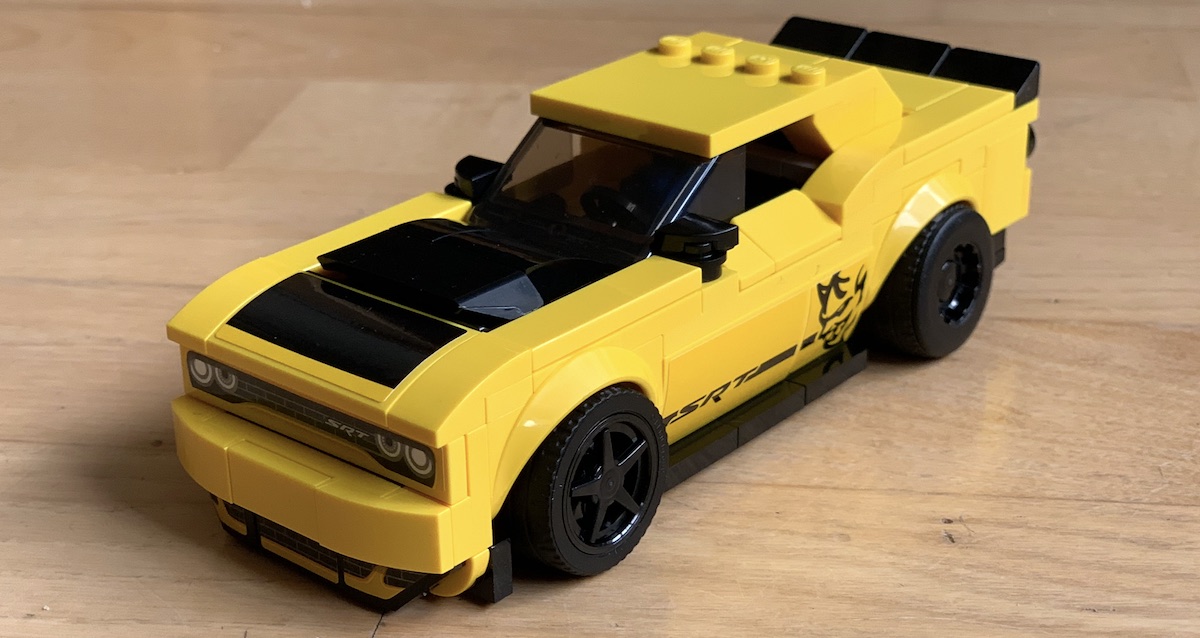 On the Demon they've stayed true to life with the ability to put full drag tires on the back (using the same tire extenders seen in the Camaro ZL1 Nascar set). It's a really neat little feature seeing as people do this with the real car. I also like that you have the choice with the set to either run on all 4 drag tires or switch it back to plain sport rims. The usual slight moan in that the rims are the Speed Champions standard 5 spoke sport rims and the multi-spoke exotic rims. I especially like the fact that the rear lights are actually custom pieces rather than translucent LEGO pieces, and I agree with the way they've done the front - sticker rather than building out the front lights, it adds more realism to the front end.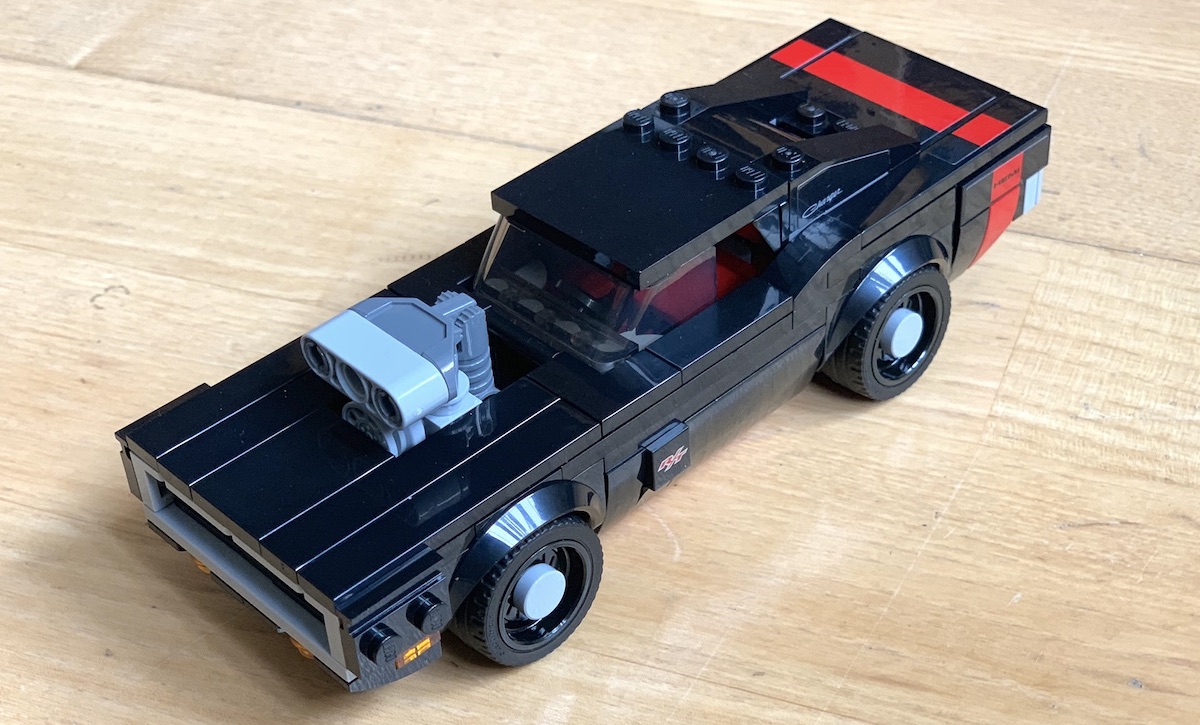 The Charger RT has quite a cool feature where you can swap between a normal hood and the exposed block engine, compared to usual sets I like how easy it is as it's pretty much just a swap in swap out. On some of the other sets changing the fronts and other parts can be quite fiddly. The charger also has a very cool front end (the real car is quite unique) and I really like the approach LEGO have taken to building the front end out. Both cars suit the blockiness of LEGO (unlike, say, the McLaren 720S which relied on a lot of curved or special parts), so the enjoyability of building both of these cars is really high.


What else comes in the set? You get quite a cool and actually technically engaging set of drag strip starting lights. You build these out, they have cool stickers on them and a little mechanism for setting the lights up and down. Theres 3 characters, 2 of which come in their Dodge branded race suits and one is like a starter/official person. It's good value for money and as of around mid 2019 I'd hazard a guess that it's probably ended production as I've started to see it being discounted at some retailers, so if you want to pick this up on the first hand market I'd say go for it now before it starts being out of stock and becomes eBay fodder.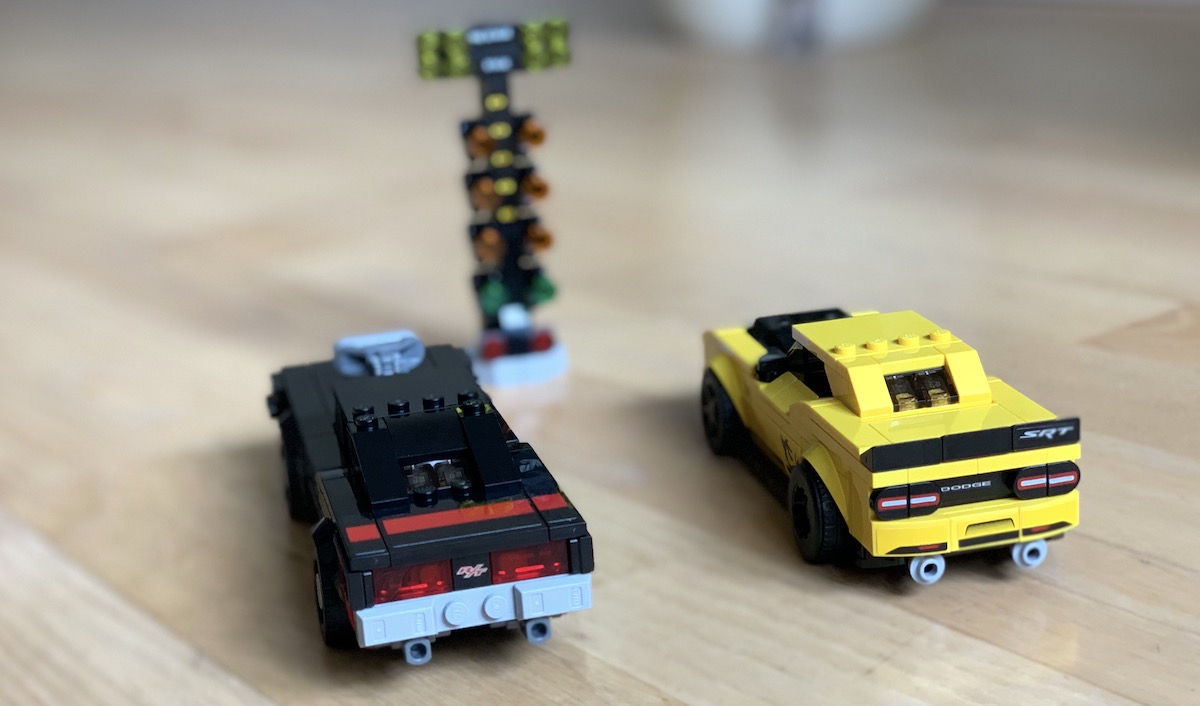 Build Video
Real Life Stats
2018 Dodge

 Challenger SRT Demon

Price (new): US$ 86,090

Engine: 6.2 Litre Supercharged, 808hp
8 speed transmission

0-60: 2.3 seconds

Top Speed: 168mph (limited by the tires!)
'70 Dodge Challenger RT

Price (used): ~ US$ 50,000

Engine - 425bhp 426 Hemi
Torqueflite auto box

0-60: 6.2
 seconds
Top Speed: 146mph