Formula E Panasonic Jaguar Racing GEN2 and Jaguar I-PACE eTROPHY LEGO Speed Champions Set Announced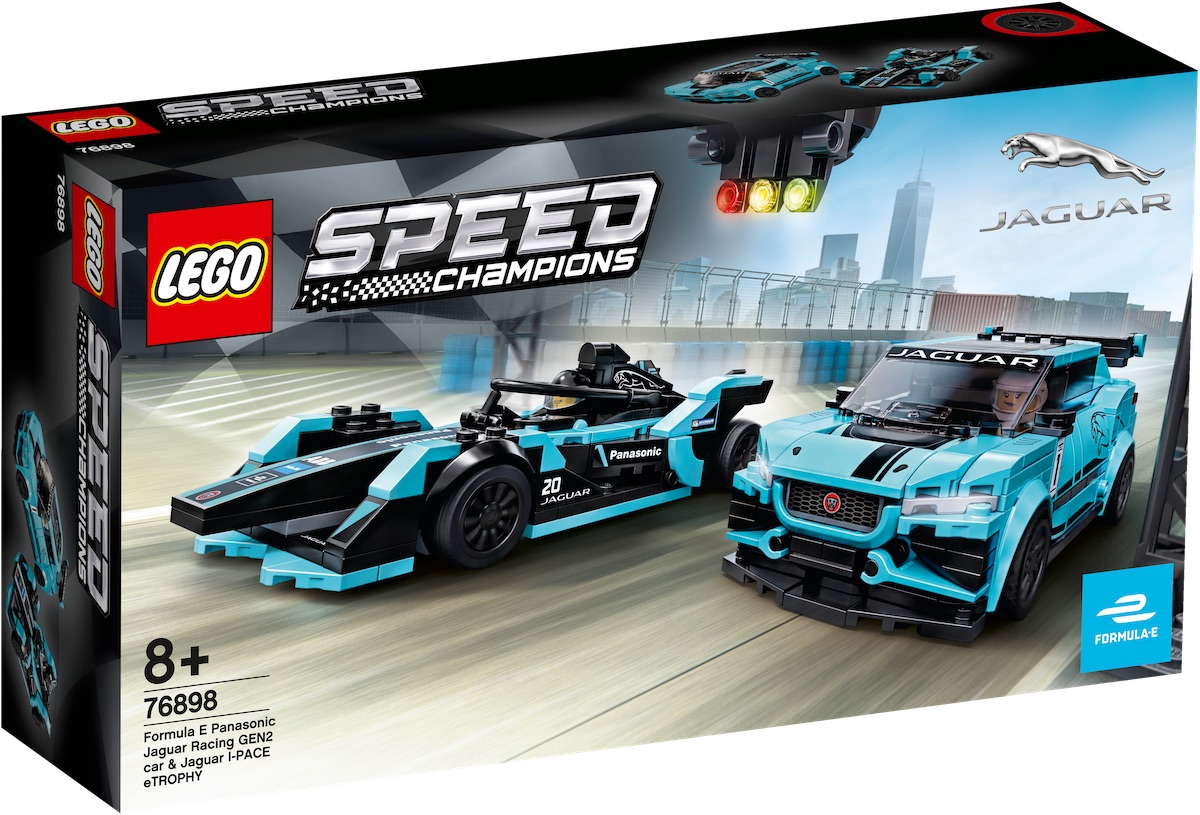 We've had our first information today about the 2020 Speed Champions releases with set 76898, a Formula E Panasonic Jaguar Racing GEN2 car & Jaguar I-PACE eTrophy set, being announced for release January 1, 2020 alongside the real life I-TYPE 4 race car. These sets are also the first 8 stud wide Speed Champions models, an exciting new development for the line.
We had this set number rumoured in our article back in July at 565 pieces, which given the small gantry set-up included in the set makes sense with this new, wider design format. This also confirms at least one of the speculated 2020 sets, so we could be on for the Lamborghinis, Audi S1 Rally Car and Nissan GT-R after all!
Speed Champions have always been 6 stud wide historically, which has always meant they've been slightly narrow and long proportionally. These sets are the first to be announced in the new 8 wide format. The leaked 2020 piece counts had higher piece counts than expected, and this all makes sense now - with the extra width explaining the extra 20-50 pieces per set. LEGO have gone for the 8 wide design to allow for additional detail in the models.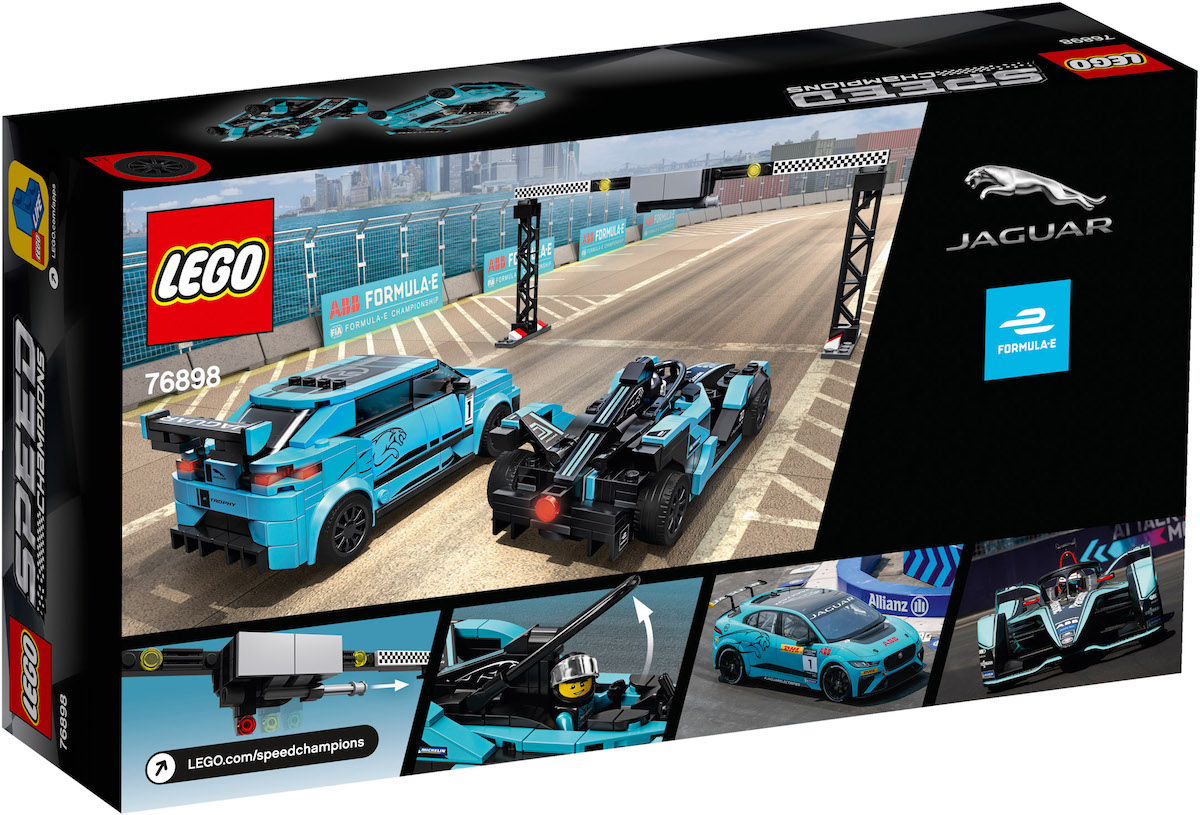 Let's talk about the models - first the Formula E I-TYPE (GEN 2). On the Formula E I-TYPE in the announced set LEGO have included suspension and a gap inside the model itself, something that would be tough to do in a 6-wide format. Interestingly this model has a HALO, using a curved pipe which hinges up and out of the way to allow the driver minifig to be moved. We're expecting to see this kind of HALO design on the next Speed Champions F1 set (still fingers crossed for that this year, with the new 8 wide format).
The LEGO Group seem to have done a great job capturing the Formula E car's intricate details and angular nature with most of the details being 1 stud wide. The stickering on this set as a result is fairly minimal, especially given a Formula E car needs plenty of sponsor decals to look realistic.
The Jaguar I-PACE eTROPHY model announced here, on the other hand, is actually a 4 seater. There are two seats for minifigs abreast with a very blocky look as a result. I'm a little skeptical of just how heavy the car looks on the box, especially those rear arches built a block and a plate above the wheel arch - I'm hoping this is less of a concern in person. To support the 8 wide format, there's a new 6 wide windscreen in use here - for street cars LEGO will have to put a lot of work into the model's profile now that two minifigs fit side by side.
The usual Speed Champions wheels look small on this model - fingers crossed other 2020 sets will have a less 'thick' look to them (to be fair, the production I-PACE is a very heavy looking vehicle too from some angles). There look to be quite a few stickers on the model, down the sides and middle of the car to create Jaguar logos and a stripe. Finally, the wing mirrors are nicely done and add a touch of detail.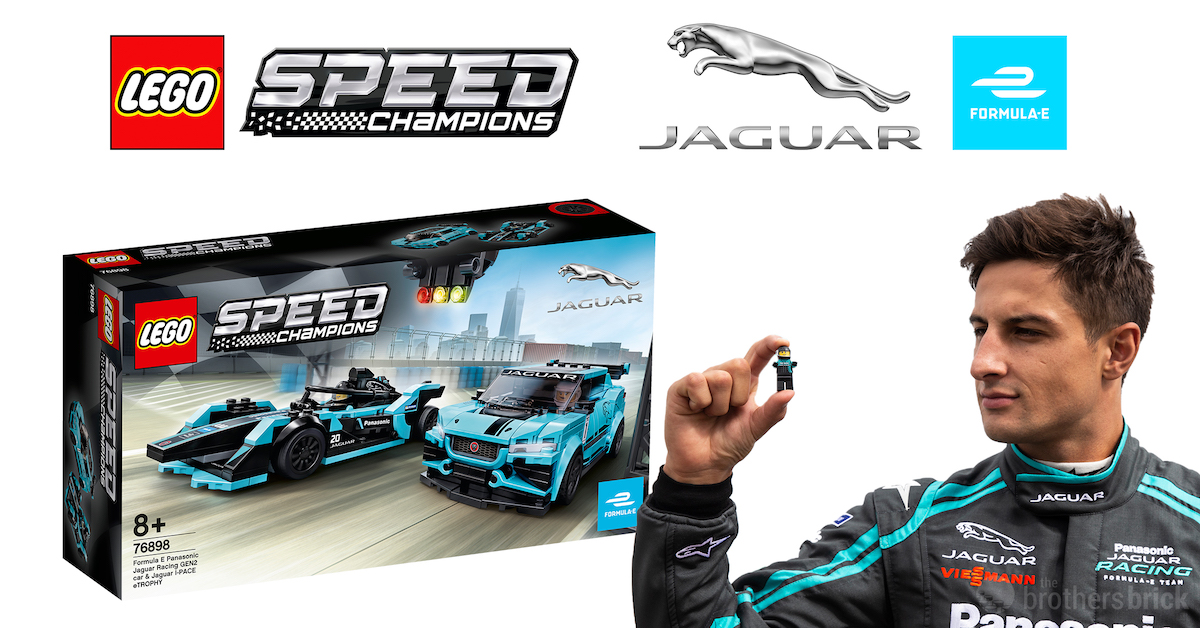 The only accessory included the set is a start-line gantry, very similar to the one included with the 2016 Chevrolet Camaro Drag Race set which happens to be sitting next to me. Some minor changes to how the lights are triggered are the only changes.
The packaging actually includes the Formula E logo quite prominently, so it's likely LEGO are going for a tie in there. This is slightly odd (we haven't seen Formula 1 logos on LEGO's licensed sets there), but the newer racing series is hungry for attention and being featured like this adds to their profile. The box art is set in New York, presumably at the ePrix there and the back features prominent ABB Formula E branding.
We're looking forward to this set massively and how the extra width will affect the looks of Speed Champions cars in real life. We've included the relevant bits of the press release from Panasonic Jaguar Racing below.
02 October 2019, Gaydon, United Kingdom

PANASONIC JAGUAR RACING UNVEILS THE ALL-NEW JAGUAR I-TYPE 4

---

CASTROL, LEGO & SCALEXTRIC JOIN FORCES WITH PANASONIC JAGUAR RACING

Panasonic Jaguar Racing have today unveiled their new season six all-electric racecar, the Jaguar I-TYPE 4 featuring an all new powertrain
New Zealander Mitch Evans and Briton James Calado will be pushing for points, podiums and wins in the new Jaguar I-TYPE 4
Automotive lubricant specialists Castrol have become the latest leading brand to partner with Panasonic Jaguar Racing
Jaguar Racing partner with leading toy manufacturers the LEGO Group and Scalextric with mini versions of Jaguar's racecars set to go on sale soon.

[...]

Two other huge, but equally tiny additions to the team in season six. Panasonic Jaguar Racing have partnered with leading toy manufacturers the LEGO Group and Scalextric to create mini versions of the electric cars. The LEGO® Speed Champions set featuring the Formula E Panasonic Jaguar Racing GEN2 car and Jaguar I-PACE eTROPHY will be available to buy from 1 January 2020. The Jaguar I-TYPE Scalextric will be on sale from Spring 2020.