Technic Porsche 911 GT3 RS Review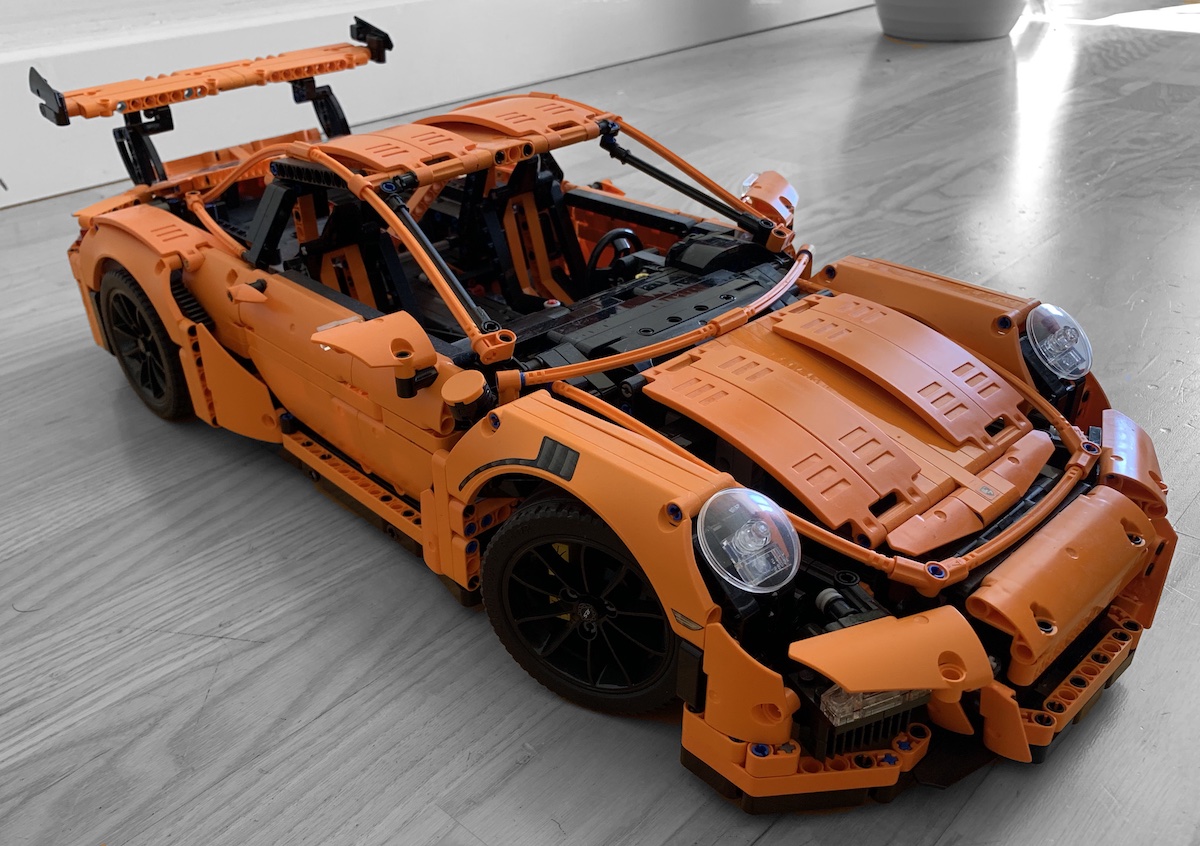 The LEGO Technic Porsche 911 GT3 RS is an important set in the recent history of LEGO cars. Back in Summer 2016 the hype surrounding the old LEGO Racers Ferrari sets and licenses had really died down. Speed Champions as a line was releasing a second wave of sets but we hadn't seen a flagship licenced car set from LEGO in years. In a huge media blitz around Christmas 2015 and at the start of 2016, set 42056 - the 911 GT3 RS came out of nowhere. The Technic GT3RS was announced as a limited edition, highly-priced and extremely desirable large scale model of Porsche's flagship 911 at the time. It's hard to overstate just how much media attention this set got at the time. Features in news articles, television shows, social media and just about any kind of magazine had the set as one of the 'must-have' toys of the summer and a perfect 'Dads gift'.
Despite the hefty retail price of £249, only exceeded by the Technic Bugatti Chiron a few years later which added both complexity and brick count along with the price, this set sold really well. How limited edition is the set really? It's a good question - you can still buy this set new at a small number of stores as of Summer 2019, and the only thing showing the limited nature of the car is a serial number plaque tile in the set for inside the car. When the set was widely retired it almost reached half price, so there have been some bargains on the set. Due to its status the set will be widely available on the secondary market in good condition for years to come, although sealed and boxed sets are already expensive.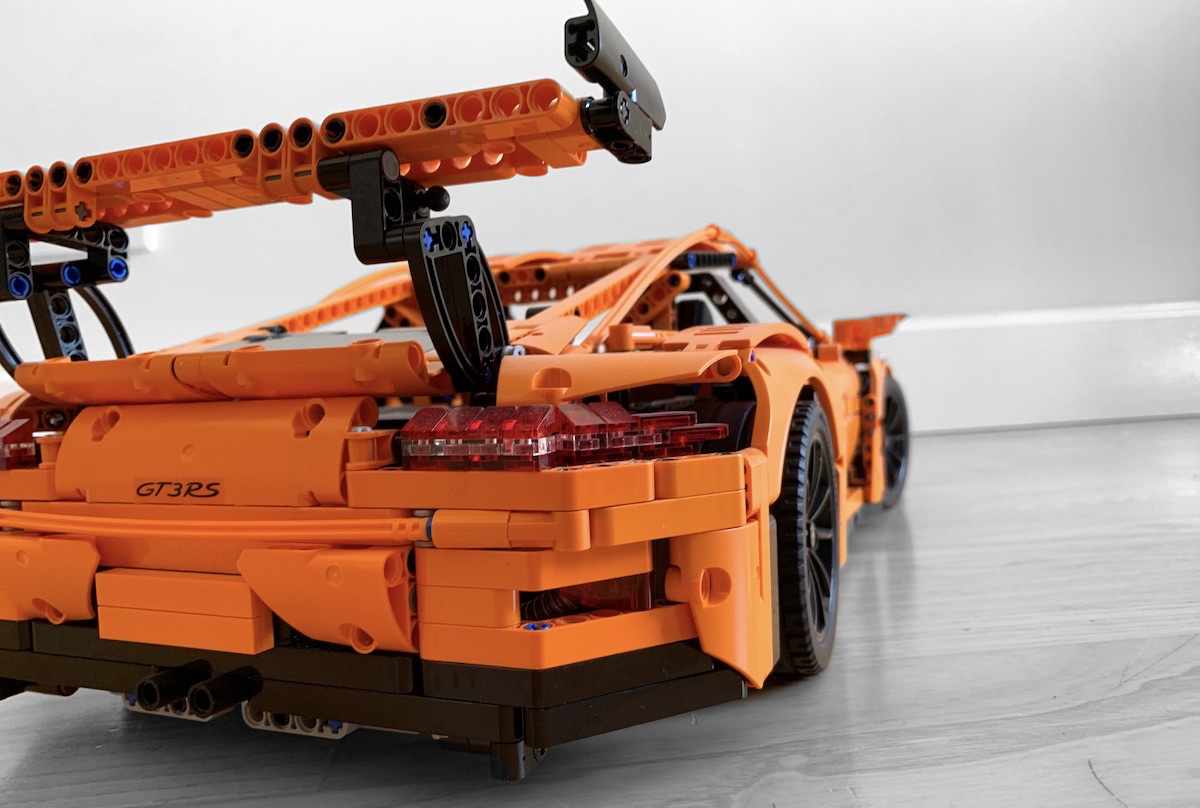 When you open the Technic Porsche 911 GT3 RS, the amount of effort that went into producing this set is obvious and jaw-dropping. A hefty and well designed outer box slides off to reveal two large instruction manuals. Each manual has pictures and facts around the creation of the set, as well as pictures of the team members involved (including head of Porsche RS Andreas Preuninger, who's a bit of a legend around these parts). The custom replicas of the 20 and 21-inch centre-lock wheels are contained within their own card liner and multiple bags of components are contained within black boxes in the set. The books are great - you could almost display the whole thing - including the outer box and books with the set once finished. It's clear that LEGO knew at the price point the set was aimed at high-end consumers and isn't a throwaway build. There's a clear intent for this set to be a part of LEGO automotive history for a long time.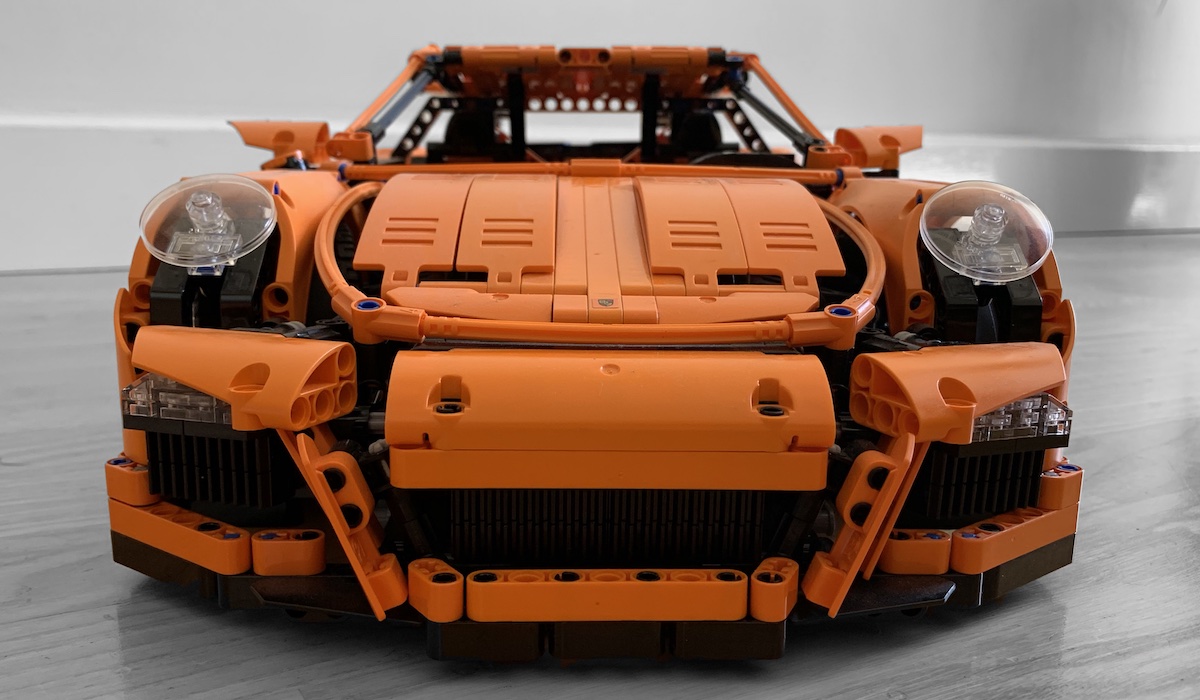 This is not an easy set to build by any means of the imagination. If you bought this set as a gift for a child or friend, expect them to need 2 or 3 weeks to complete the build, with a decent amount of build time each day. The model has a fully sequential gearbox (intended to replicate Porsche's PDK), a complex chassis and suspension struts. All this complexity means, with thousands of instructions, a simple error or a single part the wrong way round can leave you looking at the model wondering what's wrong. This is definitely an expert level model build, even with the clear instructions, especially if you're less of a Technic builder.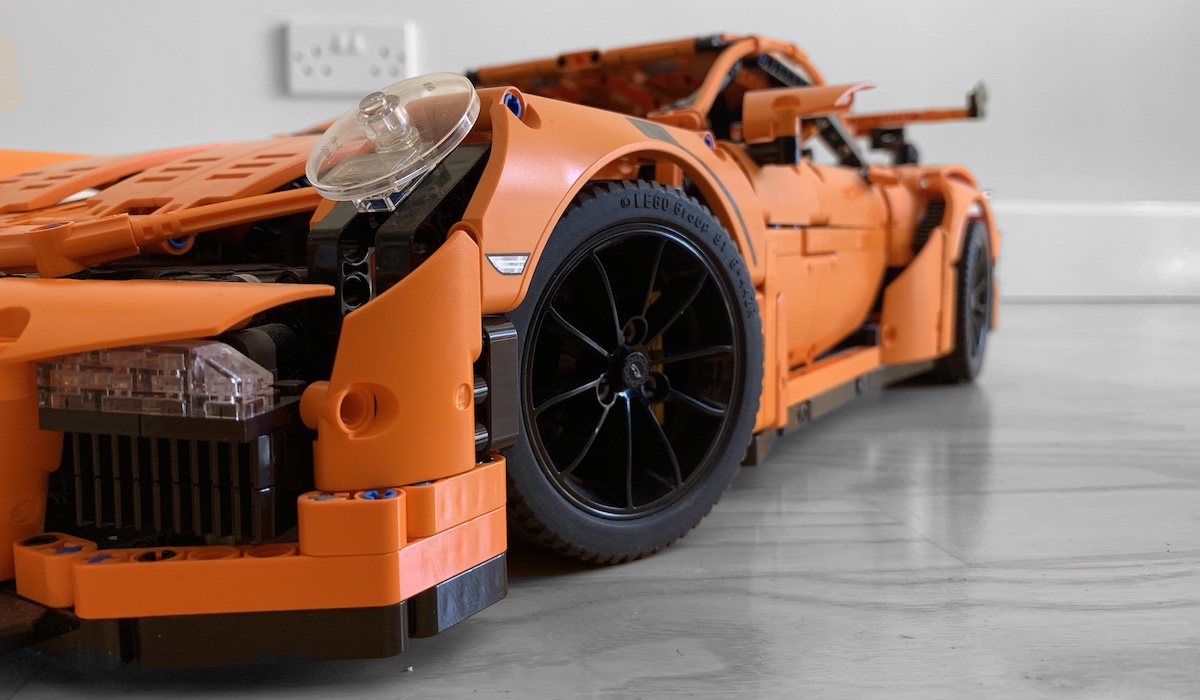 The car this set is based on was launched at the Geneva International Motor Show in 2015, and the model is in the GT3 RS launch colour of 'Lava Orange' (there was a really cool camouflaged version of this set previewed beforehand). The car itself had as many headline features like the model. Alongside the powerful 4-litre flat six engine with 500hp, ceramic brakes (PCCB), tons of carbon fibre panels, a magnesium roof and carbon bucket seats from the Porsche 918 Spyder hyper-car are present. The real vehicle is PDK only, and LEGO chose to replicate this PDK gear box with rubber band powered steering wheel paddles.
As usual with Porsche and limited production models, the RRP of around £120,000 was raised by by demand and there was a time when these cars were changing hands for well over £250,000. We're several years on and the demand has died down, but there was a funny similarity between people pre-ordering multiple sets of the 911 GT3 RS from the LEGO store in order to sell them for overs on eBay and buyers of the real car doing similar. LEGO, however, chose to meet demand and the availability of this set was great throughout it's sales period.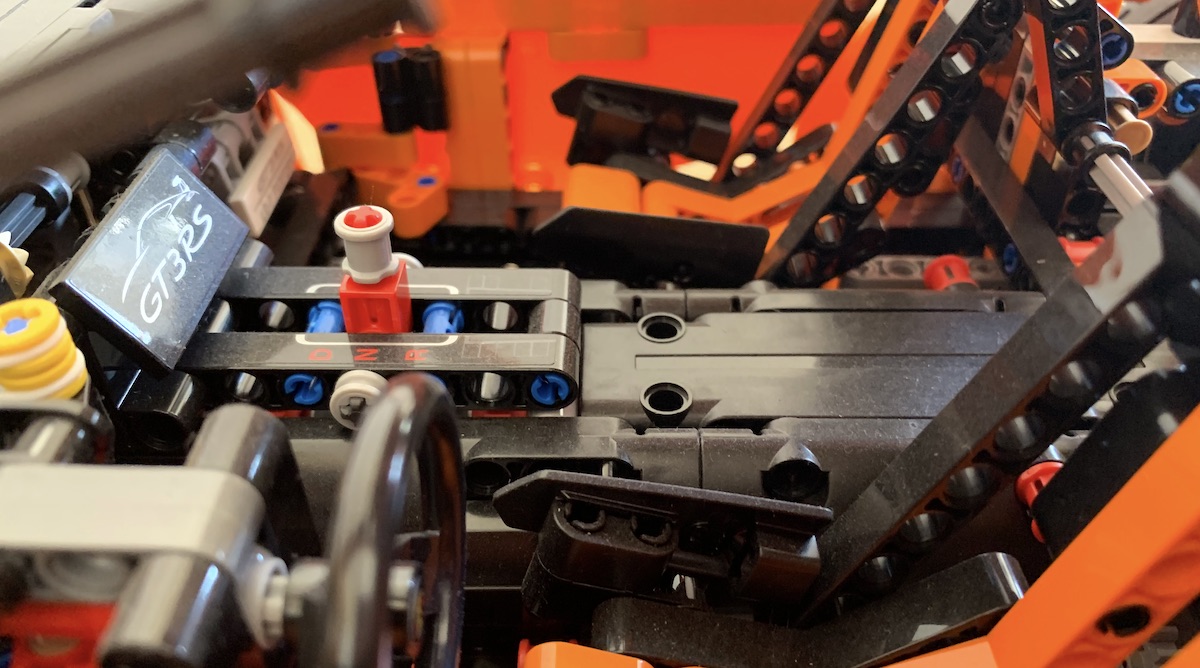 We've discussed the complexity of the build, but what about enjoyment? This set is actually really fun to complete and one of my favourite things about it is how realistic the end result is compared to previous Technic-style Racers models. If you've seen the older LEGO Racers Ferraris (the main set I'm thinking of is the Ferrari 599) then the Technic components create an outline or skeleton of the car rather than a realistic look, they don't really do the vehicle justice. With the 911 GT3 RS set LEGO addressed this issue, using panels to make up the bodywork over the structure of the model. The end result is probably my favourite LEGO model ever.
One downside of this model is the sheer size - this scale was necessary to fit all the technical details and create an epic, top of the line set. I have it on display alongside my Speed Champions sets and this model alone will take up easily a third of a desk or display stand. If you're a Technic fan and have the Bugatti Chiron (and are potentially eyeing up the soon to be released Technic Land Rover Defender) you'll soon find yourself running out of space.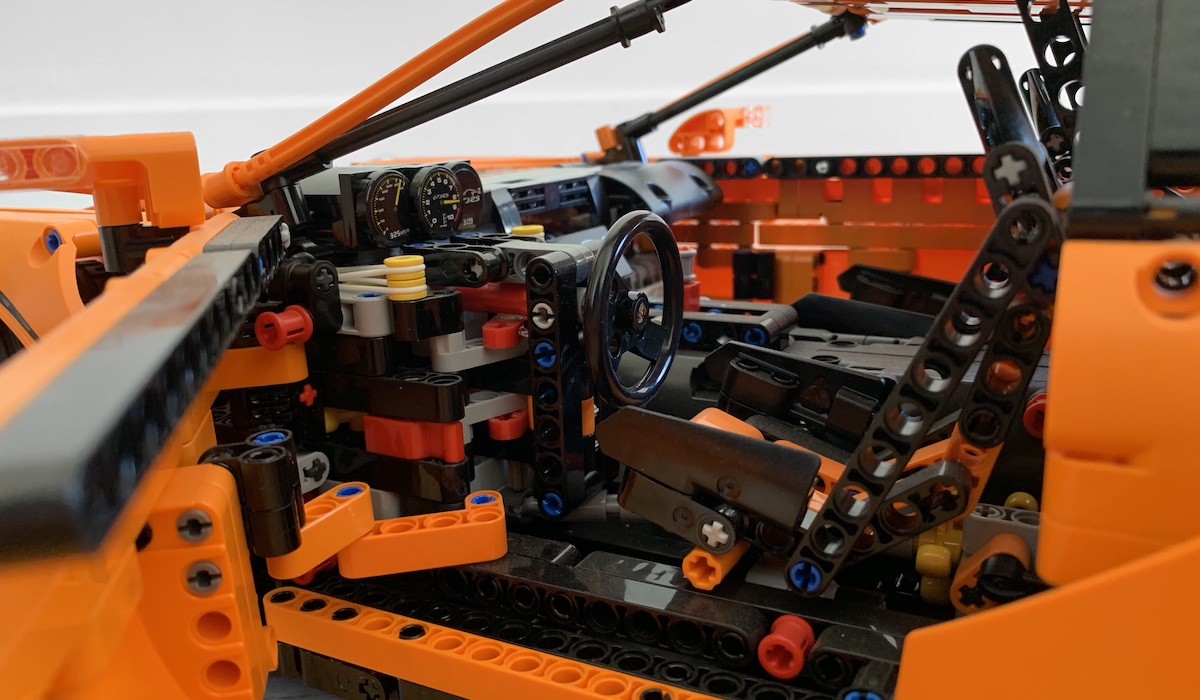 Almost 3 years after this set was brought out, LEGO decided to produce a variation on this model with set 42096, the LEGO Technic Porsche 911 RSR. The Technic 911 RSR is effectively this set with lots of the complex gearbox and engine parts removed, with body panels in white along with a comprehensive Porsche Racing sticker set. By reducing the part count of the set by half, LEGO reduced the price point to £129.99, which I think appealed to a different group of consumers (especially when retailers tend to discount the set below £100 quite frequently).
The silver tile acting as the limited edition plaque shows the 'Limited Edition' nature of your 911 GT3 RS, containing a random hex code. You can enter the code into the LEGO website to receive a customised certificate of ownership to print, along with a collection of mobile wallpapers and access to some videos about how the set was made.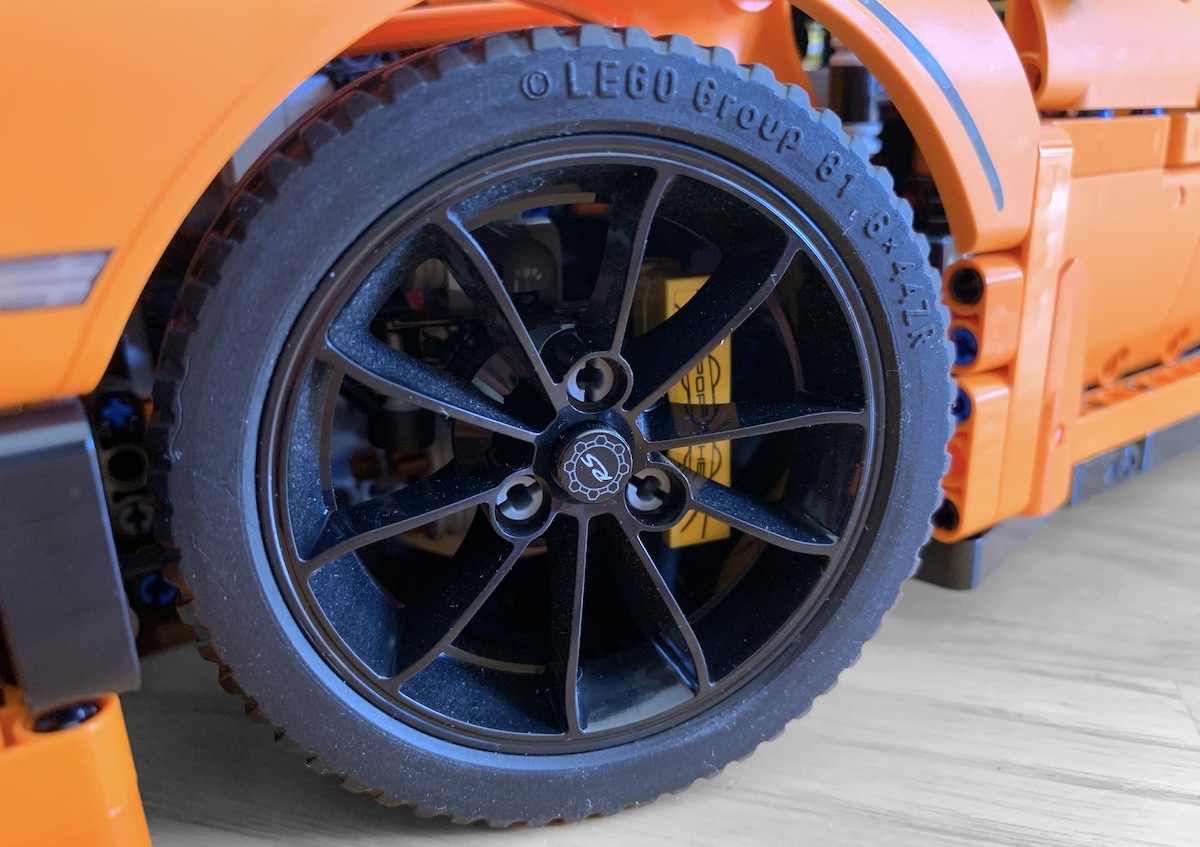 Since we're writing in 2019, many readers will either have seen or already own the set. If you're after one, we'd recommend looking at a specialist reseller like Bricklink, as eBay sellers tend to focus on the limited edition marketing around the set and price too highly. If you're very lucky, you may be able to find the set in store somewhere as leftover stock, although that's becoming less and less likely four years on from release. We'd absolutely recommend this set over the later 911 RSR, but that's on shelf right now and is a decent consolation prize if your search comes up blank (or you don't feel like paying over the odds).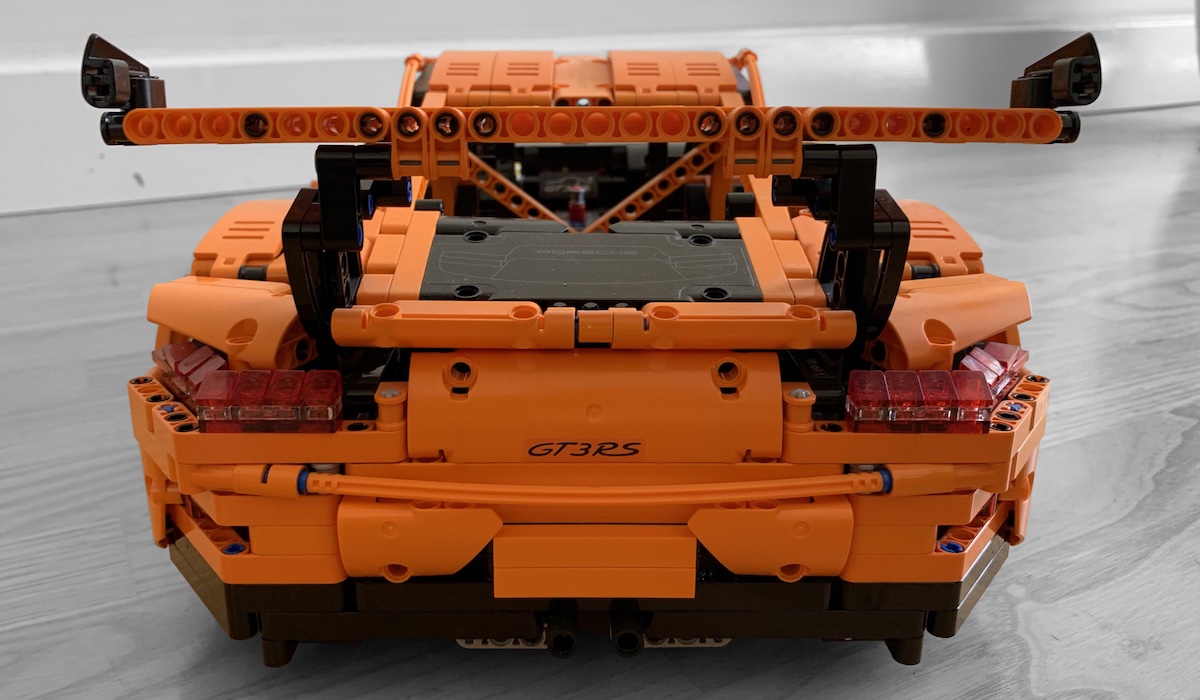 Rating
Overall: 95 (How we rate sets and models)
| | |
| --- | --- |
| LEGO-ness | 5 |
| Detail | 5 |
| Build | 4 |
| Display | 5 |
| Accessories | N/A as this is a Technic set, score updated to reflect. |
The only reason this set isn't a perfect 100 is the difficulty of build and the perishable parts (such as rubber bands) that may not age well with the set and can be hard to replace.. To us, the Technic Porsche 911 GT3 RS is one of the best models of a car that LEGO have ever produced. Obviously we'll be reviewing the Technic Bugatti Chiron in time, which had to beat this set on numbers like piece count and complexity, but this set represents a landmark in LEGO vehicle evolution.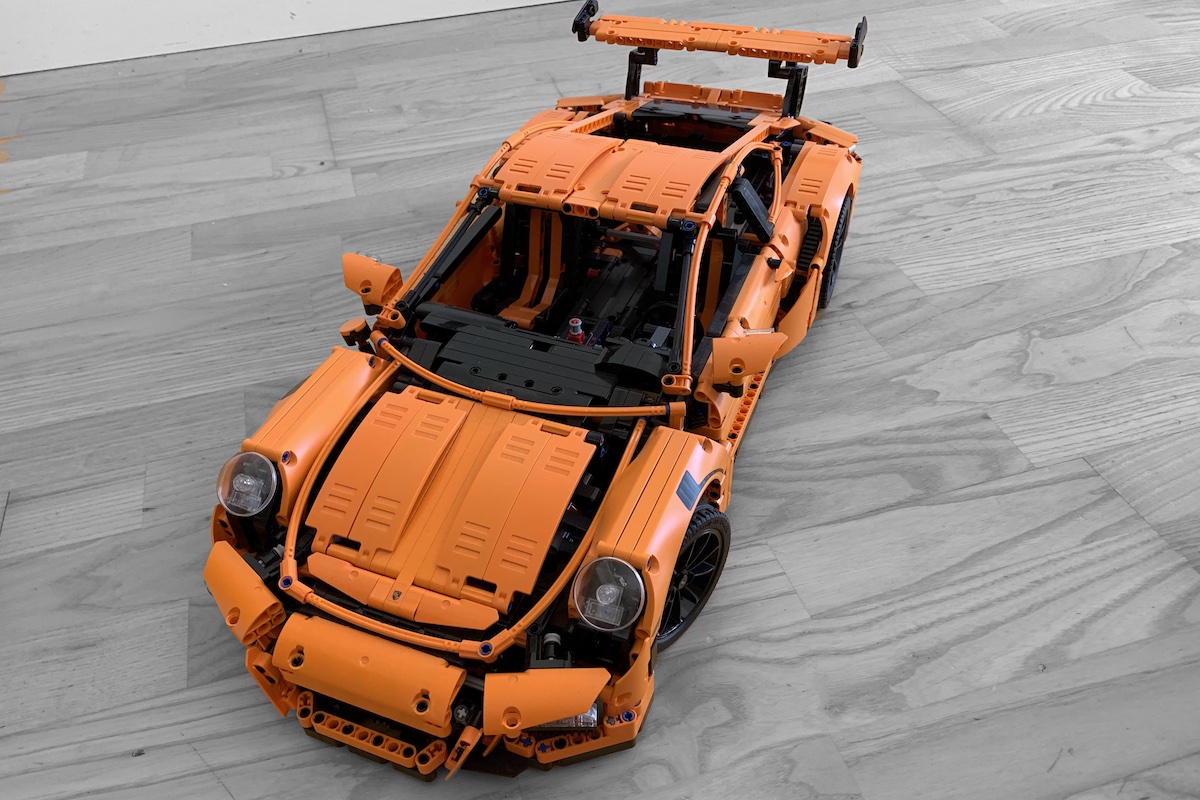 When this set came out it was everywhere, you couldn't get away from it in toy stores and anywhere that sold LEGO. This set probably did more for LEGO vehicles in grabbing the attention of a new generation of young adults, millennials and the internet generation over the last 5 years, and Speed Champions has followed up at a lower level providing a continuous stream of LEGO super and hyper-car models to entertain. Technic has also pushed the line out further with a Harley Davidson and the upcoming Land Rover Defender. I would happily buy this set over, and if you're a collector this set definitely belongs in your display case.