The History of LEGO Racers - The Precursor to Speed Champions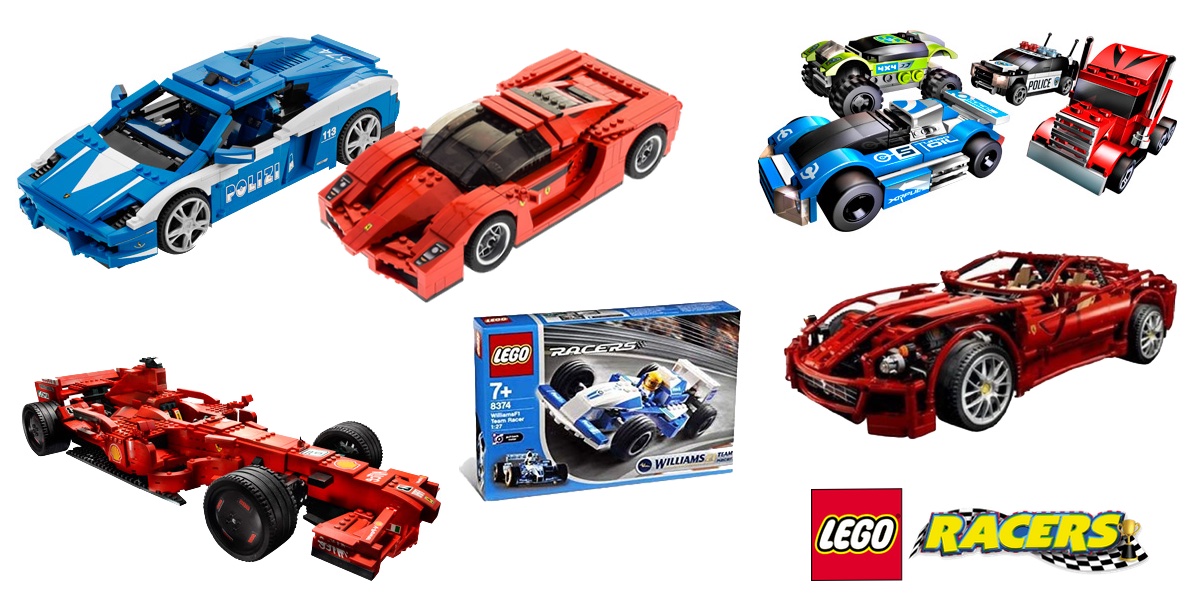 Before we had Speed Champions we had LEGO Racers. While we're a Speed Champions focused site, it's great to take a look at LEGO sets of days past. LEGO Racers was introduced in 2001 by LEGO as a theme and started off with a small number of tiny 1-4 piece promotional sets along with a set of very small scale (sub 1:64) plastic cars. These tiny sets weren't even driven by minifigs, instead being driven by "race loving aliens" from the planet Xalax.
Now, while some of you reading might refer to yourselves that way, you're probably wondering how a theme about tiny alien-driven cars ends up being relevant to Speed Champions and its quest for small scale realism on road and motorsport vehicles. Read on to find out.
Even in the 2001 launch year, LEGO used the Racers name across multiple kinds of sets, rebranding the 1998 LEGO System Radio Controlled Race Car (set 5600) as the LEGO Racers RC (set 5599). This is an important distinction compared to the LEGO approach today - within the LEGO Racers brand we see sets all the way from 8 piece custom mouldings and 20 piece polybag giveway sets all the way up to 1500+ piece licensed vehicle Technic sets (without any Technic branding in sight).
LEGO Racers Video Games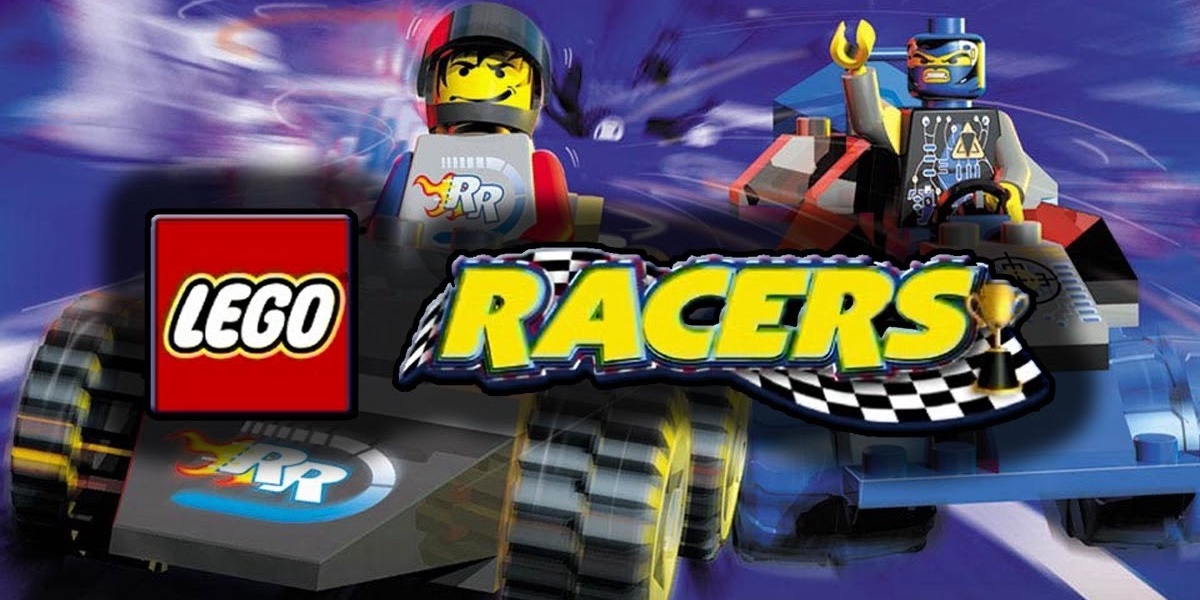 When LEGO initially branched into video games on the major platforms, LEGO Racers was the brand they did it with. The first LEGO Racers title was released in 1999 across the PC, Sony PlayStation, Nintendo Game Boy Color and N64 with the follow up title LEGO Racers 2 coming in 2000 for the Game Boy Advance and 2001 for the PC and Sony PlayStation 2.
Another title was Drome Racers, released in 2002, and a brand we can clearly see influencing the unlicensed Racers sets through 2002 all the way to 2006 published on the Nintendo GameCube, Game Boy Advance, PC and Sony PlayStation 2.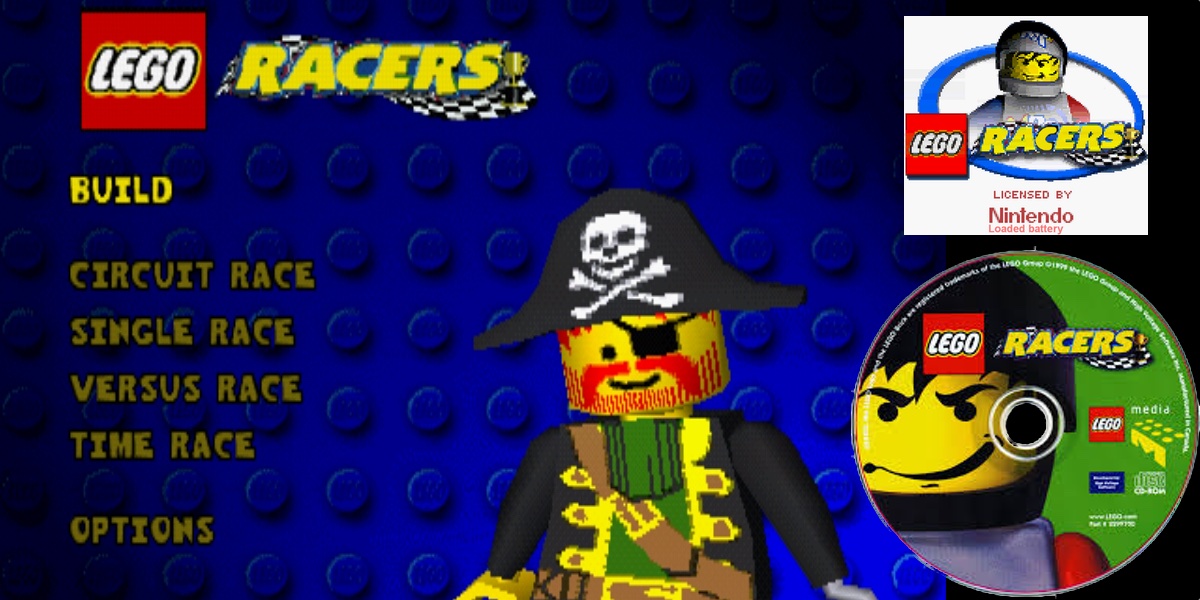 I'm sure some people out there will have fond memories of these games and it just goes to show how LEGO were willing to combine all their racing/car/automotive activities under the single brand. Of course these days we've just seen a similar move with Speed Champions being licensed as an expansion for Forza Horizon 4 on the PC and Xbox being the latest take on LEGO licensing into video games. It's interesting these days that LEGO aren't put off by having the three way licensing issues avoided in the earlier Racers titles - between themselves, the car manufacturer and the game producer.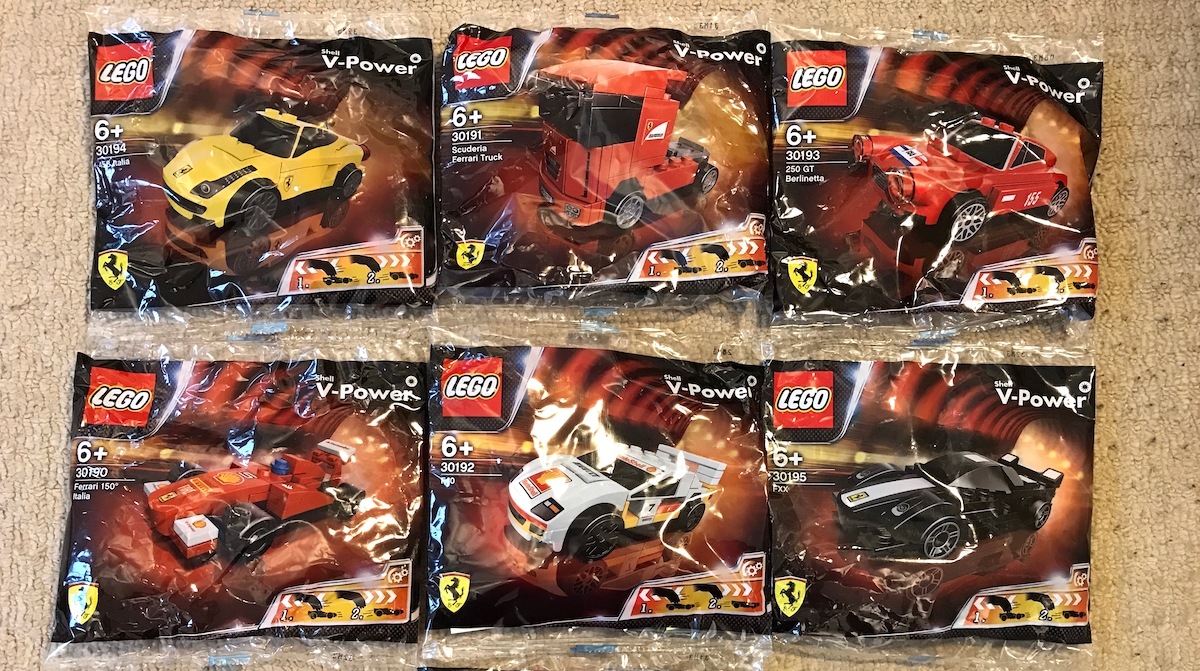 A main theme of Racers over time seems to have been giveaways, with McDonalds Happy Meals, Shell, the UK Daily Mirror and various Netherlands based promotions having their own lines of 20-50 piece sets that were given away. You can understand the logic, a car model gives both build and play aspects - but some of these models really do bend what you expect from a LEGO model with the number of custom parts. The UK Daily Mirror promotional sets varied between 30-40 pieces, but we have seen promotional sets in these lines as low as 20.
Most of the output of the line between 2010 and 2012 were these smaller promotional sets, around die cast model (1:64) scale and consisting of small numbers of pieces. A number of generic sets were also made, without licenses but with a vehicle/car theme - these seemed to be aimed to compete with Hot Wheels and similar at the supermarket checkout/toy aisle.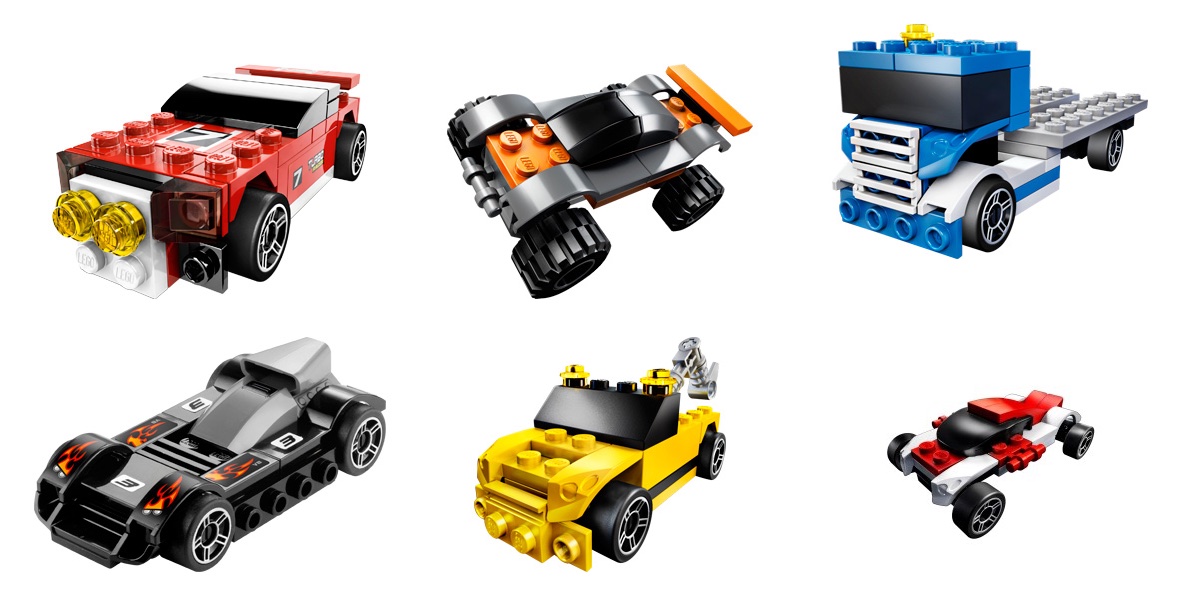 The usage of LEGO Racers sets for promotions continued all the way until 2013 with an interesting BMW giveaway that we'll cover in a future article.
Licensed Sets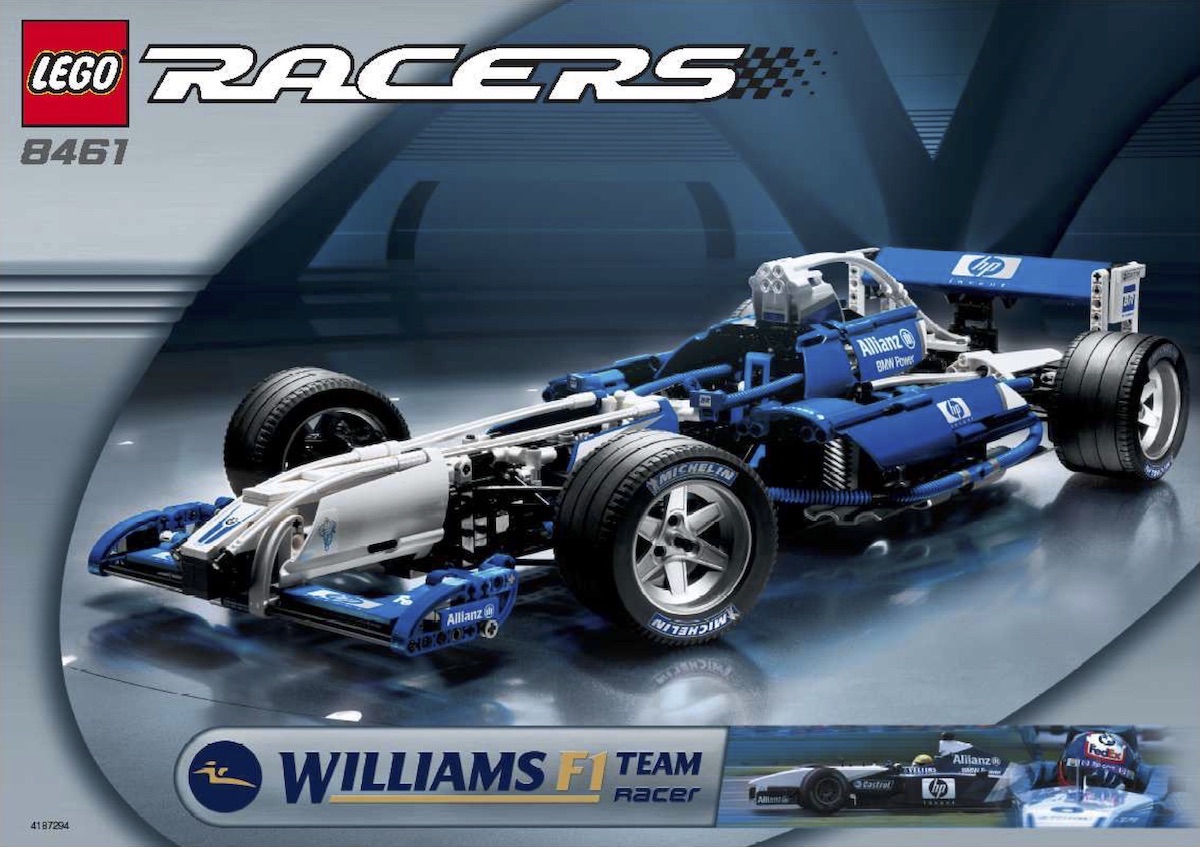 The first licensed LEGO Racers set came early - the Williams F1 Team Racer set in 2002, which looks to be very similar to the later 1:9 or 1:10 scale F1 cars released (the Williams F1 actually got a double release, with a 2003 set containing a 1:24 set with around 100 pieces, again something we'd see later on with Speed Champions). It's almost surprising that this wasn't a Ferrari set when you see the sheer number of LEGO Racers Ferrari sets that were released. This set seems to have been inspired by the earlier LEGO Technic Silver Champion 8458, released in 2000. Through the LEGO Racers range there are a number of these.
The Ferrari Shell V-Power range (posted above) specifically seems to have a historical link to the Speed Champions line as you can see a similar concern for getting the models to resemble real life, with strategic placement of stickers and preserving a LEGO model appearance. Again, this feels like something the Speed Champions line learned from, to yield more LEGO feeling models.
There are a number of larger scale, 1:17 or 14 wide scale, licensed sets - mostly Ferrari sets as detailed below but the Lamborghini Gallardo LP 560-4 (set 8169) in 2009 and its Italian Police (Polizia) livery version following up in 2010 stand out here.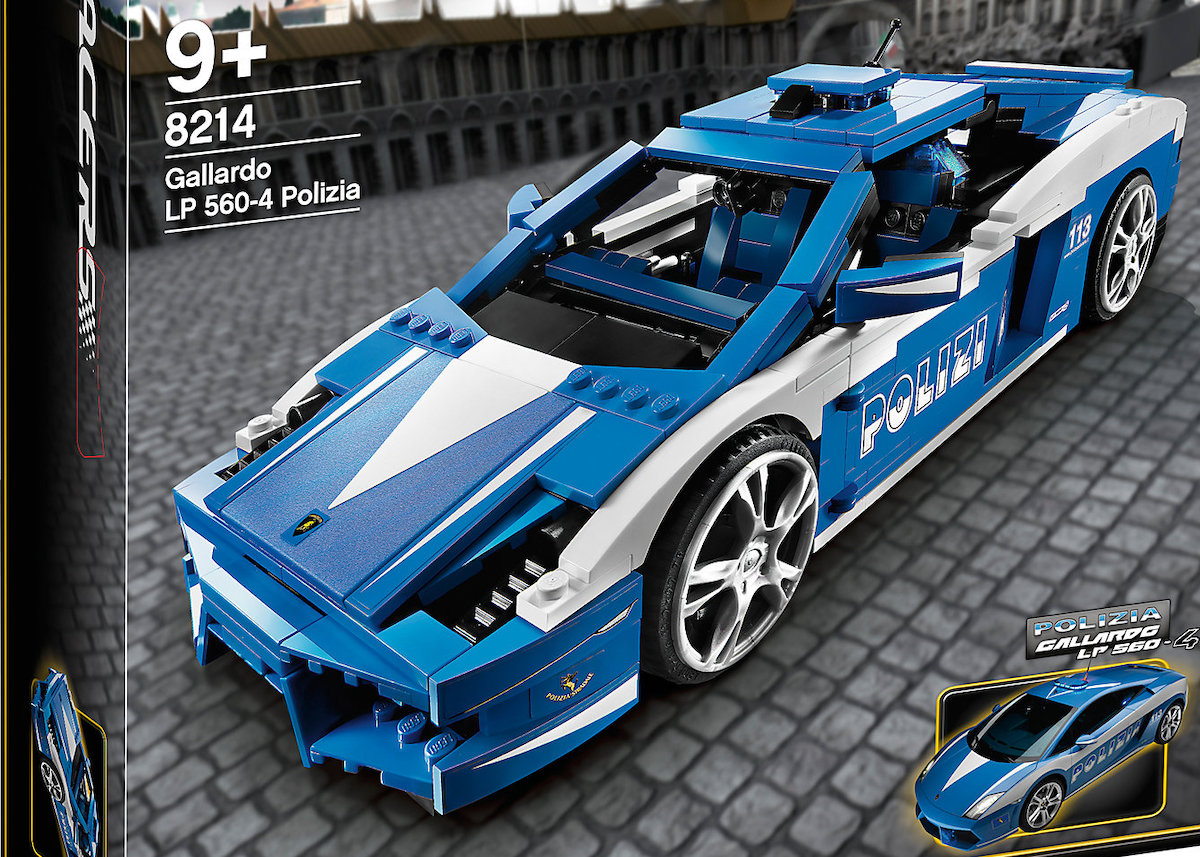 The branded sets in the Racers line up really are the predecessors of the Speed Champions line, with a variety of styles, stickering levels and all that clearly gave LEGO all the knowledge they needed about what people wanted to see on shelves for car-based LEGO sets.
Ferrari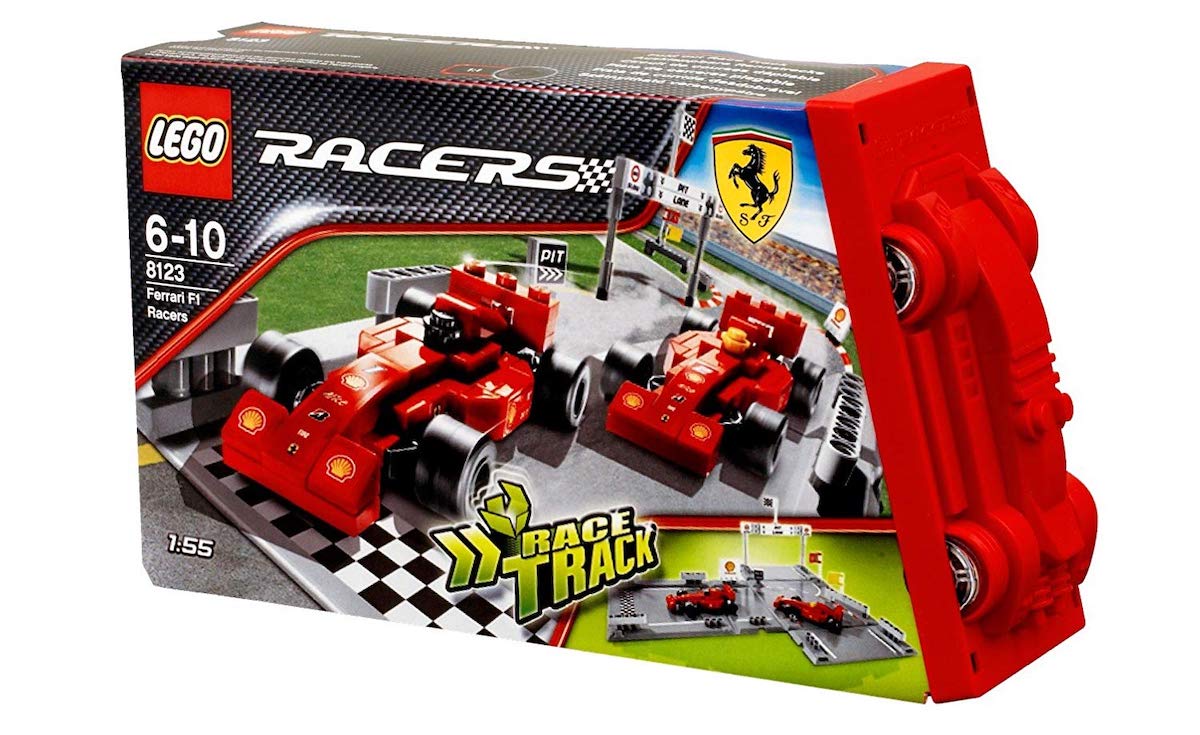 Believe it or not, Ferrari really do warrant their own section in this article with a huge variety of the larger sets being variations on cars from the licence. Across the 10+ years the theme was active, there are a huge variety of sets from Ferrari in the Racer line, so the Tifosi amongst you were spoiled for choice.
The 2007 Ferrari 599 GTB Fiorano set 8145, which we'd now refer to as Technic, is legendary for its complexity and was a headlining set release in that year. The earlier 1:10 Enzo Ferrari in a Technic style from 2005 similarly captures the car at large scale. These kinds of high profile, high complexity licensed car sets we didn't really see the likes of again, until the 2016 rlease of the Technic Porsche 911 GT3 RS set 42056.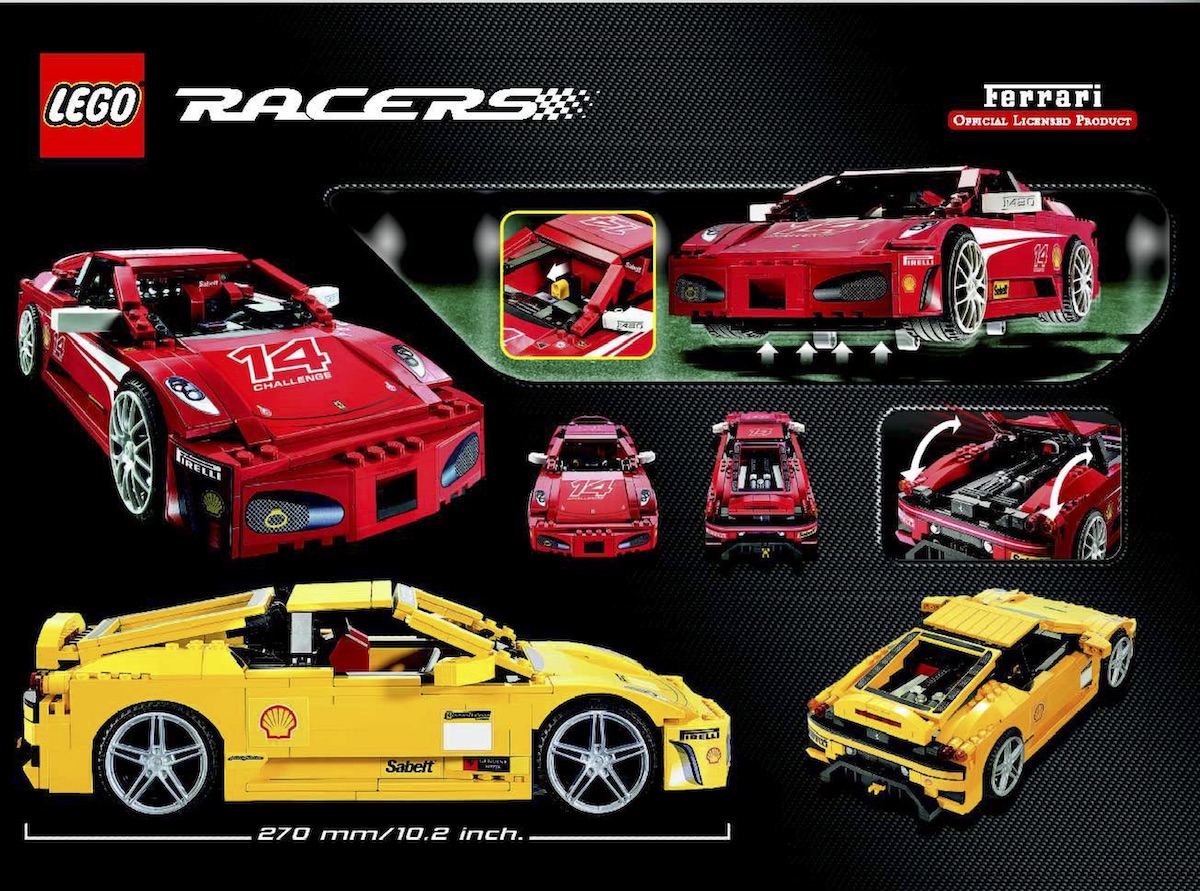 The larger 1:17/19 or 14 wide scale brought some really legendary Ferrari sets into the Racers rance, with a F430 Spider (set 8671) and the F430 Challenge (complete with an entire duplicate bodyshell in yellow - one of the few times we've see a non-red Ferrari kit from LEGO). We also saw a FXX racecar (set 8156) and F1 car (set 8157).
Given that Racers covered a key part of the LEGO/Ferrari relationship, there's tons to cover here so you can expect a future article delving in more depth into these sets, and more that we haven't mentioned here.
Remote Control and Power Functions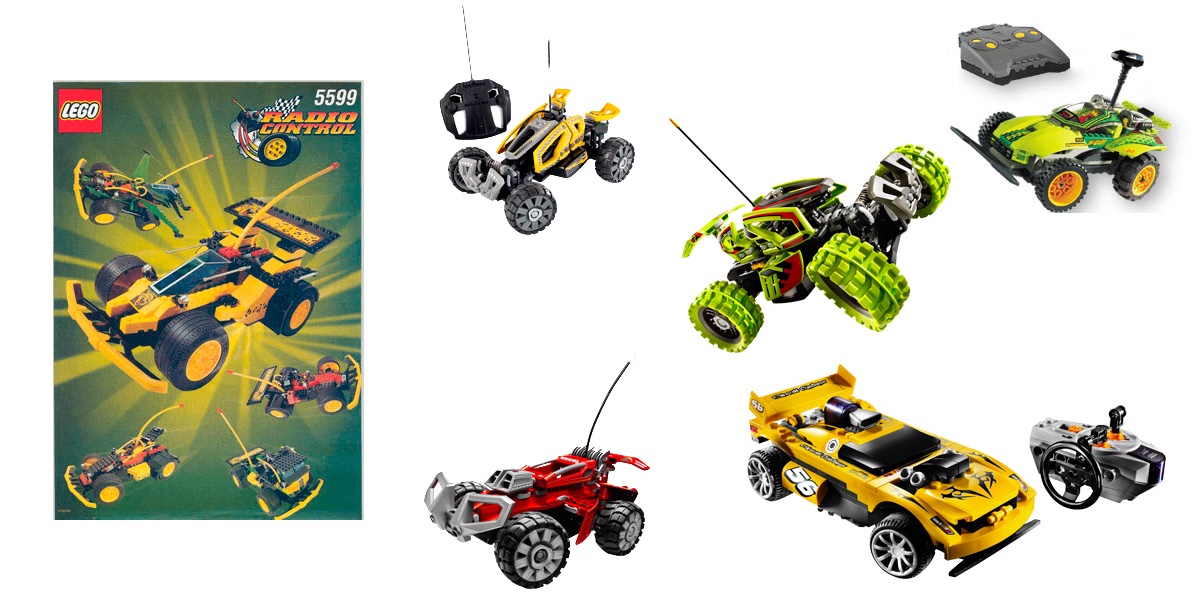 The racers line also contained a number of other features from LEGO relating to vehicles. We saw both Remote Control (RC) models feature heavily and various power options, including pullback and motorised sets.
LEGO's history with remote control is sets significant - we'll definitely cover this in a future article. As we mentioned in the introduction, the line started with a rebrand of the LEGO System Radio Control Car as the Racers RC. Sets like the Red Beast RC (8378) and Dirt Crusher (8369) - itself re-released in 2006 after an initial release in 2004 along with a heavy array of accessories, wheels and battery packs to customise the models showed some attempt by LEGO to play in the remote control model space typically occupied by Tamiya.
Power functions and pull back motors even made their way to licensed sets, seen in the Ferrari F1 set 8362 at 1:24 scale, and naturally a number of the generic mid-sized sets (300-400 piece) where it made up more of the marketing appeal of the set.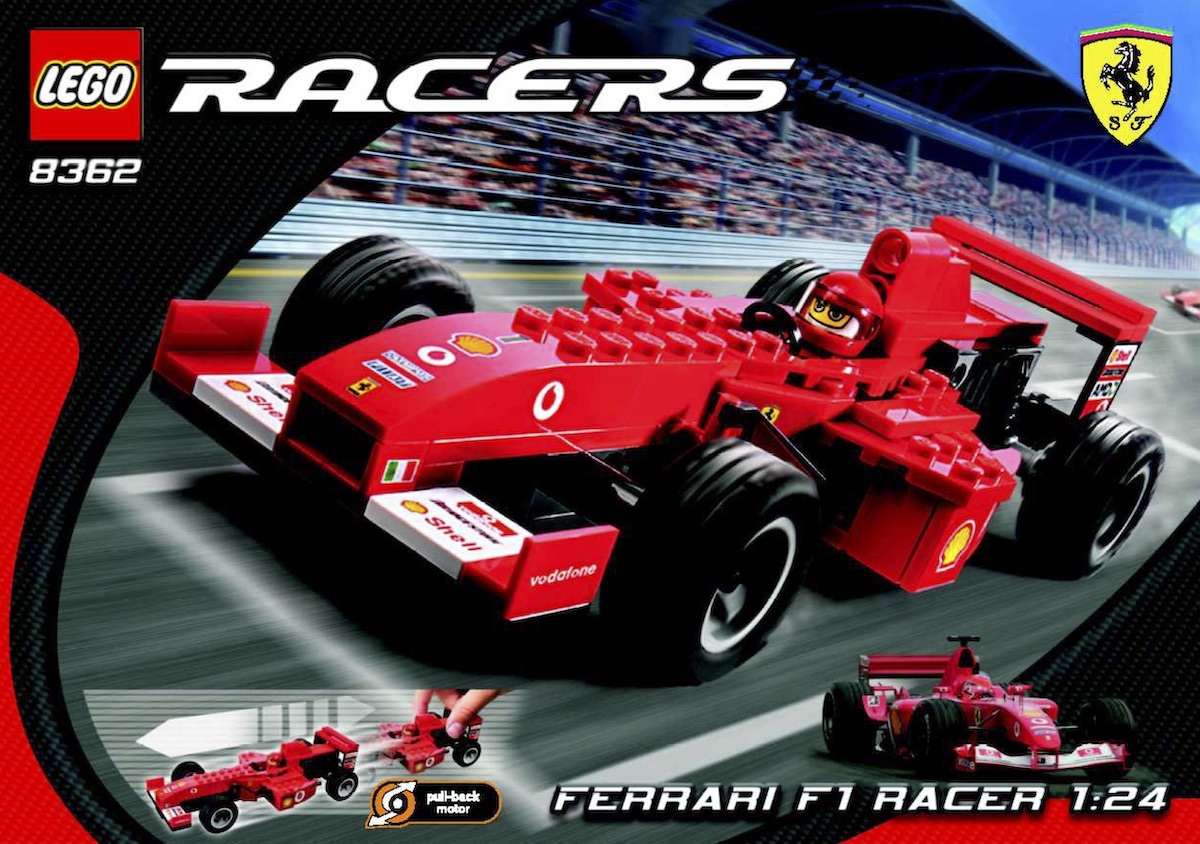 There's a clear intention with the early smaller sets, including the Drome Racers, to compete with Hot Wheels' play style, using smaller vehicles on tracks and sets like and included track such as set 8364, Multi-Challenge Race Track. The 'Tiny Turbos' branding came in to capture sets in carry boxes and shipped with custom action base plates (sets like 8197, Highway Chaos), a later extension of the track based format.
Scale and Branding
With Racers, the approximate scale of the model (1:55, 1:17, 1:9 etc.) started being written on the boxes around 2006/7, a clever move to compete with die-cast models. What die-cast models have in realism, they lack in experience as there's no building to do and model car sets requiring construction and painting, like Tamiya's models, are more involved.

Varying levels of realism at each scale and noting the scale on the box helped as some sets released the same car at different scales; the 8652 and 8563 Lego Racers Enzo Ferrari at 1:17 and 1:10 scale respectively being a good example of this. We still see this today with Speed Champions and Technic or Creator Expert.
And that's it, a brief overview of LEGO Racers. No doubt we'll be writing about and maybe even reviewing some of these sets in time, but now you have a better idea of how the Racers theme fit in to the LEGO product line for all those years.