LEGO Technic Land Rover Defender 42110 Officially Announced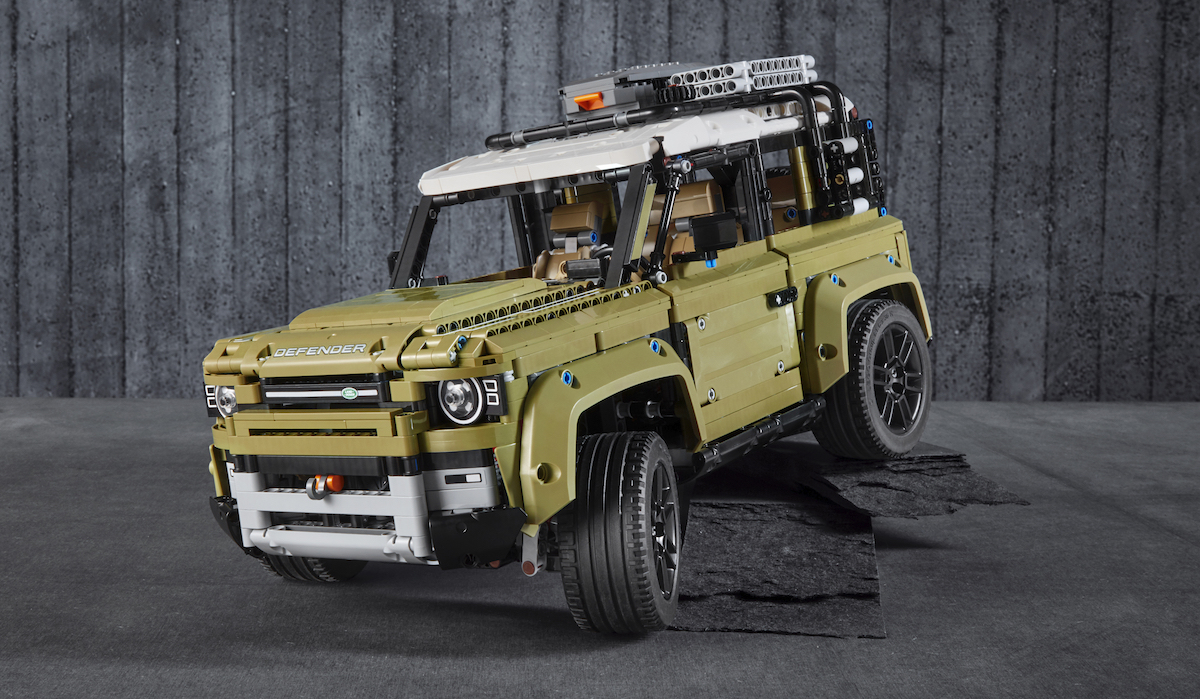 After being leaked by a toy store in the UK all the way back in June we're seeing the official announcement of the set, alongside the release of the new, real world, Land Rover Defender at the Frankfurt motor show. The information you've all been waiting for - the set will be available in stores from October 1, 2019.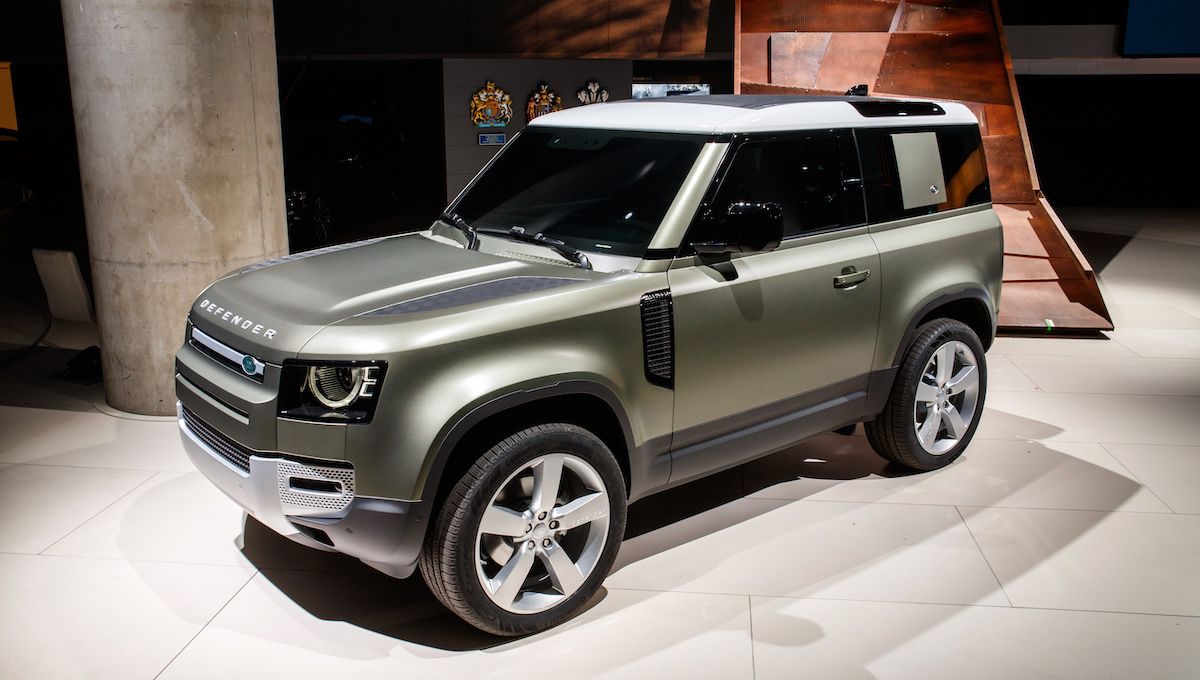 Other details from the press release include the four-speed gear box and in-line six cylinder engine (presumably representing the high spec Defenders). With 2,573 pieces the set is substantial and contains a lot of new pieces we haven't seen before. Since we've had the introduction of the real car we can actually put the two side by side and the resemblance is strong - even the roof windows in the rear are present.
LEGO are claiming this is the most sophistictated Technic gearbox yet, with a hi/lo ratio selector and four speeds (the real-life New Defender probably has a few more). The gearbox is located in the rear of the model, near the rear axle and you can watch it work if you open the rear door (using the spare wheel). The model is all wheel drive. The real world car comes in both 90 (short wheel base, two door) and 110 (long wheel base, four door) forms - while the set number is 42110, the Technic model is of the short wheel base, two door model. The LEGO Technic model will be on display at the IAA in Frankfurt from today alongside the real car for those able to check it out.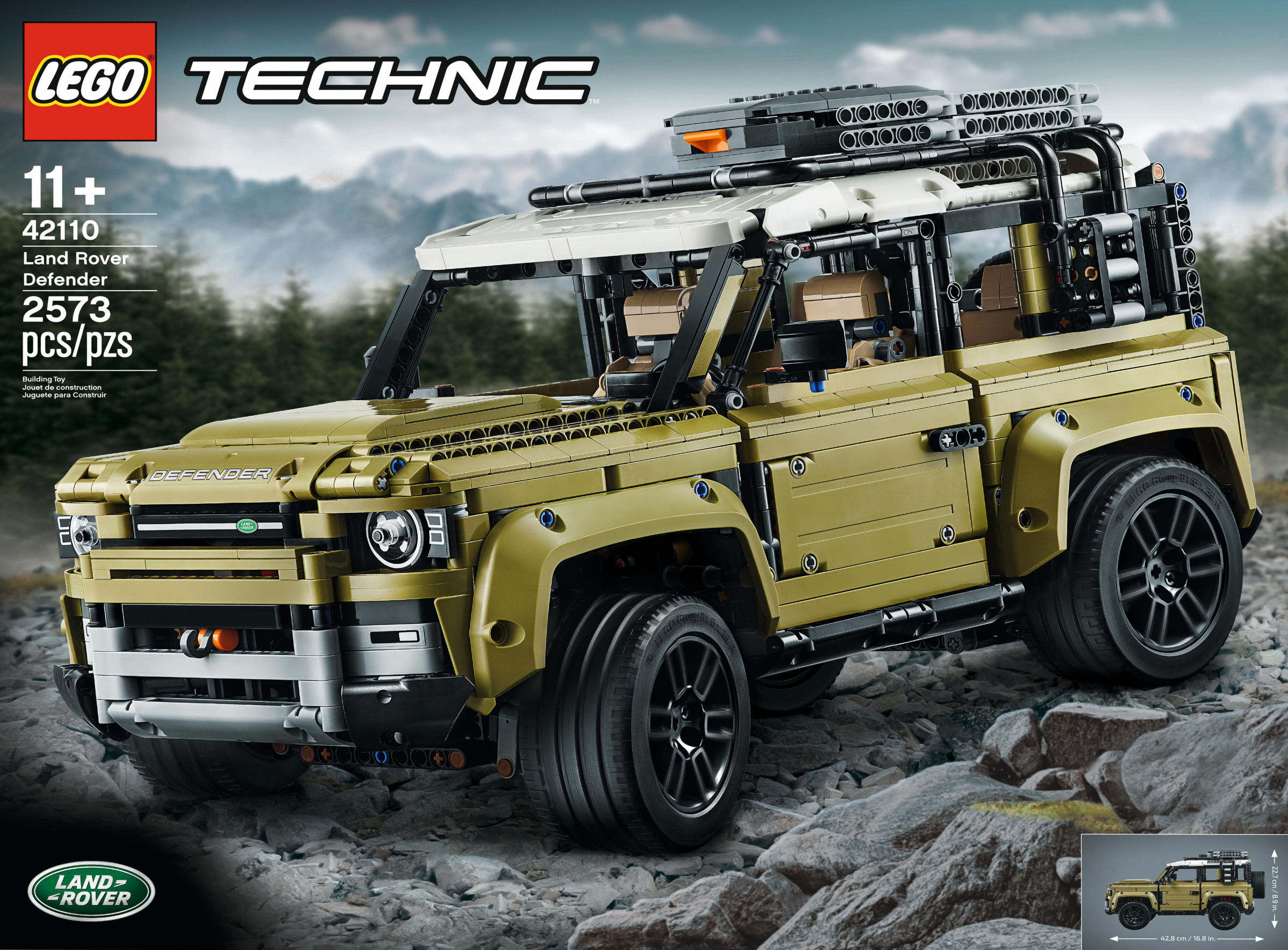 From the high res box art, we can tell the set is substantial - measuring 42.8cm (16.8in) long by 22.7cm (8.9in) high. Stickers are used at the front for the Defender, the single bar Land Rover grill and indicators low in the front panel - there's even a squared central panel to the steering wheel with a Defender sticker. The interior isn't ultra realistic beyond that, with the luxury of the New Defender's interior this isn't too surprising. A roof box is present which opens sideways, with a fold out ladder on the side of the vehicle for roof access. The hood/bonnet opens to reveal the straight six engine - there's a substantial build at the front of this vehicle as you'd expect. The rims are an original design, with 81.6x35R LEGO tyres, independent suspension - there's a spare wheel mounted on the rear door, just like in real life that allows operation of the hinged rear door. Rounding the interactivity of the set out, a fully integrated winch and hook are present at the front of the model, operated from inside the hood.
We've included LEGO's full press release announcing the set below.
42110 Land Rover Defender is an automotive icon you can build at home.

Developed in partnership with Land Rover and launched alongside the New Defender at the Frankfurt Motor Show, the 2,573-piece model combines the boundless creativity of LEGO with New Defender's instantly recognisable silhouette and unrivalled capability.

The LEGO Technic vehicle echoes New Defender with a host of realistic elements and functions, including authentic body panels and rims, four-wheel drive with three differentials, fully independent suspension, a working winch and LEGO Technic's most sophisticated gearbox yet – all designed to provide an engrossing and rewarding building experience for car lovers and LEGO fans alike.

Niels Henrik Horsted, Marketing Director at the LEGO Group, said: "With every LEGO element, children can build anything they can imagine. I'm very excited about this new model – a truly impressive job done by our LEGO designers. Together with Land Rover, we've blended elements, design and innovative engineering into a set that shows the boundless creativity of LEGO play, and that with LEGO Technic you can build for real."

Joe Sinclair, Director of Branded Goods and Licensing at Jaguar Land Rover, said: "The Land Rover Defender and LEGO brand are both iconic across the world, and the launch of New Defender felt like the perfect time to bring them together. The level of detail and engineering that has gone into creating this LEGO model perfectly reflects the work of our own designers and engineers who have been so dedicated to bringing a motoring icon back for the 21st century."

Opening doors allow access to the model's elaborate cabin with its working steering wheel and detailed dashboard. A new transmission system has two levers for engaging high or low ratios and a selector for changing gear – LEGO Technic's most sophisticated gearbox yet.

You can also fold the rear seat forward to view the four-speed sequential gearbox, lift the bonnet to view the in-line six-cylinder engine with moving pistons and turn the rear-mounted spare wheel to open the rear door.

Reflecting the action-fuelled accessories available for the full-size New Defender, the model is finished with a working winch, removable roof rack with storage box, pannier, ladder and traction mats.

The LEGO Technic Land Rover Defender measures over 8in (22cm) high, 16in (42cm) long and 7in (20cm) wide, and includes 2,573 pieces.
The set comes in olive green, grey and black colour scheme.
It includes a collection of authentic stickers.
Available globally on 1 October.
Price: 199.99 USD, 179.99 EUR, 159.99 GBP.
Age 11+