Formula E Panasonic Jaguar Racing GEN2 Car & Jaguar I-PACE eTROPHY Review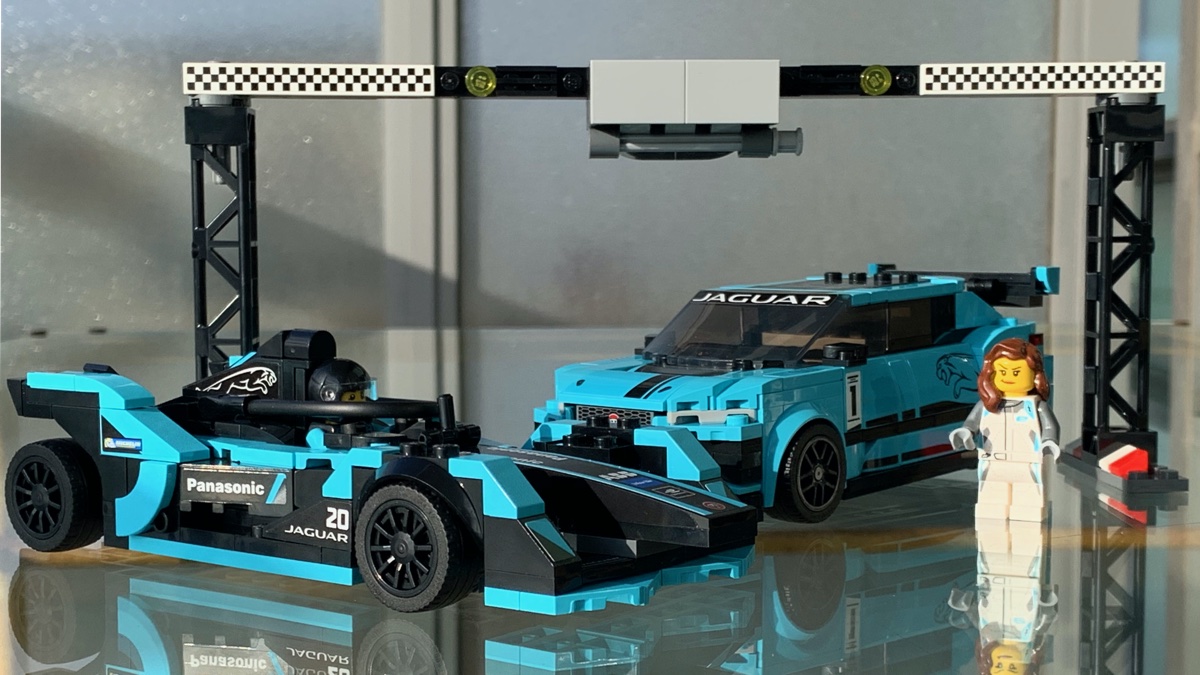 The new 8-wide Speed Champions are with us now and today we're reviewing one of the two twin packs in this 2020 line up: the Formula E Panasonic Jaguar Racing GEN2 Car and Jaguar I-PACE eTROPHY twin pack. Alongside the Lamborghini twin-pack this brings us a whole new kind of motorsport license - Formula E (complete with the series logo featured on the box). We're going to have to wait to see our first look at a 8-wide Formula 1 car in the Speed Champions line.
With 565 pieces, this set is pretty substantial, and as opposed to the Lamborghini twin pack the SUV I-PACE uses a more conventional build method, with the new chassis element introduced this year. This set is cheap for two vehicles, especially compared to the Lamborghinis, at 30 USD, 40 CAD or 34 GBP, and especially striking in the turquoise colour used for these sets. Back in June last year we actually speculated about why we hadn't seen any Jaguar or Land Rover lego yet, and since then we've seen the Technic Defender and these Speed Champions models. Like the other twin pack this year, a basic gantry is included replicating those seen in Formula E. This gantry uses a an axle-based design and the lights fall down in stages as the axle is pulled out, with single yellow lights either side. It's unusual to see a twin-pack where both vehicles are race cars in livery, usually we'd have a street car and a race car, but both twin-packs this year break that trend.
Formula E Panasonic Jaguar Racing GEN2 Car
So, the first Formula E Speed Champions model we're seeing is this Panasonic Jaguar Racing GEN2 car. Don't discount the chances of more Formula E cars in future, with Porsche entering the sport and other manufacturers we've seen in Speed Champions getting involved. This Formula E design style, with wide (1 brick) gaps between the wheel arches and the nose cone, was actually mentioned by Chris Stamp (Design Director for Speed Champions) as one of the things that the new 8-wide format allows for.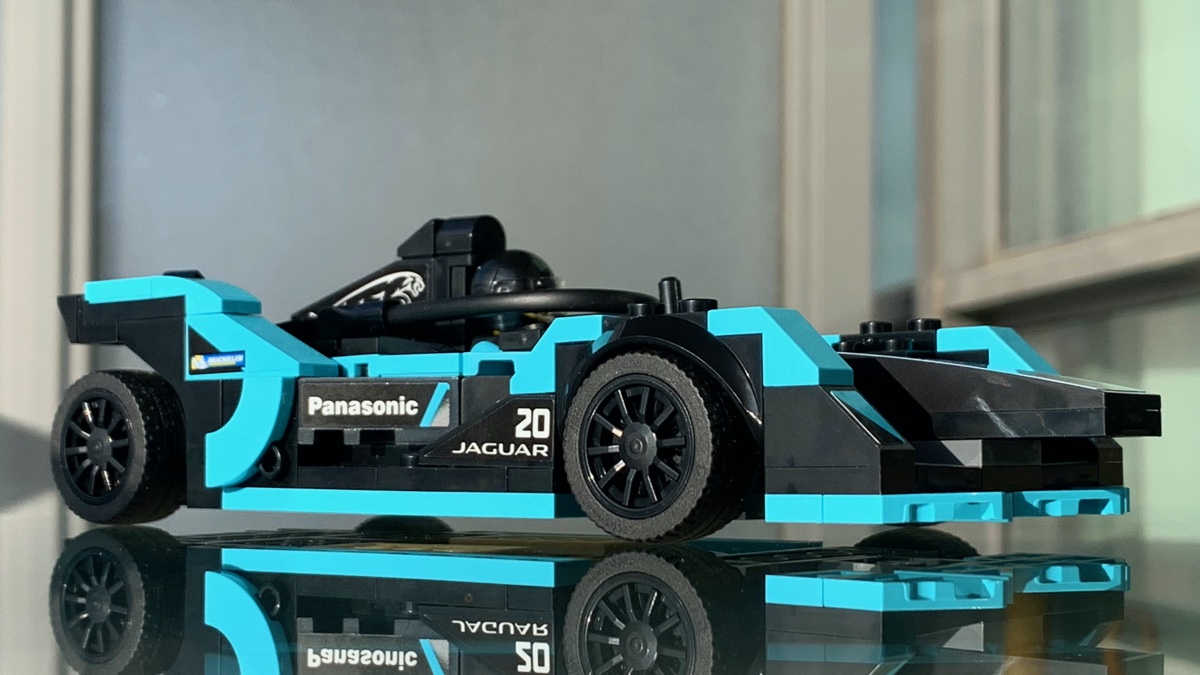 What doesn't come across in these pictures is how wide the model is in real life, squarely proportioned and with a great profile for a Formula car. The front of the model uses a two piece splitter design a with Jaguar logo on each side. Stickers are used to break up some of the lines between the black and turquoise coloured bricks to create a flowing design. There are plenty of angles and slopes used throughout the model for design features and a HALO ring around the mini-figure driver, which gives us a nice look forward to what a 8-wide Formula 1 design might look like. The HALO itself hinges out of the way of the cockpit to provide access for the driver mini-figure.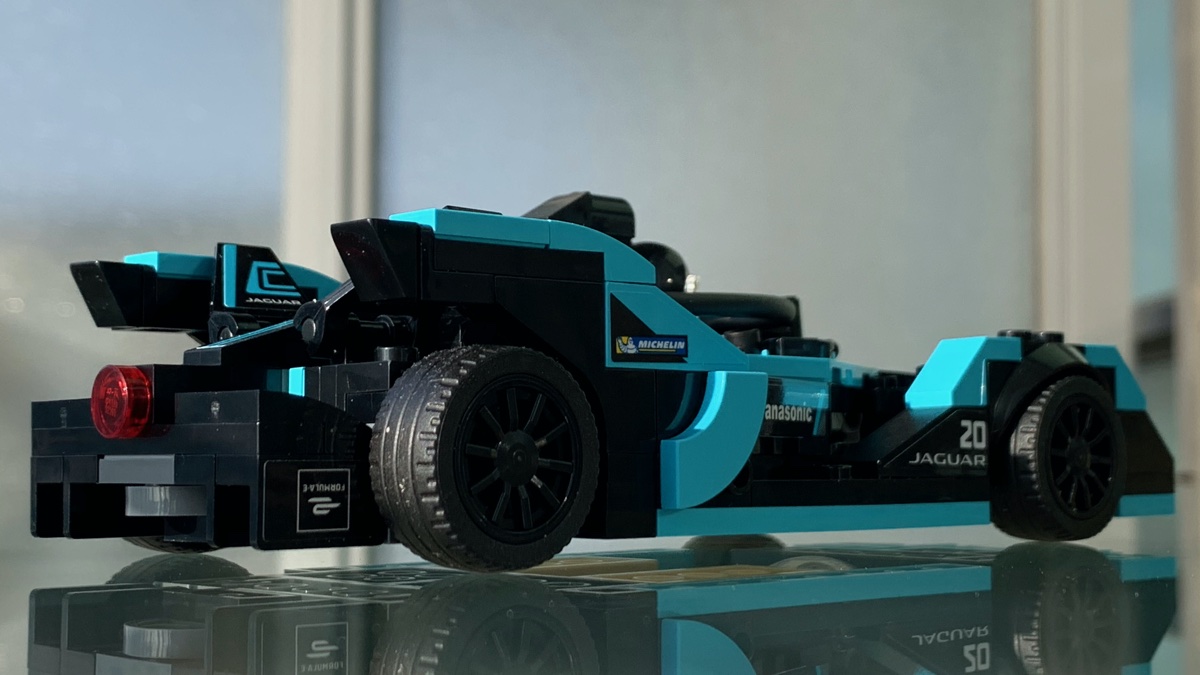 The wheels and tyres on the model standard Speed Champions fare and the wheel trims are a fairly thick multi-spoke design that we've seen on other models. While it does call back to the look of the real Formula E car, the thick spokes and lack of detail on the wheels really don't do justice to the thin spokes in real life. While the stickers do create the multi-colour livery, we feel it could have a few more sponsors, especially on the (otherwise blank) front corners to give it a racecar feel. It's also odd to see a Formula car without a rear wing, with only some aero flaps at the rear of the model and a diffuser for downforce. Some of the rear detailing gets lost slightly in the black colourway used.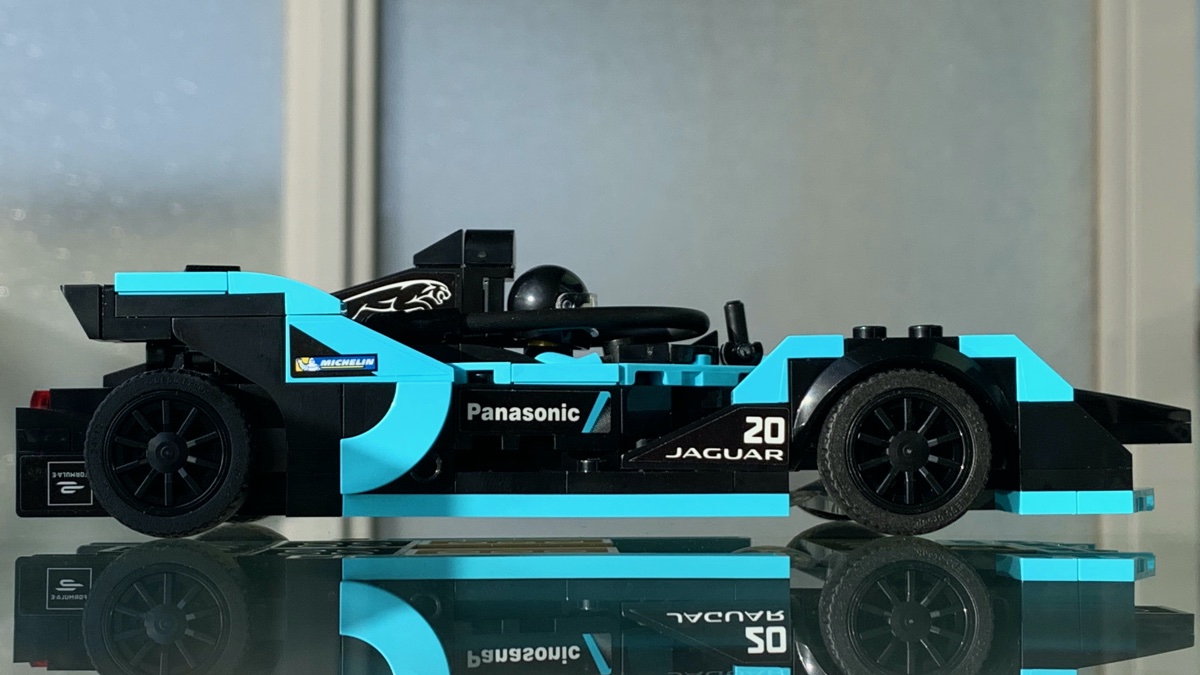 Similarly to some other Speed Champions models, using black wheel trims (as both of these models do) means wheel details get lost in anything other than good light, which does detract a little from the display value of the models. As we noted in our Lamborghini review, the proportion of wheel to tyre in Speed Champions models can be a bit challenging for the realism, especially at this new 8-wide format. The Formula E car silhouette in general relies less on slopes and angles to the sides of the car, meaning this one has relatively harsh sides and is squared off.
Jaguar I-PACE eTROPHY
The I-PACE eTROPHY actually carries the Jaguar brand more in this set, as the Formula E car has no resemblance to a production vehicle. The trademark mesh grill and red Jaguar growler badge is present and gives us the corporate face we're used to from more exciting vehicles like the Project 8. The I-PACE this race-car is based on is quite an interestingly designed vehicle, with a forward windscreen and a crossover/small SUV look to it. As a result, this is quite a heavy looking vehicle, that in some ways lacks the character we saw with the Lamborghini Urus. It's hard not to wish we'd seen a Project 8 or F-Type instead - but as both these cars are electric, the set's tie in to electric motoring and Formula E stays on brand.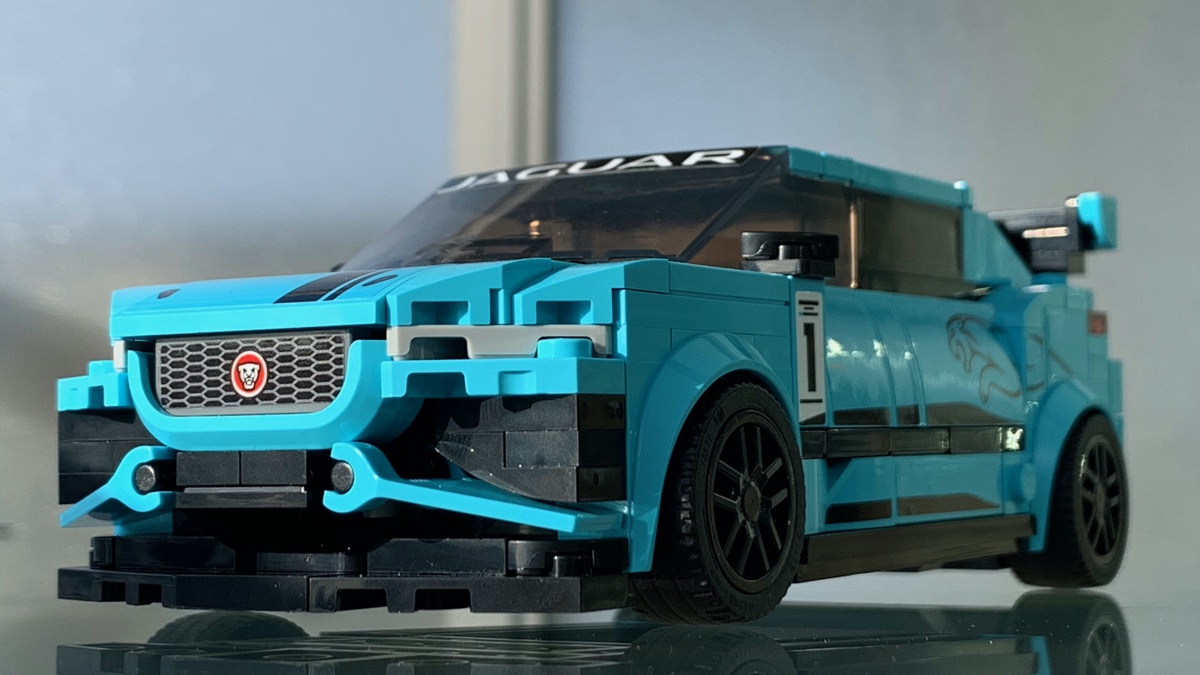 One thing that struck us with this model is the use of grey pieces for headlights is a little odd (we saw a similar effect on the McLaren Senna, although there at least the indicators were semi-transparent to provide some effect. We'd prefer to have seen smoked black transparent or transparent pieces used with a darker colour behind to create a more noticeable effect. The front splitter on the I-PACE is actually mounted upside down, and the Jaguar grille has a very interesting build technique which is great. It could help the proportions of the model if the back of the front wheel arches was more tapered in toward the body to create a more sculptured look. The front windscreen is stickered on this set with a JAGUAR sun-strip and is the new, wider piece for these 8-wide models.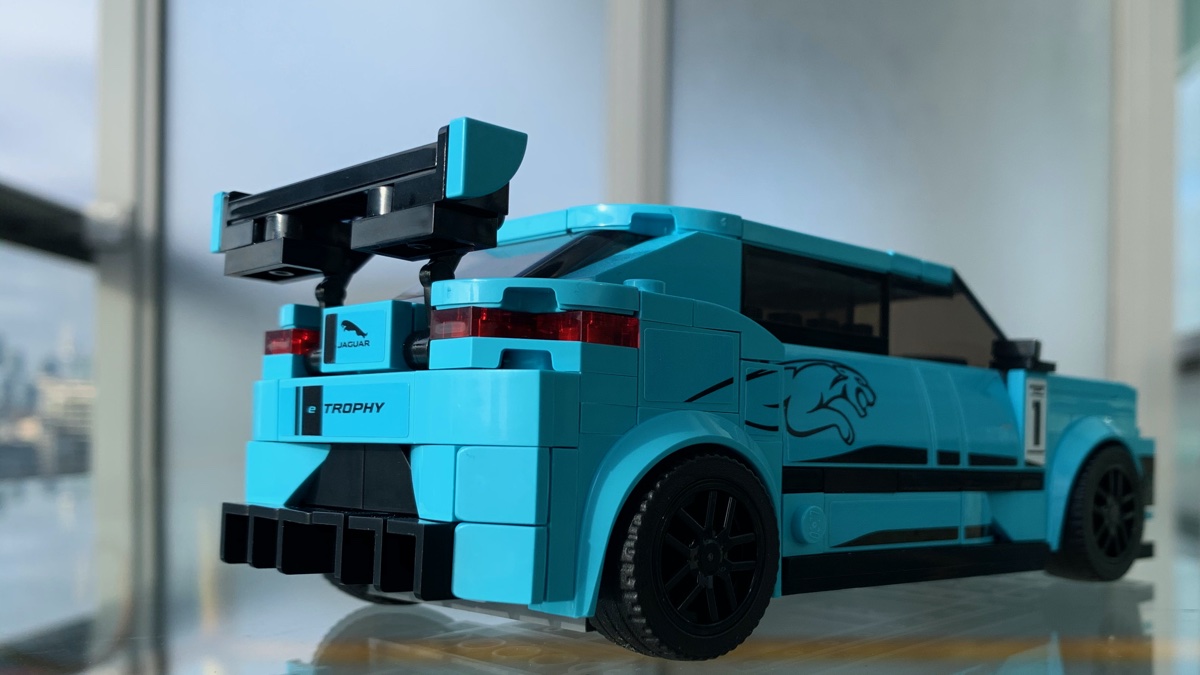 The rear wing on the I-PACE is one brick wide, about half the size of what we've typically seen on Speed Champions models and while well designed, doesn't really do a lot to break up the heft of the model. As we've already noted, this is a hefty model - the rear three quarters especially, with a brick and a plate above the wheel arch, combined with the small rear lights. The overall look is accurate to the race car but there's essentially a solid 8 wide by 3 brick high volume taking up most of the length of the car.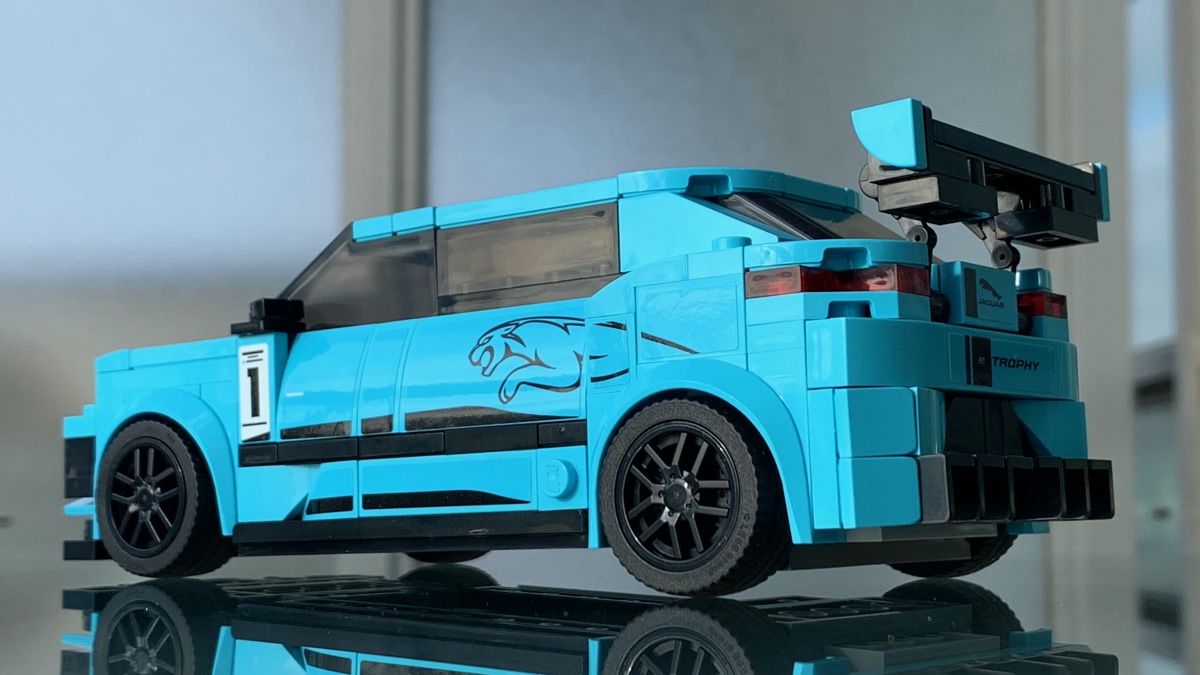 While the turquoise colour in use is eye-catching the overall race livery is quite dull (a problem coming from the real life vehicle), and the asymmetrical black stripes on the roof look a little odd overall. A neat little easter egg is the use of a normal 4x3 windscreen as the rear window (it's a fairly upright screen) for those who've been building LEGO car sets for a while. As has become normal with these newer generation sets, a few studs are strategically left visible on each side to make sure the model has a bit of a LEGO feel to it once finished. The wheel design is unremarkable, a twin five-spoke design, but at least fits with the overall look of the vehicle.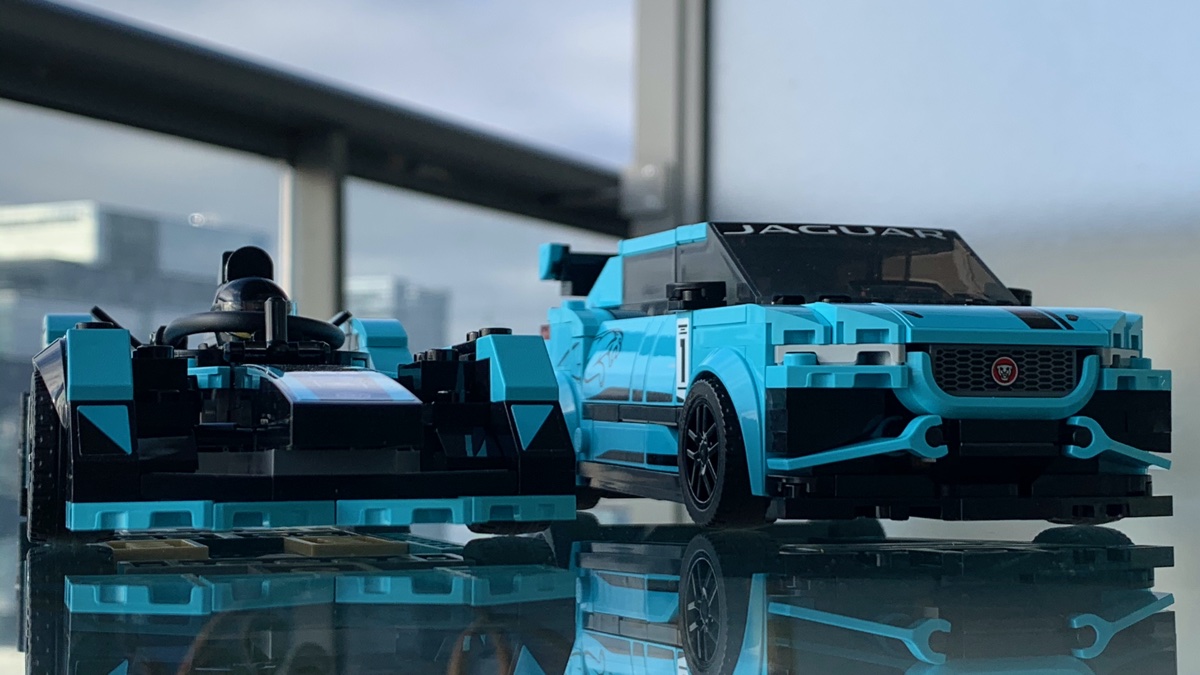 Overall this set is easy to recommend. With two 8-wide vehicles to build, a bright and eye catching colour scheme and a very reasonable price tag (only 50% more than a single car set), it's a no brainer for people to add to their Speed Champions collections. No doubt this is to do with the less desirable Jaguar and Formula E license rather than say Ferrari and Formula 1, but that's no reason to give it a skip as a set to build. As above, it would have been great to see something like Jaguar's Project 8, F-Type or E-Type in a twin pack, to capitalize more on their heritage, but the twin pack makes sense with the electric car tie-in of Formula E. As always, we have our fingers crossed for more from this licensing deal - the XJ220 or Le Mans campaigning XJR-8 would be amazing to see at Speed Champions scale. The Formula E license and car in this set also has us hoping for great things when we see our first Formula 1 cars at this new 8-wide scale.