Secondary Market Update: June 2019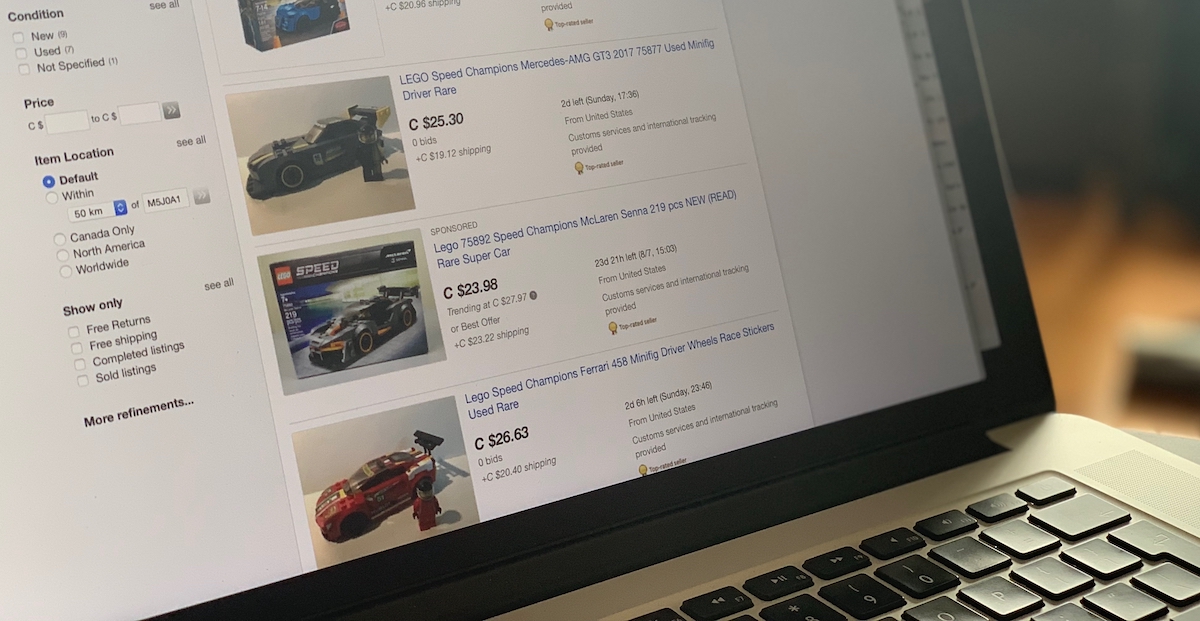 It might seem odd to discuss the state of the market for a set of toys like the LEGO Speed Champions range, but there's a massive secondary market for LEGO sets, as people look to flesh out their collections or just miss out on sets going end of life or out of stock at their local stores.
In looking to review all of the sets, we've had cause to look at the availability and secondary pricing across all of the different Speed Champions sets and some clear trends have emerged of sets that are expensive to get hold of as of the end of June 2019, conveniently covering the first half of 2019.
There's really only one factor driving affordability of these sets - scarcity. Obviously if LEGO do a special collaboration, or limited edition/off-market release (as in the case of the 'Team Gift' Mercedes AMG F1 set) then the general availability will be super low. By the time these sets make their way to eBay or similar, they're super expensive just because you couldn't have got one even if you wanted to.
The other way sets get expensive, ironically, is a lack of popularity when new. If nobody was overly excited or interested in buying a set when it was available in shops, the numbers of these sets sold, produced and then entering the secondary market will be super low making them hard to find and therefore expensive. Crazy world. Sometimes excess stock hanging around actually makes these sets really cheap right before their end of sale dates so there's definitely an opportunity to be had if you can spot them!
Chevrolet Camaro Drag Race (Set 75874)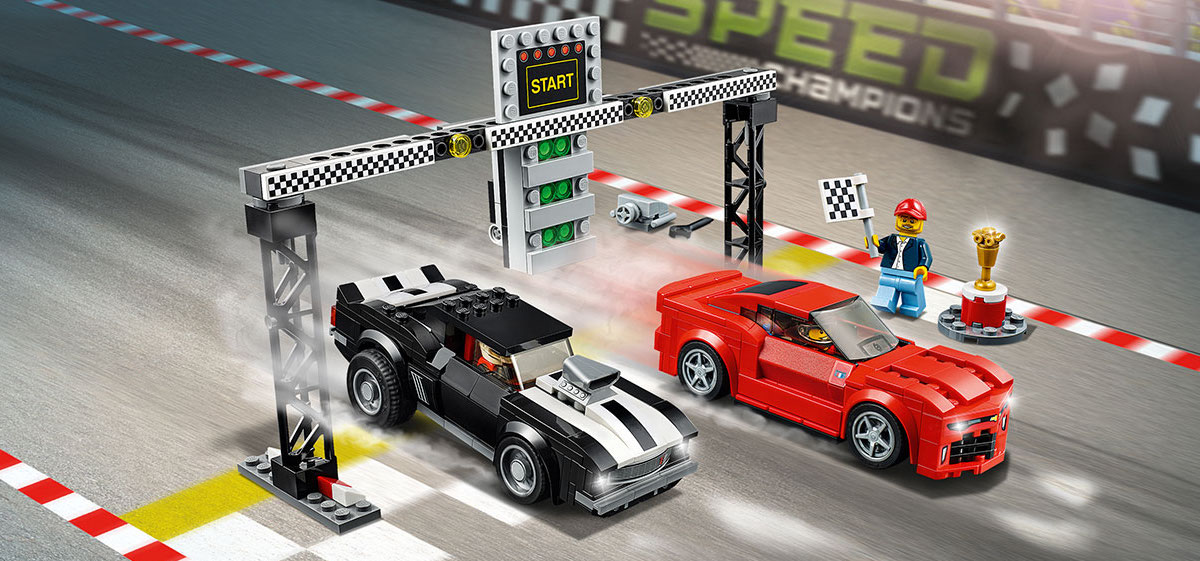 This set was released March 2016 and took the now familiar two car and minor accessory format of set, with 435 pieces and 3 minifigures. We're seeing this set selling up to US$ 149 which is crazy as it's retail price was probably around US$ 39.99. The models in this set are the '69 Camaro Z/28 in black and 2016 Chevrolet Camaro in red along with a starting gantry and a championship crown. Again, we're guessing the usual short supply/low sales numbers have made this such an expensive set to find second hand.
LEGO have since produced another modern-day Camaro set, the ZL1 race car which is currently available at time of writing and builds on the design of the modern day Camaro featured in this set. There's also another Drag set been released, the Dodge themed Challenger SRT Demon and Charger R/T set with a similar set of accessories. In the newer set they put a lot more work into the drag tree instead of using a very standard overhead light arrangement borrowed from a traditional race set).
The newer Dodge set seems to be a much better execution of the same idea and it's nice to see them putting in work to improve these sets over time. I think there's likely to be similar reduced availability on this Dodge set over time as it doesn't really appeal to the supermarket checkout/casual toy buying audience that LEGO seem to market these sets at, which is likely to lead to the same lack of supply.
Ford F-150 Raptor & Ford Model A Hot Rod (Set 75875)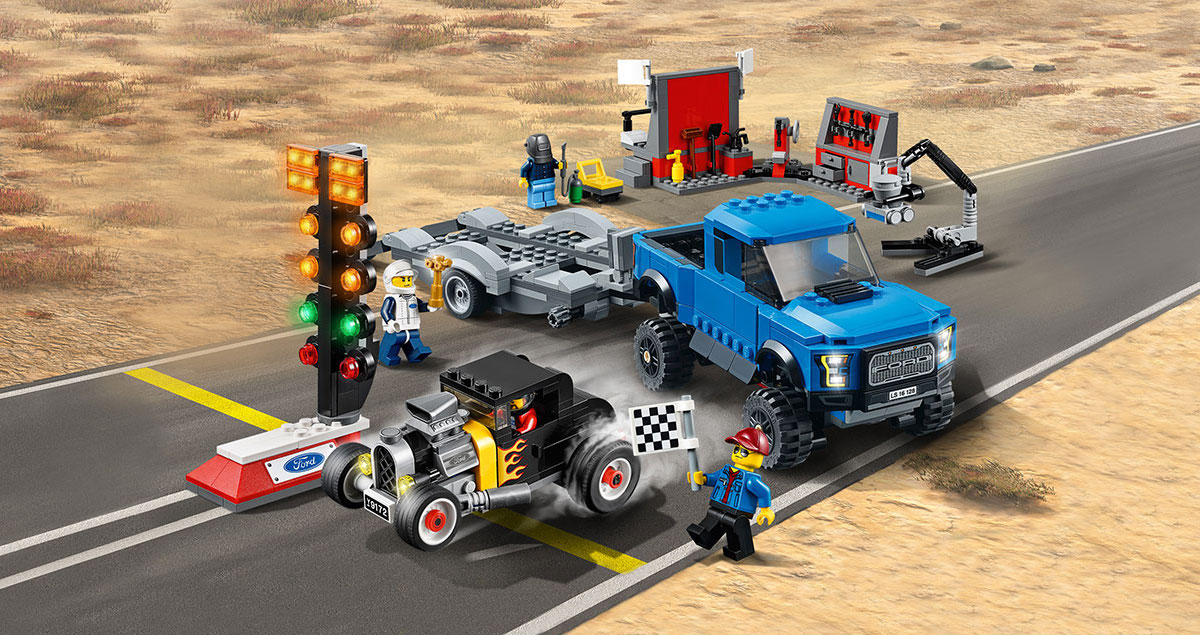 Another March 2016 release and not to bang on about it, but this set being hard to obtain seems to be a direct reaction to its relative obscurity - not many kids or LEGO enthusiasts would be waiting for a F-150 Raptor or Model A hot rod, and even those into pickup trucks or hot rods may not have wanted the entire set. The F-150 even came with a trailer attachment to carry the hot rod, which is actually a really neat touch. As part of a wider Speed Champions/Ford collection, this with the GT40 and Mustang would be great.
In our travels around the net looking at prices for this set, we've seen it listed as high as US$ 500. The RRP of the set was $49.99 so a 10x increase in price is looking pretty nice for owners of this weird and wonderful set. To put it in perspective though, this was the second most expensive set released in the second wave of Speed Champions sets, so given it's relatively off-beat theme its not surprising too many people skipped it.
A fun fact about this set: Craig Callum, head of design for LEGO Speed Champions, at one point actually raced a Ford Model A hot-rod, so it's very likely the car in this set is based on his car.
Ferrari FXX K & Development Center (Set 75882)
This set was released in 2017 and retailed at US$ 49.99. As a typical example of this trend, in late 2017 this set was regularly available at US$ 39.99 from major retailers. Right now it's selling in the secondary market at around US$ 100. With 523 pieces and 4 minifigures, this was a substantial set but not that exciting.
We'd assume a saturation of Ferrari Speed Champions sets led to reduced demand for this one originally, especially as it features less accessories/a less exciting theme for kids and would be unlikely to be a major present. (Even the initial release of Speed Champions had two Ferrari's versus one car from every other manufacturer, so it's a bit of a trend).
What to buy right now?
These are the sets we think it's the right time to buy/get hold of. We're big fans of getting hold of these sets when they're end of line/on sale at retail as it's by far the best value and usually means you can get a reasonable amount of your money back if you choose to re-sell later.
Mercedes AMG Petronas Formula One™ Team (Set 75883) - If you can still find it, this set had some recent deep discounts in the UK and is retired from the line already. It's a big set that's less of an impulse buy, plenty of fun to build and comes with custom minifigs.
1967 Mini Cooper S Rally and 2018 MINI John Cooper Works Buggy (Set 75894) - This is a current set, and even features in the very recently released Forza Horizon 4 expansion.
Mercedes-AMG GT3 - (Set 75877) - Sales seem to have been slightly lower of this set, and given it's been available alongside an F1 Mercedes-AMG set, you'd assume fans of the brand have gone for that instead. This set doesn't seem to have been heavily pushed and is still at retail.