Technic Porsche 911 RSR Review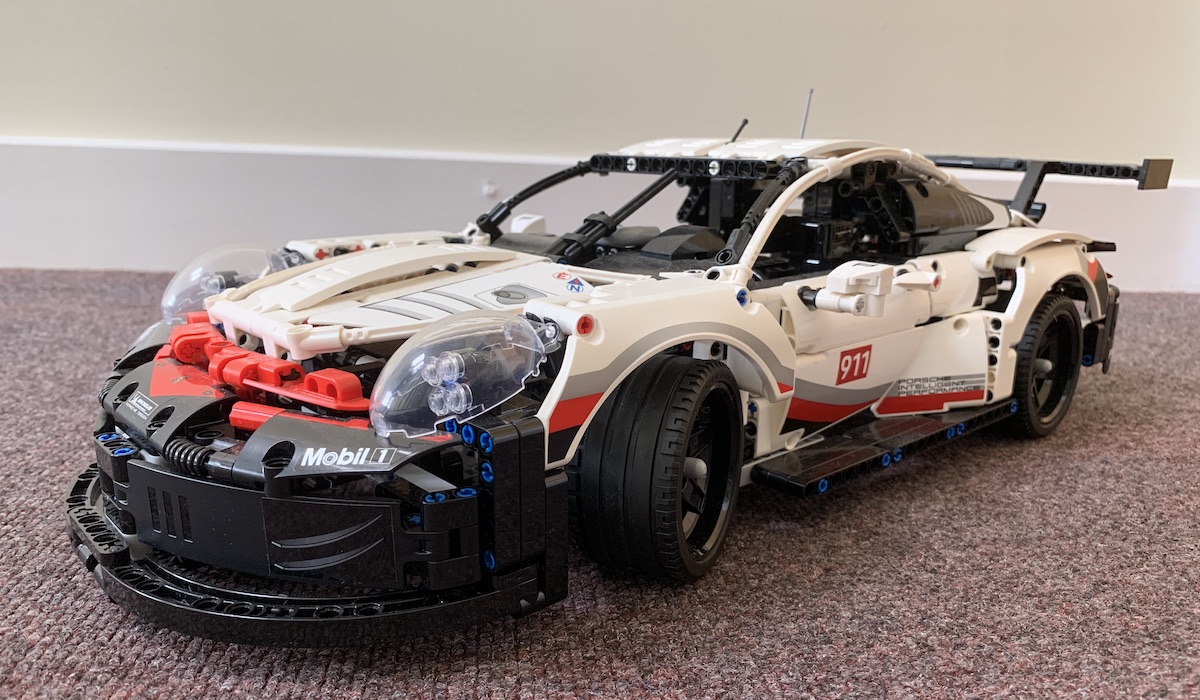 If I was a cynic, I could start this review by telling you that it was completely unnecessary. I could point you in the direction of our review of the Technic Porsche 911 GT3 RS and tell you to build that model, remove the PDK gearbox and around half the components, use a white outer body with some extra stickers and you would have this set. Today I am not, however, going to be a cynic and we are going to look in-depth at what makes Set 42096 - the Porsche 911 RSR unique and worth buying in its own right. The first major point of which being the price point - which is £129.99 (essentially 159/199 USD/CAD). As of Summer 2019, which is just over 6 months since this set was released, we are finding retailers selling this for a 50% discount, which is almost unheard of in LEGO Technic circles. Compare this to the £249.99 retail price of the original 911 GT3, which clung to that value for quite a long time and probably only ever saw a maybe 20 to 30% discount, this is a very cool way of getting your hands on a large scale Porsche 911 without breaking the bank.
Having discussed the stats and this set's outer resemblance to the Technic GT3 RS, let's have a look at the actual model itself. The livery is a great choice. The Porsche racing colour scheme looks awesome at this scale, and this set looks great alongside the Speed Champions 919 and RSR in the same white/black/red colours. Are there liveries that could have been cooler? Yes, maybe the legendary 'Pink Pig' one with butchers cut marks or the legendary Rothmans or Gulf racing schemes - I couldn't see LEGO adding any more hassle into the licensing agreement to get those models produced however.
Taking a number of components out of the GT3 RS has not made a huge difference to the model. If you're a massive enthusiast you'll notice the model is lighter and more sparse on inside detail. It's clear this model was produced to provide a lower price point and reach people who didn't want to spend serious money on a UCS Technic set. Ultimately, it's a large scale Porsche 911 LEGO set and does a great job of that, regardless of the relative lack of Technic mechanisms - those who care have the GT3 RS available as an alternative.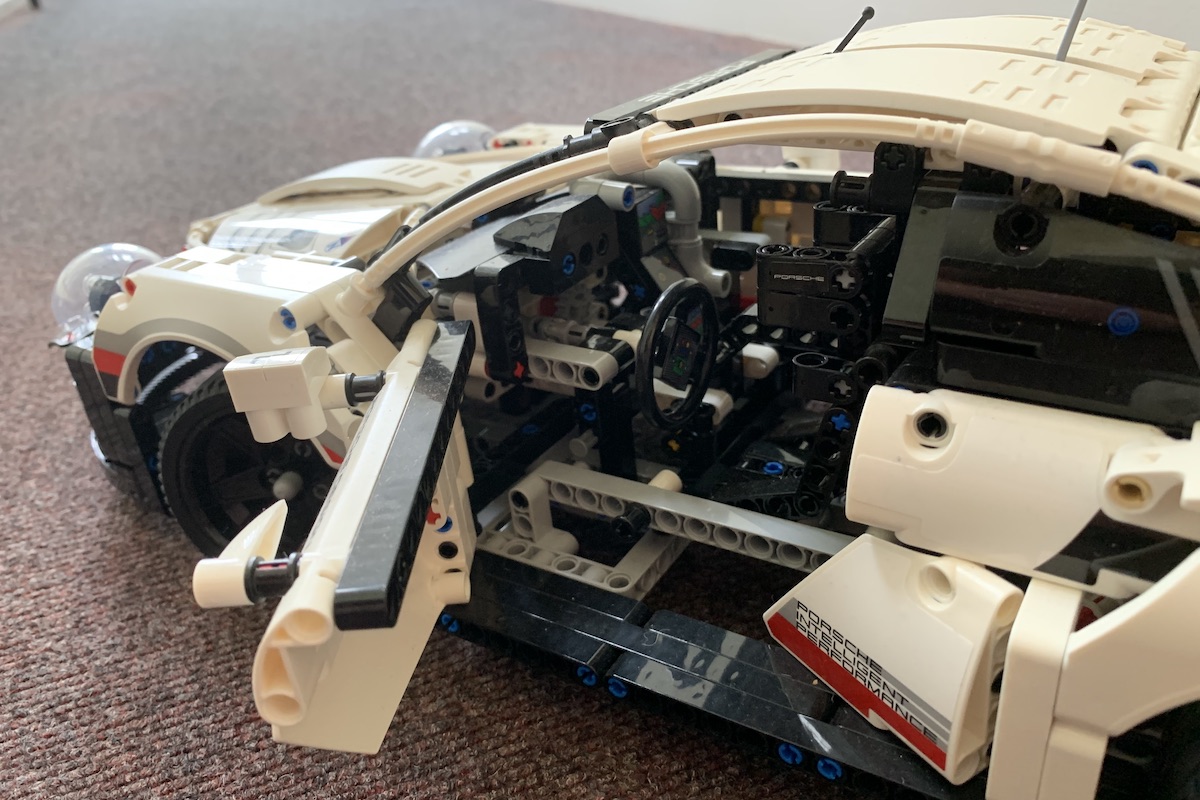 The downside on removing all of the extra components is the effect on build time and enjoyment (if you're a Technic fan). There was easily a week of building for a few hours a day to complete the original Technic GT3 RS. When it comes to the RSR, that time is shortened significantly - I think I finished this build in a day or two. The set is almost exactly the same build with a few adjustments too, so if you're planning to buy both I'd definitely recommend leaving some time between the two builds.
Things LEGO have improved on this model that I really like? I think the 991.2 tail-lights at the back look a lot more sleek and impressive than the earlier style on the original model. The centre mounted tailpipe and the motorsport style interior, with vents and a realistic look are both great. The aero package on the car, with an underslung rear wing, a little ducktail spoiler and wide side-skirts down the side of the car looks aggressive and gives it a realistic feel. The designers have clearly spent a lot of the time between the two releases on giving this model a race-car look. The diffuser at the back is absolutely massive and the front bumper has had a redesign - I'd love to see someone build a MOC with some of these details onto the original GT3RS for a more aggressive, or later 991.2 look.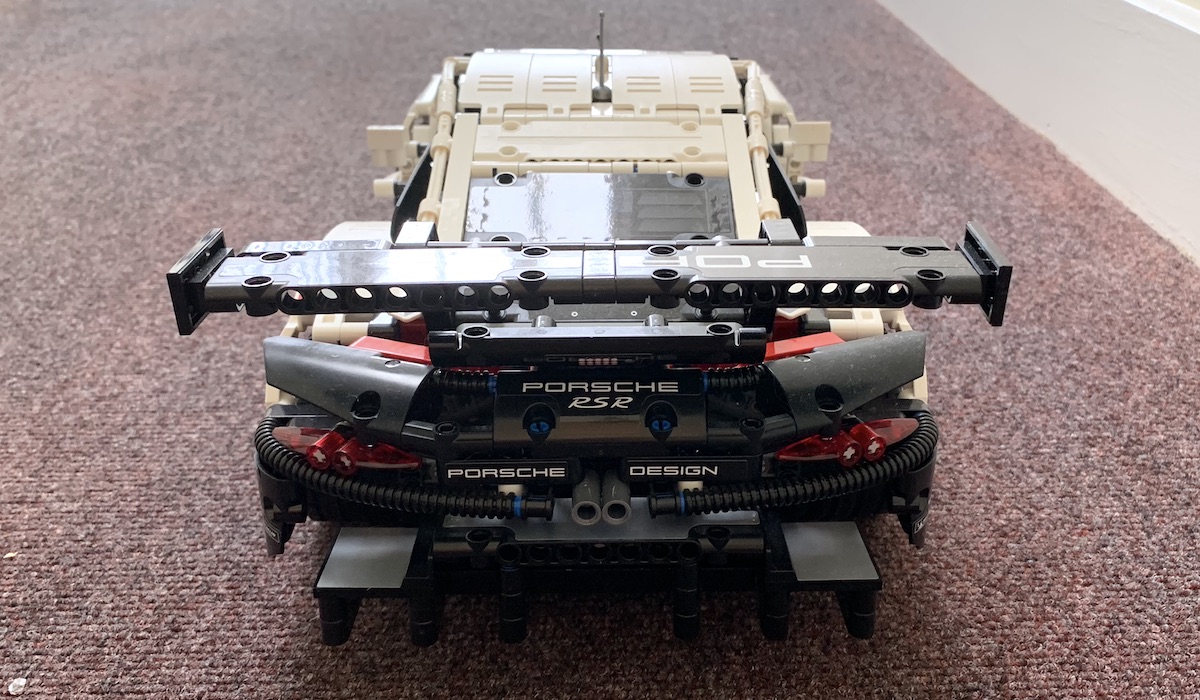 Sticker-wise you mainly the Porsche Motorsport coloured skin. There are small Mobil 1 and Michelin stickers as well as Porsche Design sponsorship and the model accurately represents the team entered factory 911 RSR. I think it's a shame that more couldn't be done with the wheels - we've seen custom rims several times for Technic models. I'd love to see the Technic models branch out from the big chunky rim designs that they use and go into more multi-spoke racing designs, but I do understand how difficult it is with mould limits for new sets. We saw in an interview how proud the Speed Champions team is for adding so few parts to LEGO in their range, and no doubt there's internal pressure to keep these custom part counts down. It's at least nice that they didn't use the GT3RS wheel set and went with a more motorsports oriented look, differentiating the set.
This set could be a great base for a MOC. Swaps with cheaper variants of the parts from the original GT3 RS set and some alterations could make this a great base for building Technic-scale modern 911s as well. While liveries are typically difficult (custom stickers aren't really a solved problem in LEGO world) a Brumos Porsche or other classic livery Technic scale 911 would be great to see.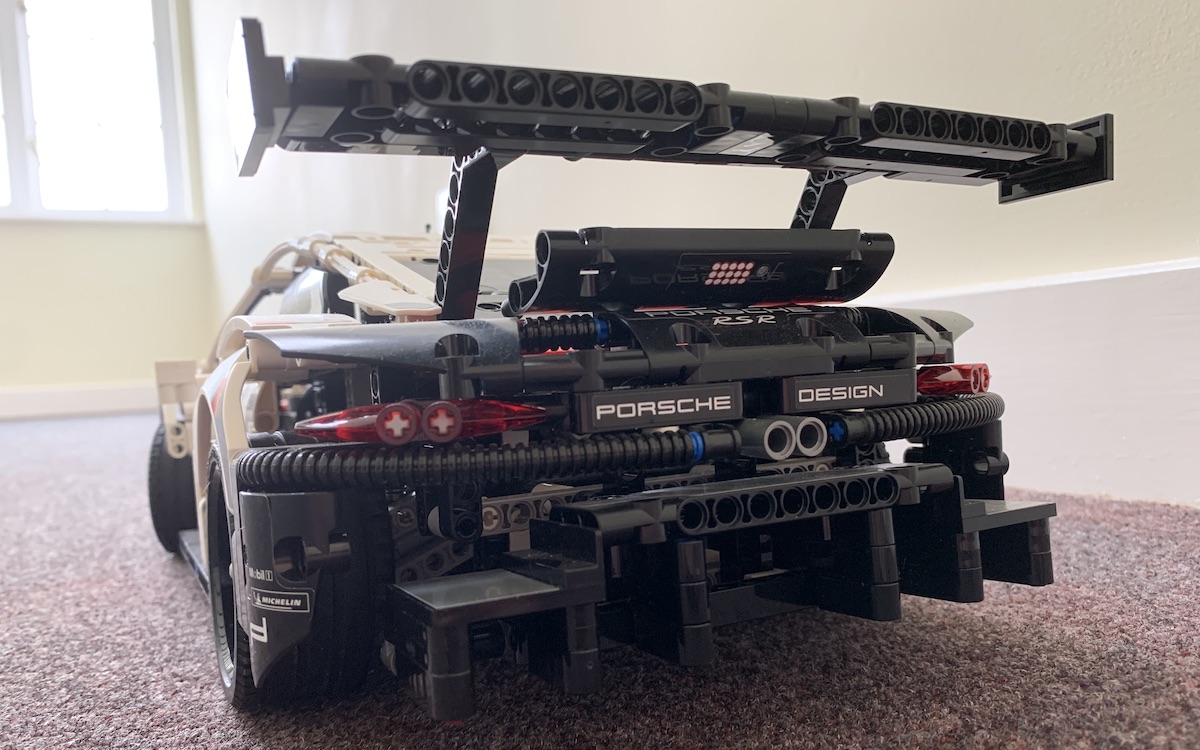 Overall, we're big fans of 42096, despite our initial skepticism that it was a lot of money to spend on a variant of the previous set. The designers definitely made a good effort to improve and alter the model to reflect the race-car, giving it an appeal all of its own. Would I have preferred a new car release by Technic in this window? A McLaren 720S, or Technic Senna? Absolutely, but understanding the investment in completely new sets and brand tie ins it's natural to see some re-use of previous work. This set sneaked out under the radar and is actually an awesome addition to the line-up, which otherwise would have been restricted to the usual alternate year cycle that we've seen so far for the Technic UCS series.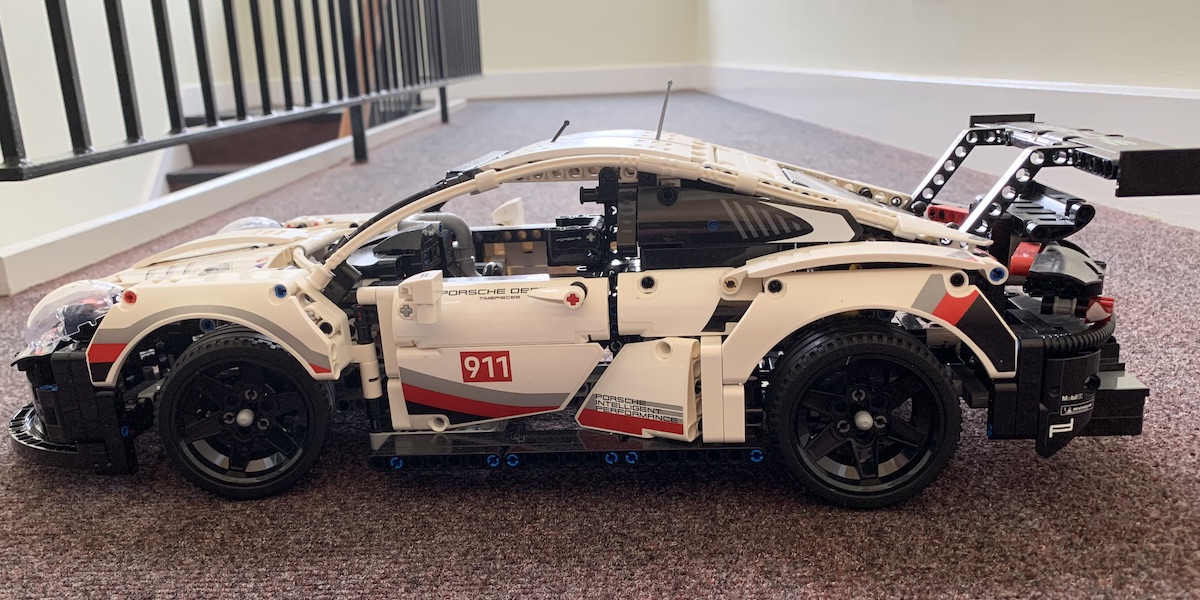 Rating
Overall: 70 (How we rate sets and models)
| | |
| --- | --- |
| LEGO-ness | 4 |
| Detail | 4 |
| Build | 2 |
| Display | 4 |
| Accessories | N/A (Technic Set) |
The score is a drop from the Technic GT3 RS, which we almost gave perfect scores to, but this is still a very good set. The GT3 RS came out of nowhere and started the Technic UCS line, and for that reason alone it's already a very significant set. However, this 911 RSR set can't completely escape the similarity to its GT3 RS bigger brother. The display and build scores suffer a little for this - especially as the RSR is essentially the outer skeleton of the GT3 RS. It's still a great model for display and if you're an endurance racing fan, from series like Porsche SuperCup or IMSA, you'll probably like it more than the street car.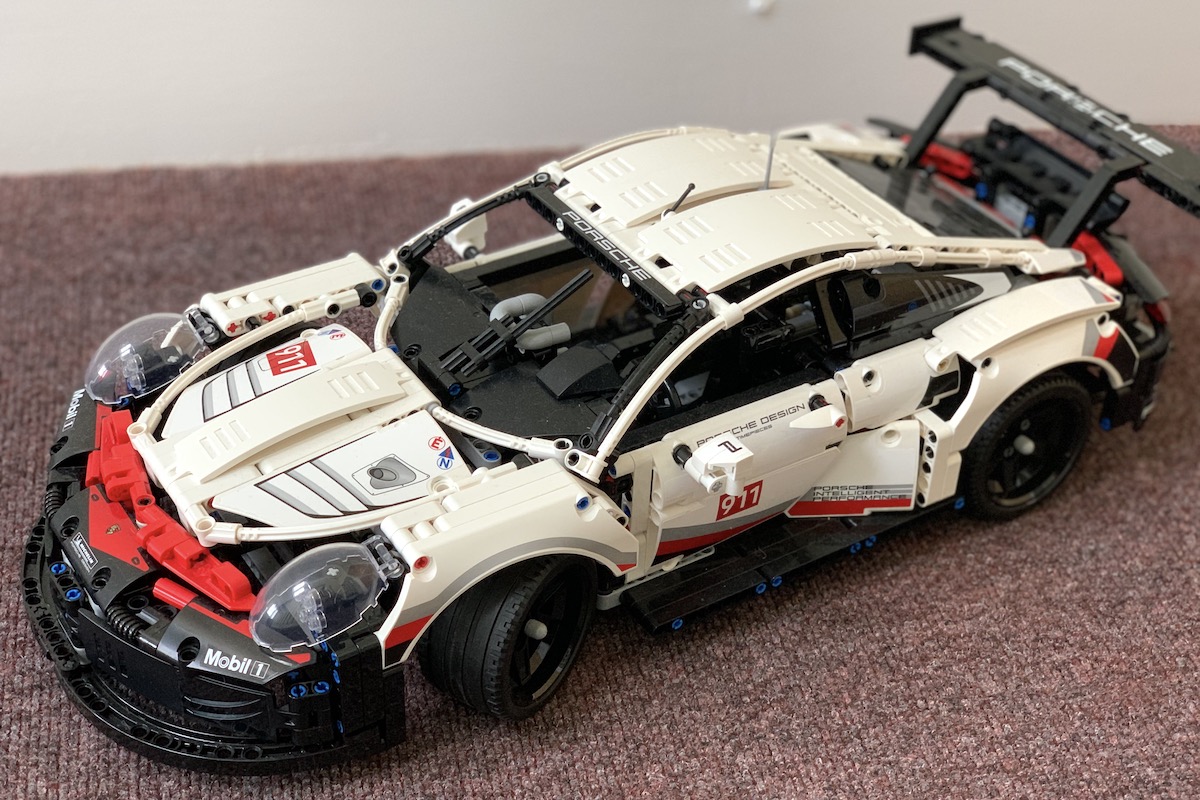 As of Autumn 2019, this set has started to become low on stock and become discontinued at many retailers. If you are looking to buy this set new and not too keen on secondhand purchases, now is probably the time to pick this up for a deal. Is this car with another £100 (average) even if you have the orange GT3 RS in your collection? I'd probably go ahead and say absolutely. I don't think you would regret this purchase at all.