Porsche 919 Hybrid Review
Summer 2019 has seen some great GT racing in famous races such as Le Mans, the Total 24 hours of Spa and the Nurburgring 24 hours. Sadly, it's been a few years since we've seen a manufacturer such as Porsche in the top class of the Le Mans race, as Audi and Porsche (under the VAG group leadership) both left the WEC a few years ago now. This leaves Toyota unchallenged for race wins and has allowed race drivers such as Fernando Alonso to get their first wins and their first Rolex Daytona watches. As we mentioned in our article about Le Mans's top class - LMP1, LEGO have made several speed champions sets over the years to commemorate the winners in this top class of motorsport. Let's take a look at set 75887, the Porsche 919 Hybrid, a 3 time Le Mans winner in 2015, 2016 and 2017.
This isn't the first endurance racing Porsche kit. 75876 was a Porsche 919 Hybrid and 917K Pit Lane Kit. The 919 Hybrid in 75876 was frankly awful, and I'm not too sure why, I found it too blocky and the colour scheme was not one of the most memorable for Porsche Motorsport. So the release of 75887 was quite a relief. It actually matches the colour schemes used in the FIA World Endurance Championship and has real sponsors. I'm not hating completely on the pit lane kit though, the 917K was a cool part of endurance racing history and I think they got the shape and look of that model, as well as the classic red colour scheme absolutely spot on when they released it. Maybe releasing the 919 Hybrid model in that colour scheme would have been more compelling (the new Porsche 917 concept can give us hope on that!)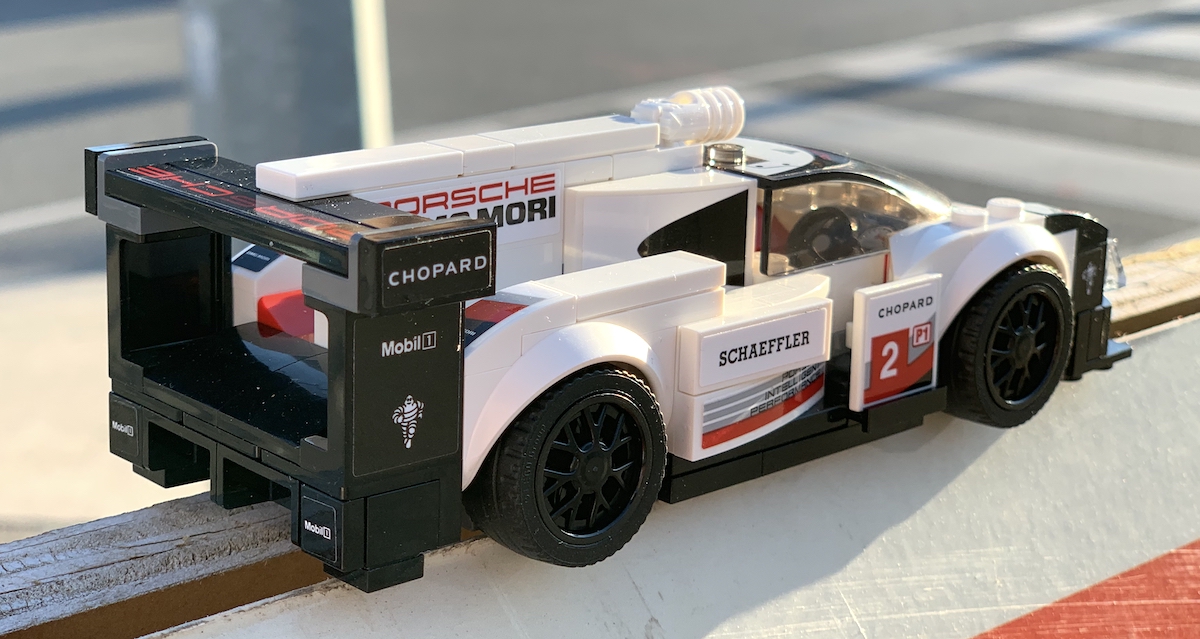 The Porsche 919 comes an individual box, which is pit stop themed and I think is a fantastic model. It's a change of build style if you are used to Speed Champions, because the long LMP1 style car has a lot more curves and unique parts than the usual car or super car model that LEGO have released. LEGO have gone hard on the sponsors, and you'll find stickers including Michelin, Mobil 1, Shaeffler, Chopard and DMG MORI which I think really adds to the authenticity of the set. I get that MOC people would be unhappy that this makes changing the colour harder, but you'll find that the lights are all LEGO pieces and if you wanted to make this car unique, you could totally do it completely new without decals.
Particular favourite parts of the set? I like the price, it's good that LEGO released this as an individual set rather than bundling it with other cars as they have done previously with manufacturers, it makes a refreshing change to the 917 set which gets a large premium used and especially boxed. The original Speed Champions were always cars on their own, apart from the Ferrari truck, and it seems like they definitely moved towards more and more expensive large sets. The aerodynamics of the kit are good too, I like the huge wing with the end plates and sponsor stickers, as well as the above cockpit air entry vent and how it looks. The doors are also fantastic, the way a hook piece has been used along with a flat piece to create a sweeping aero tunnel through the car, just like the real LMP cars have if you see them in 'parc ferme' prior to an endurance race.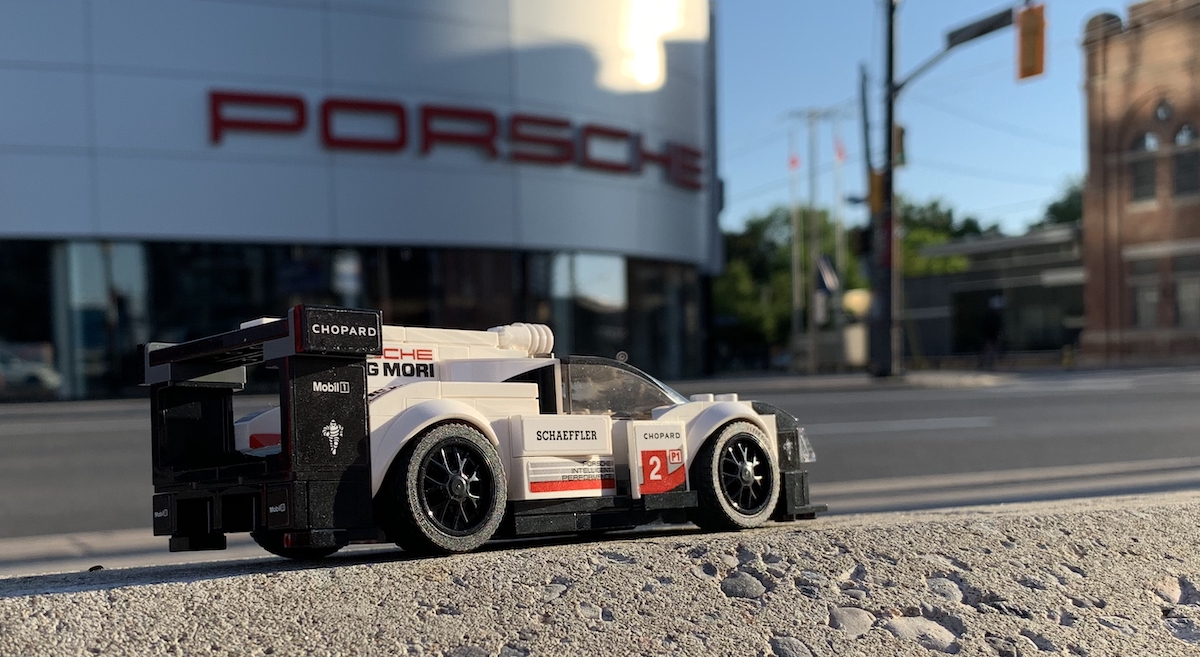 There's not a lot of downsides to this set. Would I have liked to see a new manufacturer such as Toyota or the legendary Peugeot LMP1 cars from recent history, or even really pushing the boat out and licensing the epic 1 time only Bentley 7 and it's iconic green colour scheme. We'd already had Audi LMP cars from recent history as well as a Porsche Le Mans racers and I don't think this adds a huge amount of excitement or brings any innovation to the range compared to if they had been a bit more imaginative. I get though, that with a corporate partnership with Porsche and their management group, LEGO were unlikely to go out of their way seeking expensive partnerships with other companies.
This set is retired now, but if you're lucky to live in Canada or the mainland US you can probably still find this at a lot of retailers. In fact, in Summer 2019 this was still available on the LEGO website in the US. In Europe, this is long gone and you'll be looking on auction websites or brick marketplaces, although you won't be paying a big premium as it's not been long out of production. This set will go up in value, but maybe not as much as the historic Porsche racing set will, but it's still a great set to have in your collection and show off.