Audi R18 e-tron quattro Review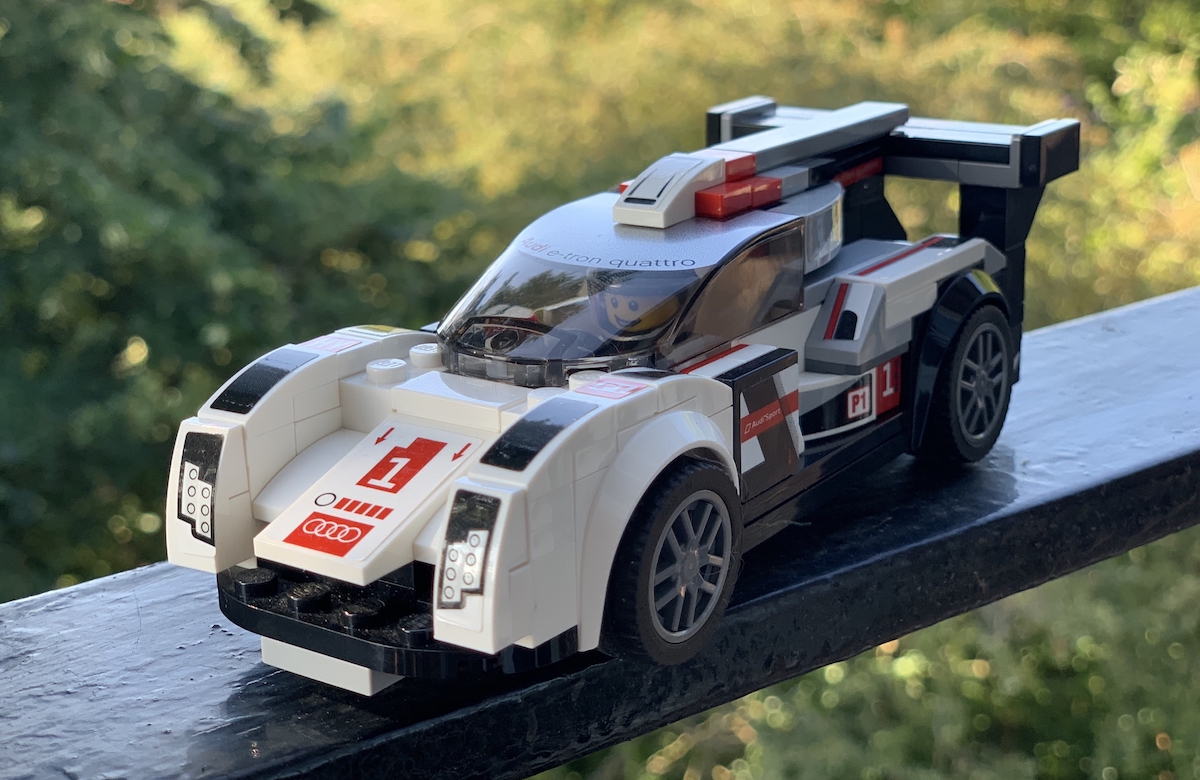 We are heading back a few years today, back to 2016 when LEGO released the Audi R18 E-Tron Quattro. Consisting of 161 parts and with a fully stickered livery, this vehicle was released as a one car set, and was overlooked by a lot of collectors and we will be looking at why. Even on the used market at brick marketplaces, as of Summer 2019 you won't be paying much of a premium for a fully complete version of this including box, in fact the only thing you would need to think of budgeting for is a BNIB (brand new in box) version. So without further ado, let's get into reviewing this LEGO endurance racer - with 47 starts and 18 wins in it's respective championships (World Endurance) this vehicle is one of the most iconic of it's time, so let's see if the brick version measures up.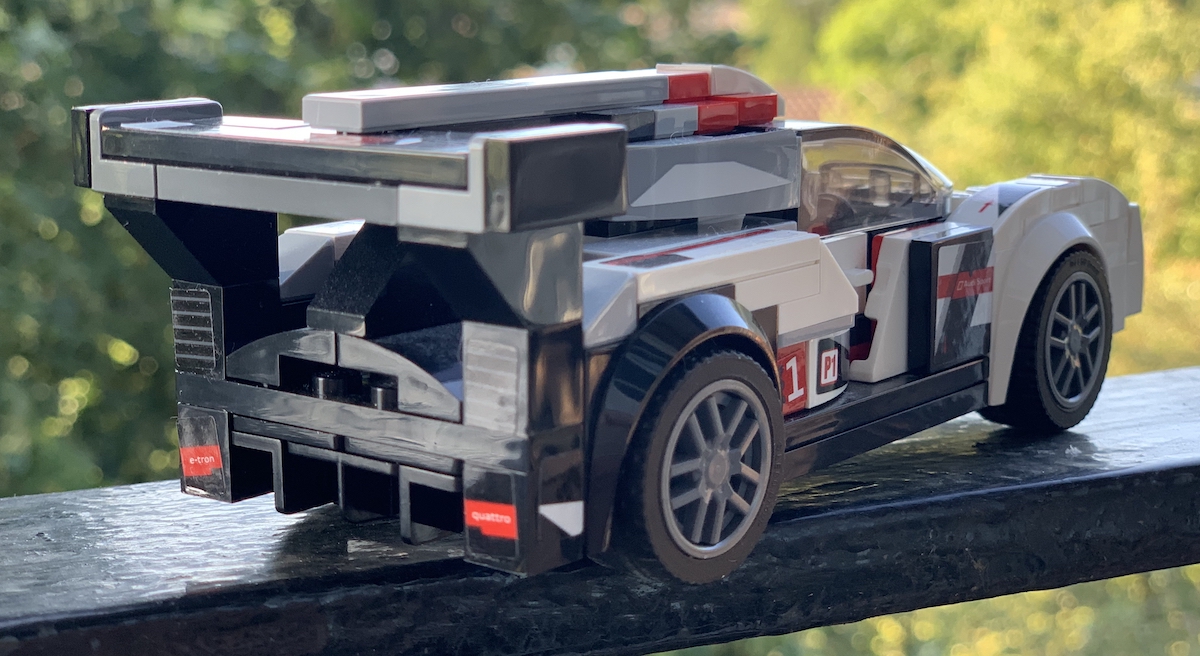 We are going to start by looking at the vehicle itself. The R18 debuted at the 1000km of Spa in 2011. It's an evolution of the range of vehicles that Audi dominated Le Mans with (with the caveat that apart from a few years of Peugeot and Toyota, the famous four silver rings mainly had themselves to battle with - sometimes fielding up to 4 cars at the 24hrs of Le Mans). The R18 pretty much came about because Le Mans changed rules in 2011 and this brought along the famous 'fin' of the car, which is an aerodynamic stabiliser running from the top of the roof to just above the huge rear wing, which is underslung.
Whilst not as beautiful as the open roof R10 TDI or R15 TDI, the R18 is what most people think of when they think of Audi victories. It was originally released with a 3.7L V6, In 2012 it moved into the hybrid era with the R18 E-Tron Quattro (while also keeping the R18 Ultra) and in 2013 with the help of Bosch and Williams Hybrid Power, it went fully hybrid. LEGO have based their design on the evolution of the 2012-2015 car, as the headlights changed dramatically on the 2016 vehicle and had a high raised nose and 'r' shaped front lights. This vehicle, arguably less well designed, did not win at Le Mans that year, and Audi pulled out at this point - rumoured to be due to the spiralling costs of their WEC program, and the re-emergence of Porsche (owned by the same umbrella group) coming to seal their mark as the record setting winners in the high teens.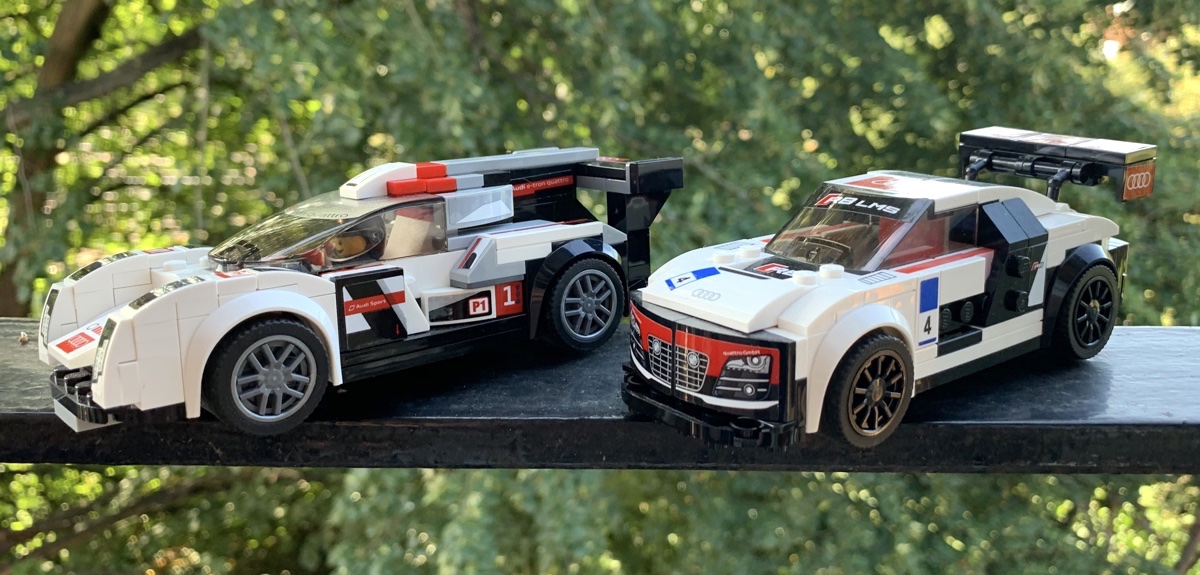 So now we know more of the LMP1 era monster that is the real car, let's look at the LEGO model. The bricks themselves are a mixture of black, white, red and grey and the model closely matches the Audi Sport stickers that came on the R8 LMS Ultra set. In fact the two cars look really cool when lined up next to each other. The stickers, although not matching the exact details of the actual race car do really suit the model, and have cool features such as the position markers down at the bottom corners of the door, which in a real endurance race light up to show your position in race/class. The headlights have been achieved with stickers too, similar to the way the R8 was done, it's hard to see a way that translucent LEGO bricks could have had the same effect.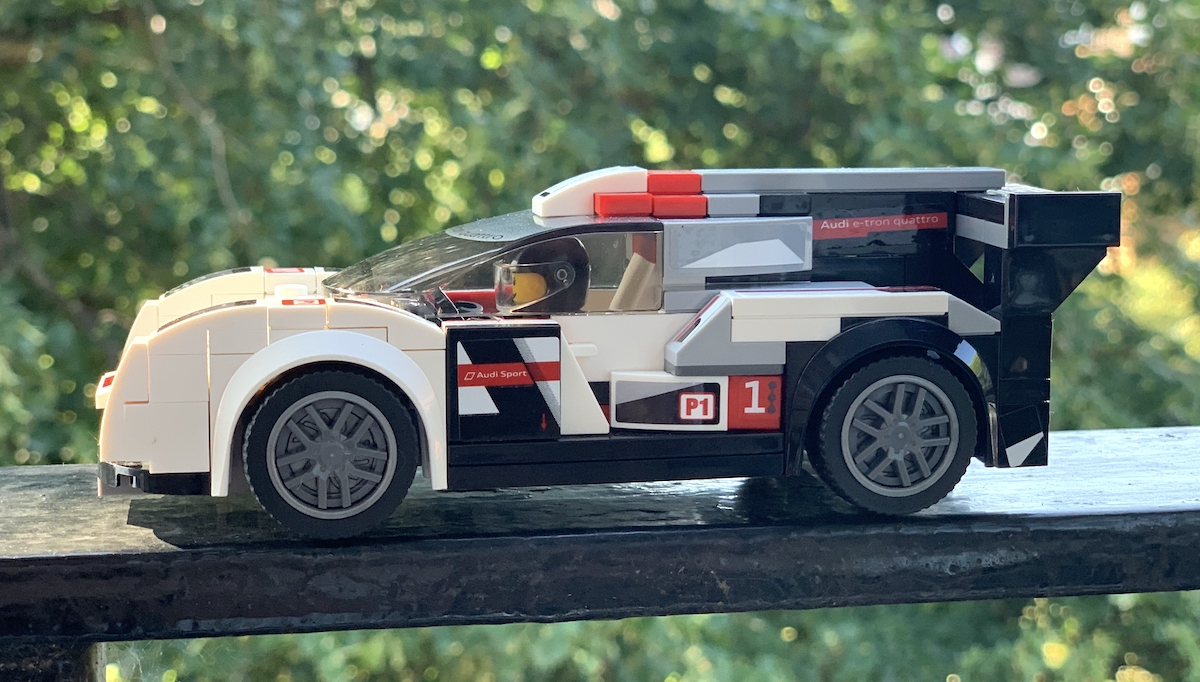 Body Design? I'm not a fan. It seems slightly lazy, and let me explain why. By 2016, they were releasing some really cool sets that matched the bodies of the cars quite well and did not suffer from the 'blocky-ness' that the earlier models did. The front of this car you could spend a few hours in and probably get it more realistic to the massive gaping aero that exists on the real car. It's clearly an early attempt at the LMP1 cars that by the time in 2018 when LEGO released the Speed Champions Porsche 919 Hybrid, they had perfected and made a much more attractive model. The rims also seem lazy, the R18 in all of it's liveries had these amazing dished multi-spoke rims, later moving onto large black rims for the alternate cars. It looks like the designers just picked out some LEGO City wheels for this model and threw them on. If you have later sets, I would be surprised if you swapped the rims off of this model to add to the realism. There was a really easy win for LEGO there and it seems cost cutting reduced the desirability of this set.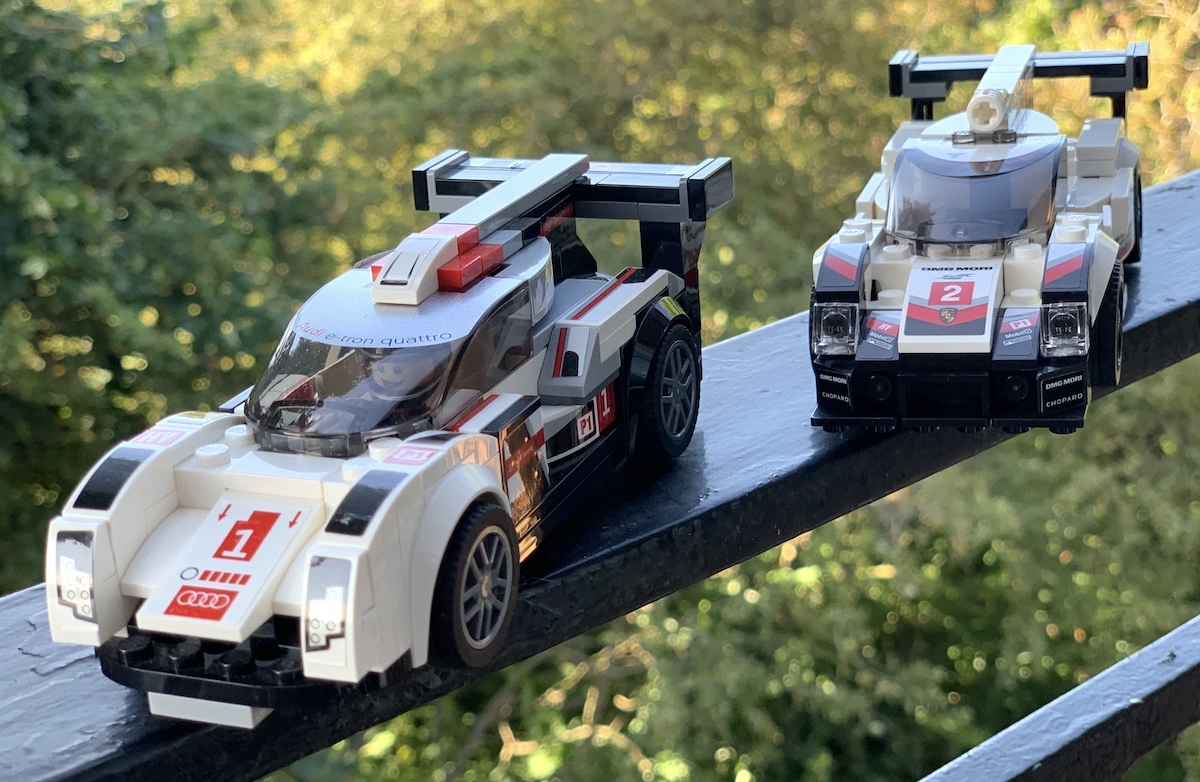 The accessories that came with the set are also a bit of a let down, for a kit with only 161 parts - the only thing you get is some strange kind of air compressor or fuel pump. There's no real relevance to what this, or the car at all. Here at Speed Champions we are quite critical of the accessories that come with the car, but even if you got this as a present for your child, I'm not too sure that silver hose piece would hang around for long before being lost, and to accentuate that I'm not too sure many people would care once it was lost. Not to go fully negative, I'm a fan of the huge back wing and how it connects with the aero fin, and this was one of their first goes at doing this, I love how it all interconnects to the rear of the car and this model from some angles has an awesome look. With hindsight, for a first attempt at an LMP1 Speed Champions model, this was not bad at all.
Real Life Facts and Figures
One of the most iconic Le Mans driver line ups of all time - Tom Kristensen, Marcel Fässler, Andre Lotterer, Benoit Treluyer and Allan McNish all got behind the wheel of this car at one time or another. With McNish mainly then putting it into walls shortly afterwards.
Featured in the famous Jason Statham narrated documentary Truth in 24 II
Le Mans 24hr Wins - 2013, 2014
WEC Constructors Championship Wins - 2012, 2013
Designed by Ulrich Baretzky
Rating
Overall: 75 (How we rate sets and models)
| | |
| --- | --- |
| LEGO-ness | 4 |
| Detail | 3 |
| Build | 4 |
| Display | 3 |
| Accessories | 1 |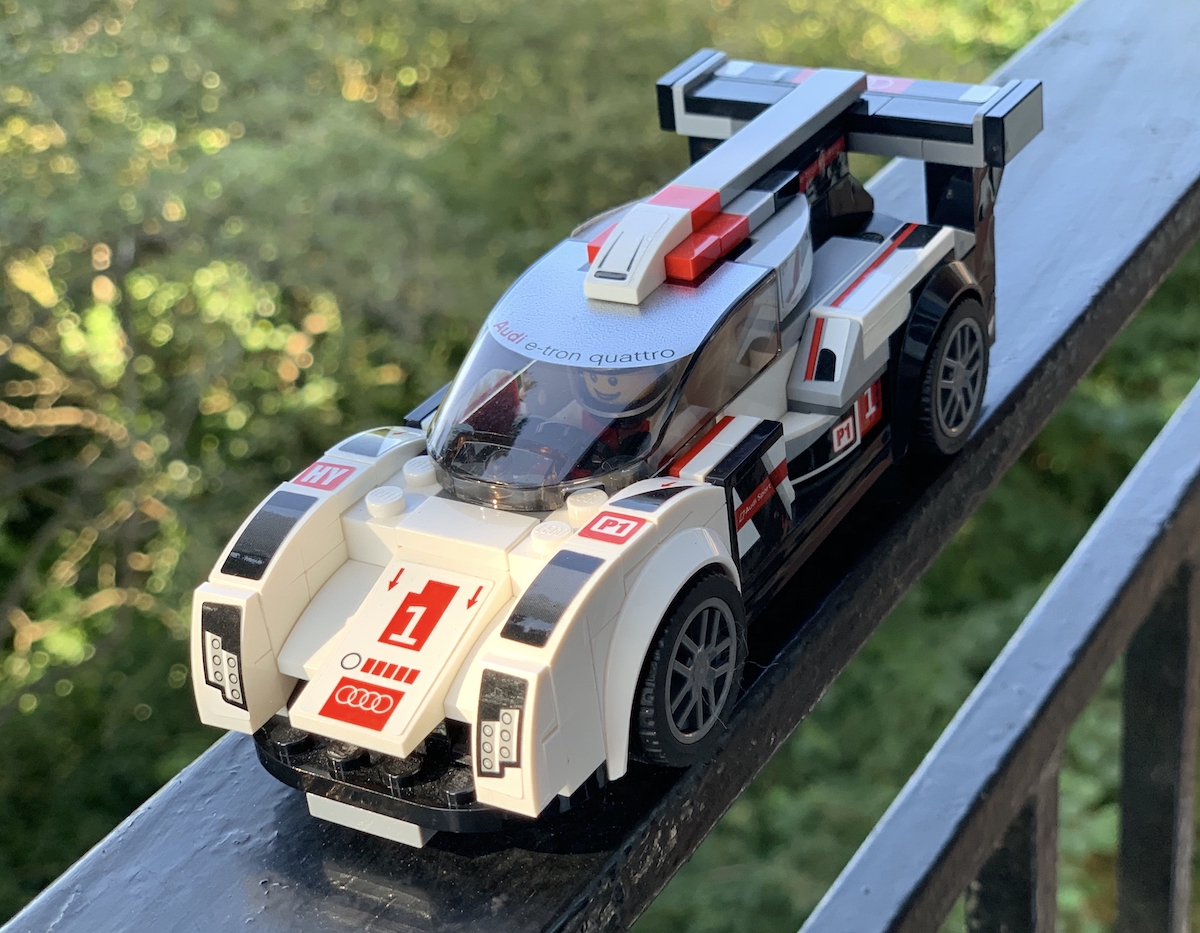 If you want to get a feel for how a set was received by the general public after it's release, just look on eBay. The Ford F-150 or even newer sets such as the Ferrari FXX K, sold in few numbers, but so desirable, really will set you back a decent amount to get your hands on, whereas when it comes to this Audi - you'll probably pay maybe 10% more than the original RRP. The set hasn't aged well and is probably only a must buy for die hard Audi fans or Speed Champions collectors. However, if you want to complete your GT Racing start grid, it's a cool set to have - and also clearly a bargain on the second hand market.