BBC Top Gear LEGO Technic Set Announced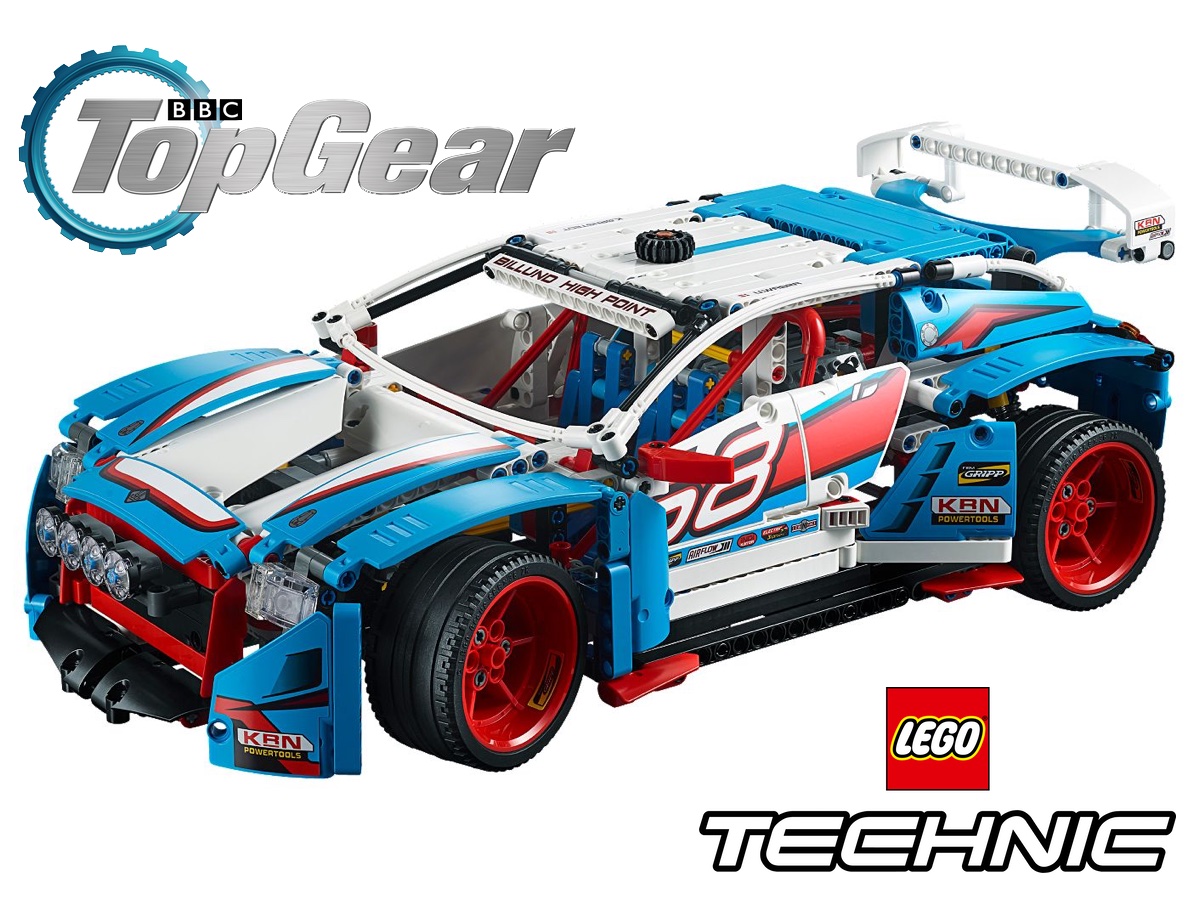 In unexpected news today, the BBC has announced a deal with The LEGO Group to release a LEGO Technic set based on the Top Gear TV Series. This set is expected in 2020, alongside the other rumoured 2020 LEGO Technic set releases that we've had rumoured. In our opinion it's likely this set is the rumoured 42109 Rally Car Licenced RC Car (1HY Flagship) with 463 pieces, as there are mentions of an app-controlled remote control rally car amongst discussion of the release.
PromoBricks have a few tips, that the model is a white racing-style rally car with stickers (including one with "The Stig" and the UK flag) and a set of spotlights on the front. It's possible the set might be quite rough, with just 463 components and the RC/App control gear to fit into it - it's rumoured to be priced around the £125 mark with availability 1st Jan. The set is very expensive given the number of pieces, but this likely reflects the value LEGO put on the set having app-based remote control via their Control+ technology.
The set makes no mention of any licencing - it's likely this is going to be an unbranded set without any automotive manufacturer tie in. The BBC have announced that the model will have "real world" functionality based on cars and a challenging build, so we'd expect to see some Technic mechanisms amongst the set.
Information is light on the ground right now, as LEGO sets for the 1st half of 2020 wouldn't usually start to leak or be revealed until later in the year. The BBC gave a short quote supporting the announcement. We'd previously been confused why a 463 piece RC car would be a flagship set for the year, but with the Top Gear brand tie in it makes a lot more sense.
"We are extremely excited to have partnered with LEGO Technic. Both brands enjoy a very close relationship with their fans, it's certainly a natural fit for both and we're really looking forward to seeing the LEGO Technic Set hit the shelves next year" - Jason Easy, Head of Licensing UK, BBC Studios
Why the licencing deal has been pre-announced isn't clear - we're expecting a new series of Top Gear on the BBC this fall, so it's possible the set will either feature in the upcoming season as a promotion or have some connection. This isn't the first time we've seen LEGO and Top Gear collaborate - an abortive project saw a LEGO Stig Minifigure available from a website for Top Gear Magazine readers back in 2012.
A little history digging also reveals many rumours that the Speed Champions franchise itself may have been conceptualised as a Top Gear LEGO line, as some leaks mentioned the original Speed Champions line up (announced in 2014) along with the famous BBC show. The famous bust up with Clarkson that left Top Gear in ashes, with the three hosts heading off to The Grand Tour instead came along and Speed Champions was released under LEGO's own brand the following year.
Time will tell with this new licensed Technic set, as fall approaches we shouldn't have long to wait for more information or box art/previews of upcoming sets for next year. We're still excited for any news on the Speed Champions releases for next year or the rumoured 2nd half 2020 successor to the ultimate LEGO Technic Porsche GT3 RS and Bugatti Chiron models.