Forza Horizon 4 LEGO Speed Champions: 360 360 - Do a Barrel Roll in a Ferrari 360 Challenge Stradale
Some of our most popular articles here at Speed Champions relate to Forza Horizon 4 and the LEGO Speed Champions expansion for the game. This makes a lot of sense because some of the brick challenges they put in order to complete that DLC are actually really difficult to complete. You know how much difficulty we had with even simple challenges like finding the Helipad, UFO Crash site or completing some of the easier challenges, because I don't think that Playground Games signposted these as much as they did some of the harder ones because they just expected people to get them done.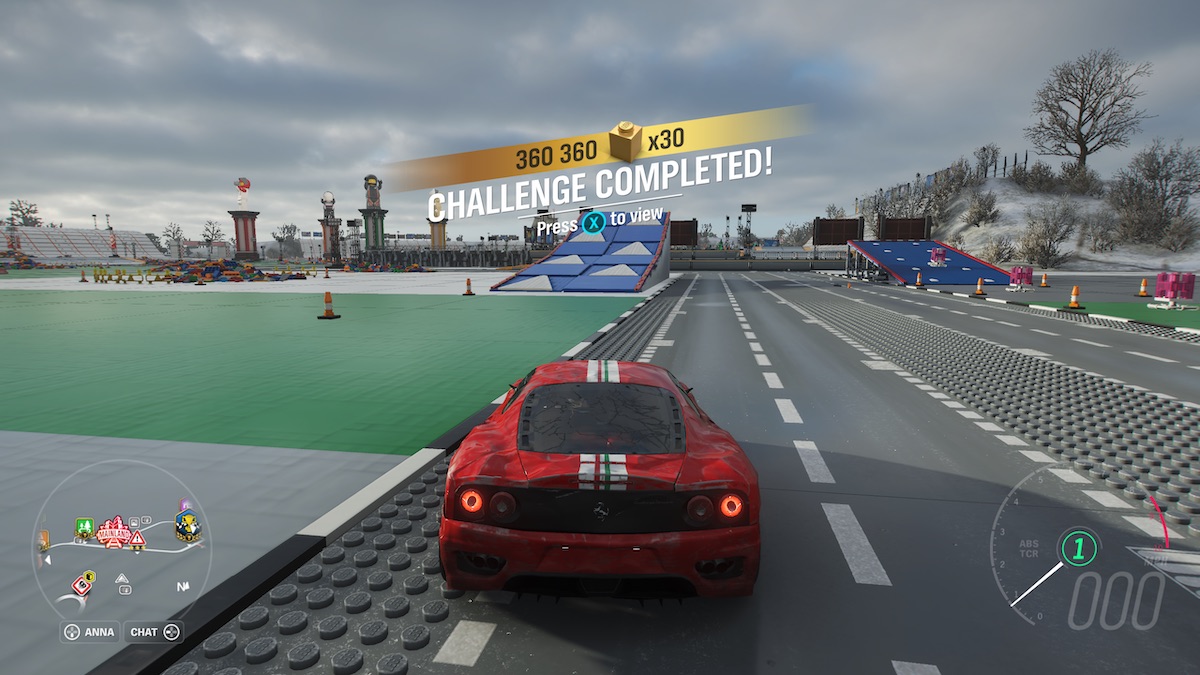 So today, let's look at the challenge '360 360'. This involves using a couple of hundred thousands of credits to ensure that you have a Ferrari 360 Challenge Stradale. Once you're in this, there will probably be a good few places dotted across LEGO Valley... but we did this in the Stunt Park as you can see in the video that accompanies this guide. We recommend finding one of the bigger blue and white ramps. When you get to it, you'll need to flick the car off the side of the ramp quite violently at speed. You won't get a full rotation of the car (it won't land back on it's wheels) but if you do it fast enough the Ferrari will rotate just enough to trigger the "Barrel Roll" and show the biplane graphic that goes with it. You'll bag yourself 30 more bricks for your collection and move that bit closer towards the Speed Champions finale.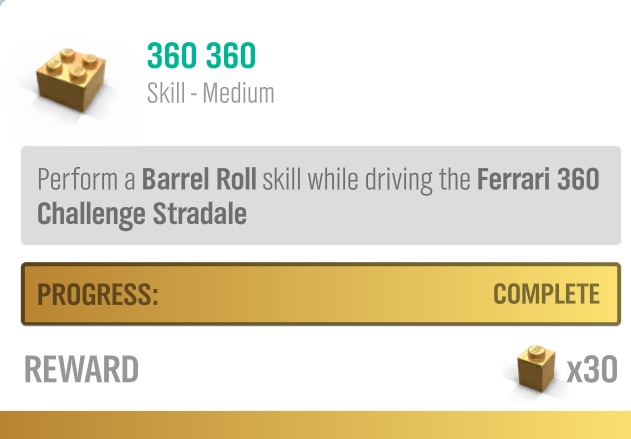 On an unrelated note, there's never been a 360 model. There's a LEGO Racers F430 Spider which came out after the LEGO and Ferrari Licensing agreement was made, but the Racers theme sadly missed out on the 360. The Ferrari 360 Maranello, Spider and Challenge Stradale were some of my absolute hero cars growing up, even more so than the Goldeneye featured F355 which raced a DB5 (of note, containing Famke Janssen). If there was one car in real life or even LEGO format I could own, the 360 Challenge Stradale would definitely be up there. It's one of the first cars to bring the supercar into the 'daily driver' category, even though it does come with horrendous Ferrari sized bills and an awful reliability record.
The Ferrari 360 was in production from 1999-2004. The Challenge Stradale came later, with ceramic brakes off of the Enzo, a 110kg weight reduction and a whole lot of carbon fibre - as well as that famous rear black grill that looks so much better than the original colour matched painted rear bumpers between the iconic twin lights. You won't find a Challenge Stradale for anywhere near it's original retail price now, and I'm willing to guess that a lot of them are holed up in garages and showroom. If you're lucky enough to see one of these, or it's successor the Ferrari F430 Scuderia it's something to truly appreciate. Good luck with the Forza challenge and hopefully the video helps.