The Original Speed Champions
Since this site's pretty new, it's been interesting to dig into the history of the Speed Champions sets. Of all the press releases on the LEGO Group's press site, there's only one about Speed Champions - and fittingly, it's the introduction announcement. I thought it'd be interesting to take a look at what LEGO had to say about Speed Champions at the outset, back in November 2014 before the March 2015 launch of the range …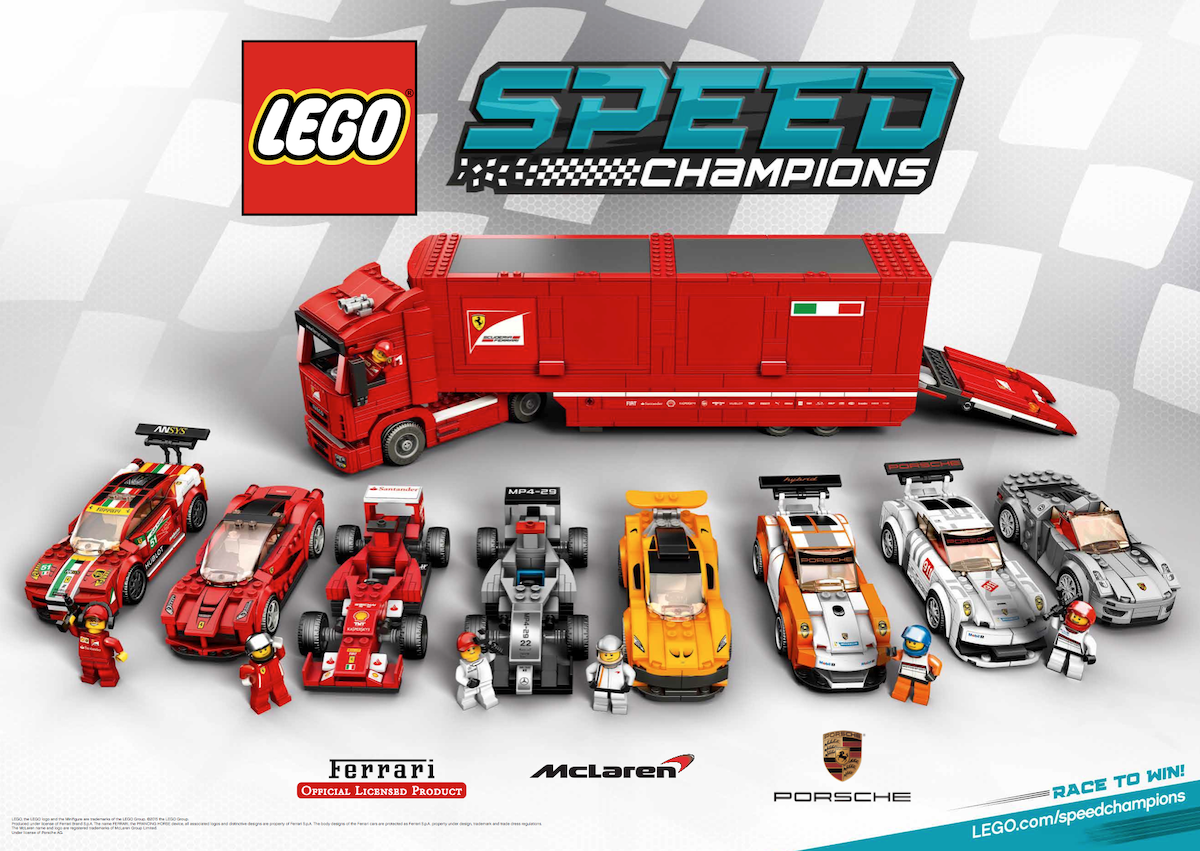 Originally LEGO teased seven introductory sets, with only four race themed models mentioned in the launch article -
McLaren Mercedes Pit-Stop set (75911), featuring the McLaren Mercedes MP4-29
Porsche GT Finishing Line (75912) featuring the 911 RSR and 911 GT3 R Hybrid
Ferrari F14 T Racing car with Scuderia Ferrari Race Truck (75913)
The complement was made up with three road car sets which tied into the 'holy trinity' hypercars of the day and a single extra race car. The theme of the year was definitely poster/dream cars and to really capture people's imagination.
As a starting point for the series, these models were incredibly strong - a complement of the top F1 cars and teams and the three top road cars. The Ferrari 458 Italia GT2 is odd in this regard - it's presented in a Scuderia works livery as it would be raced by a factory team, and my assumption might be that it was part of a deal with Ferrari to ensure their fans would have a comparative model to each of the classes offered in Speed Champions (Hypercar, GT and F1).
These sets are markedly different to what we're used to seeing released today - there are more exposed blocks, more square edges and I think a more even trade between having a LEGO style and representing the actual car they're based on. The F1 car models do the best job of conceding towards being like the real thing. It's super cool to see the evolution of LEGO's design in Speed Champions models.
The larger sets were surprisingly expensive - it seems LEGO covered their bases with a handful of cars at the usual US $14.99 price point and then created combined sets (the two 911's, Ferrari F1 race car and truck, and McLaren Pit set with F1 car). The Ferrari set retailed for US $99.99 which is strong for the Speed Champions series; the Porsche GT was US $49.99 and McLaren set US $29.99 - it's quite likely LEGO wanted to try out different price points and set complexities to see what would be popular.
With more recent releases it seems LEGO decided the McLaren set format - a small number of minimal accessories and a cheaper overall set price - was the winning formula for keeping the Speed Champions series popular.