LEGO Technic McLaren Formula One Race Car 42141 Announced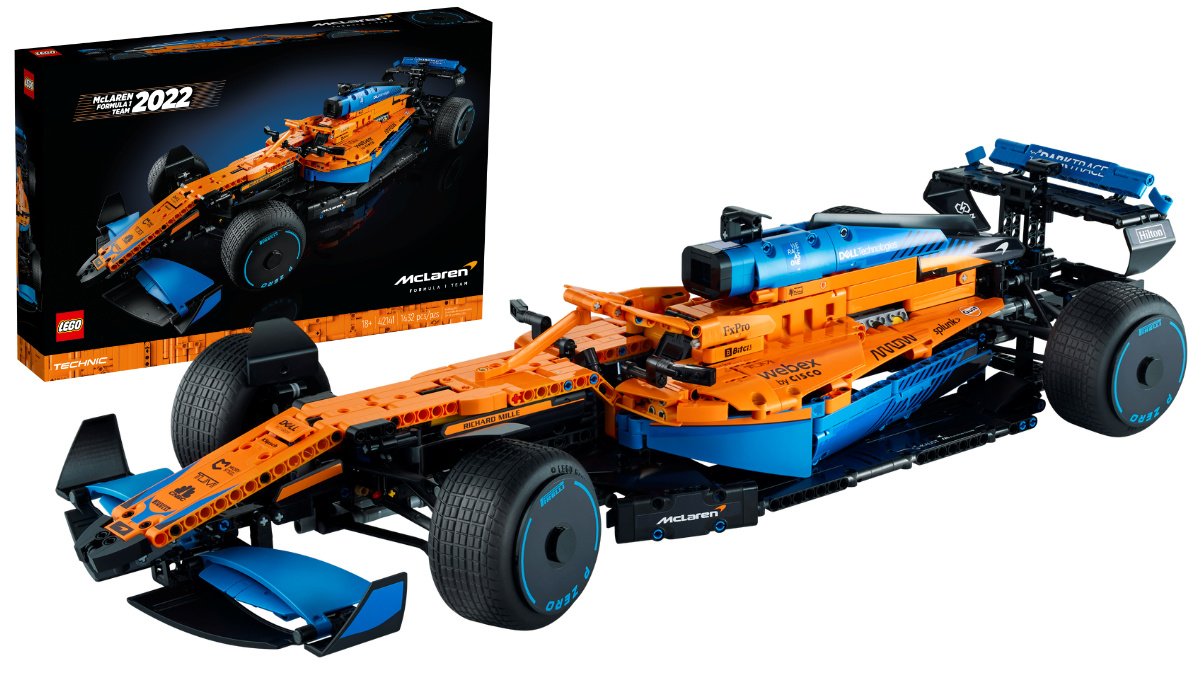 We'd seen rumours and leaked shots, but today LEGO and McLaren have officially revealed their collaboration on a new Technic F1 set based on their 2022 season car. The set comes in at 1432 pieces, and $179.99 US / $239.99 CAD / £159.99 GBP. We're going to see the set released on 1 March 2022 alongside this year's new 2022 Speed Champions line up.
With the official reveal of McLaren's 2022 Formula 1 car not until February 11th, it'll be interesting to see how closely this model resembles the real thing - there's certainly a chance the livery could change and LEGO have definitely taken some liberties with the design. LEGO refer to the set on their store as a display model, and we think Technic fans are best to look at the model through that lens - these modern LEGO sets strike a great balance between display presence on a shelf and build challenge, rather than the skeletal sets of old.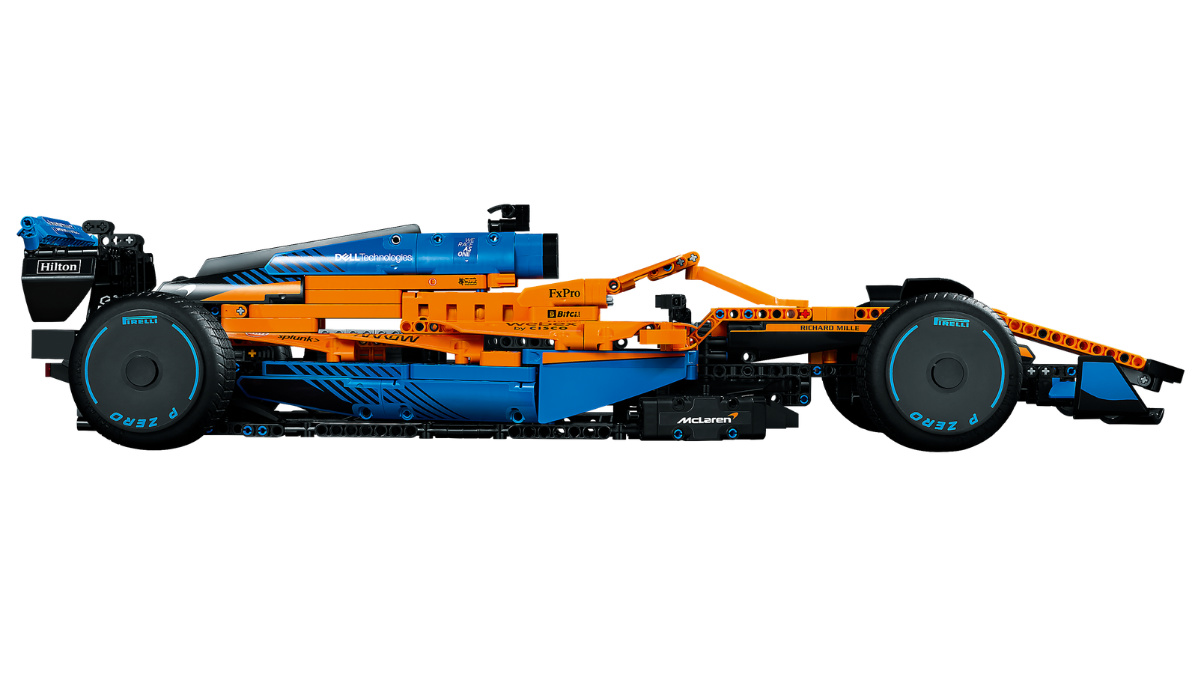 We're seeing the Pirelli branded tyres, as with the Speed Champions Mercedes-AMG W12, but notably the tyres themselves aren't printed and instead a wheel disc with the tyre graphics overlaps the generic LEGO tyres - as we noted there, Pirelli have insisted that these models with treaded tyres use the realistic blue bands as per a F1 wet weather tyre. The car is essentially in the 2021 livery, featuring all the sponsor placements and presence that we'd expect from that car. A fun fact for the LEGO/F1 nerds out there - LEGO have actually gotten this wrong, the blue plates should say Cinturato rather than P-Zero. They got it right on the W12 Speed Champions model however.
The V6 engine protruding from the sides of the set is a bit of a strange choice - while it looks good on the LEGO website to advertise working features of the model (and Technic has mostly been known to show off its mechanisms) having no covers or bodywork shroud for this feels a bit strange. It really does leave us wondering, at this significantly lower piece count and price band than the Ultimate Collector Series, what LEGO could do with an unlimited piece count and budget in terms of an F1 model. The pistons do move however, as is typical of Technic engine builds on a model of this scale.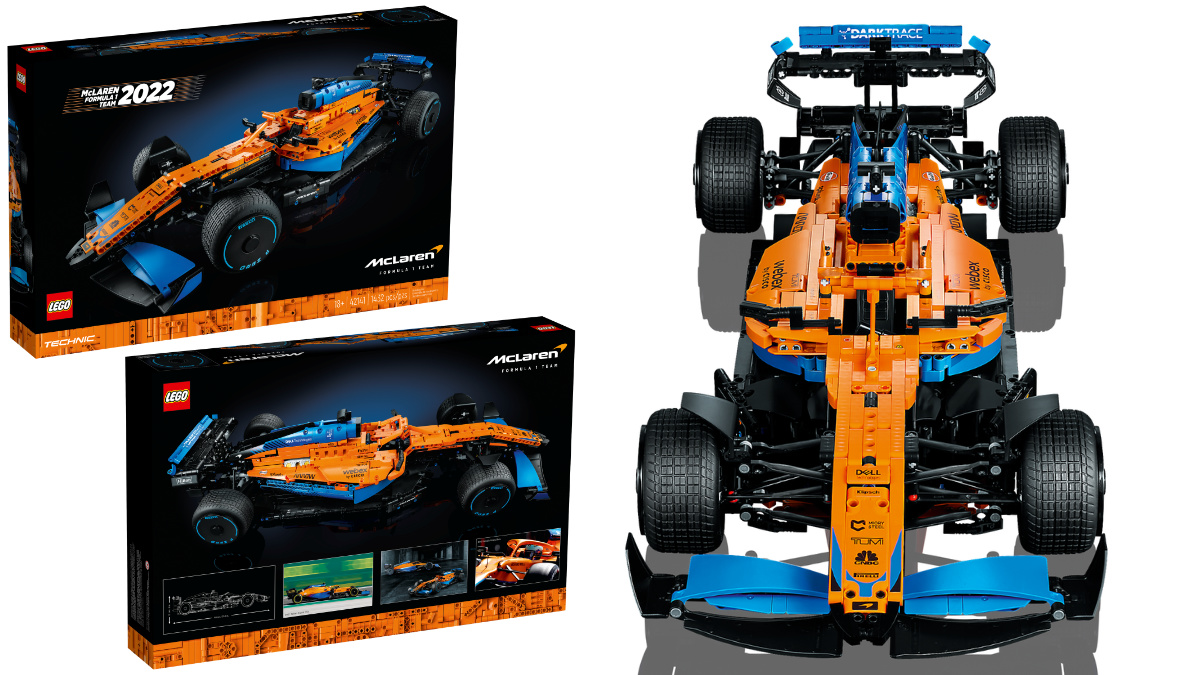 As we've noted, this isn't the only F1 car we're seeing from LEGO in 2022, with Speed Champions gaining the Mercedes-AMG F1 W12. The W12 is very definitely a 2021 design car however, and this model is definitely of a 2022 spec and onward car, with a very different look given the new rule set for the sport.
In terms of Technic features, we have steering, active suspension and a differential present for the rear wheels behind the engine but thats about it. To be fair, as we mentioned above at this price point and piece count, a fully built out sequential gearbox or other technical features would be difficult. We'll have to hold our breath waiting for a larger, ultimate series scale F1 car. While we've got the engine cylinders, we can't get any look at whether there's further turbo or hybrid system detailing around the engine.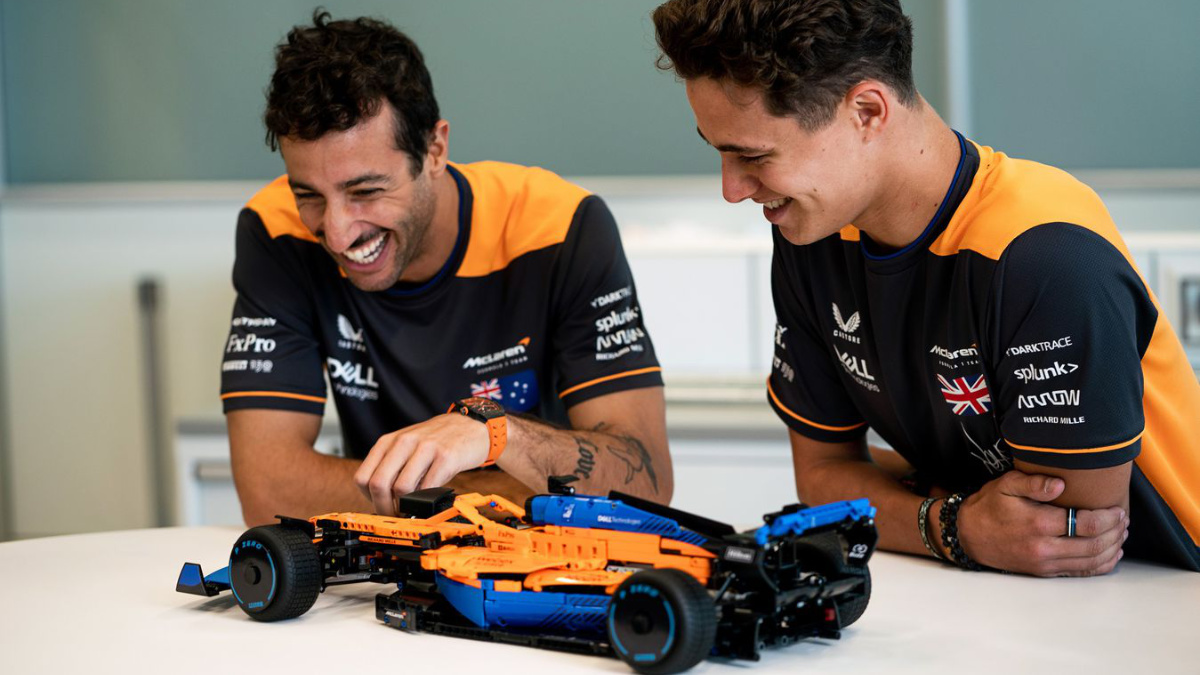 Obviously it's not the first time we've seen an F1 themed Technic set - At Technic scale the BMW Williams F1 car represented the pinnacle of F1 LEGO and has been difficult/expensive to obtain for many years. The set was later sold generically as the Silver Champion as set 42141. We've also seen McLaren race cars in the Technic line recently, with the blue, smaller scale Senna GTR (set 42123) We did also see a similar set as the Ferrari F1 car in the LEGO Racers series, set 8386 which while Technic style, wasn't actually sold as a Technic set. Modern Technic has really taken a step on with gapless construction and a more model-like appearance than the skeletal sets of the past, so we can't wait to see this one in real life.