LEGO Technic Lamborghini Sián FKP 37 42115 Revealed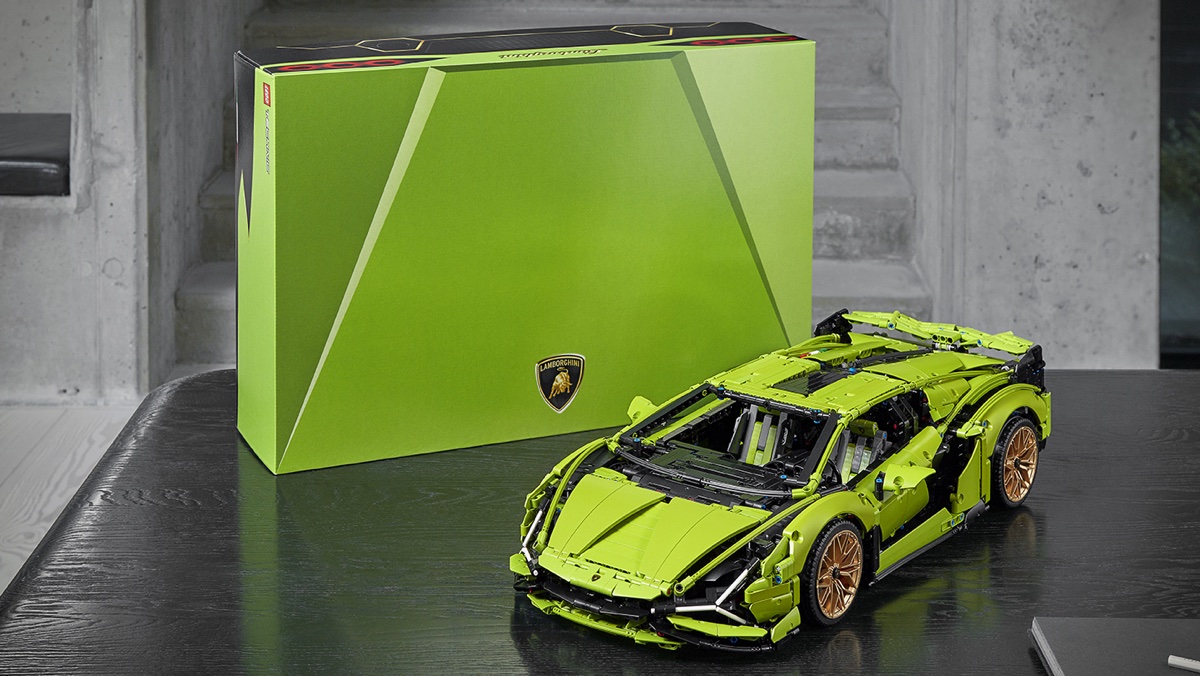 After its initial tease all the way back in January, we're seeing the first official shots of the LEGO Technic Lamborghini Sián FKP 37, set 42115. It's been a long road to the release of this set, which takes on the mantle from the Porsche GT3 RS and Bugatti Chiron of being LEGO's most prestigious car-based set. True to their "build for real" subtitle for these sets, LEGO have created a 1:8 replica of the Sian that's a must have for all Technic collectors.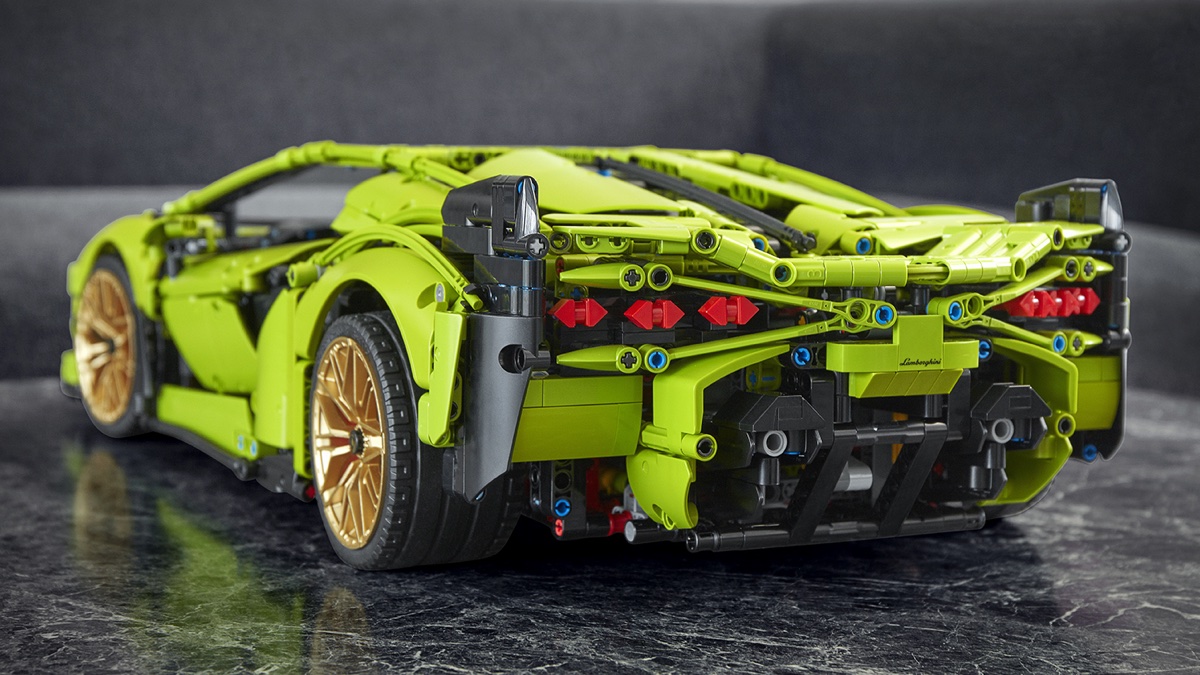 The Technic Sian is in lime green, with gold wheels, certainly an eye catching colour combination and true to form for the Skittles colours we typically see Lamborghinis in. The wheel rims are custom to the set, as we'd expect for these top end Technic sets, and there are Lamborghini branded hub caps. Interestingly, LEGO considered 8 different colours (including pink!) before choosing this lime green - as we'll mention later, this probably tied to the decision to produce a model of the Sian FKP 37 rather than the current production Aventador SVJ model). We've seen mention online that the set has no stickers at all, using only printed components - if true, this would be a nice step up for this set from the GT3RS and Chiron.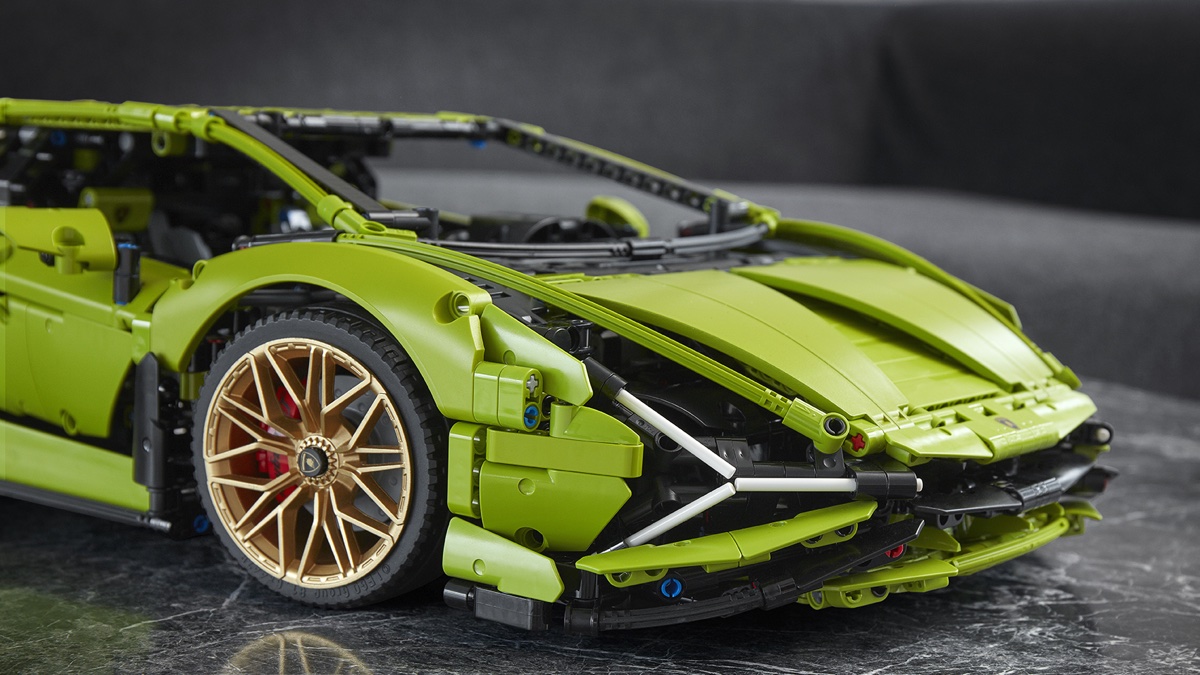 These are never small sets, and at 3,696 pieces this has plenty to keep builders busy. The model is 5"/13cm high, 23"/60cm long and 9"/25cm wide to replicate a 1:8 scale. LEGO have included many features and mechanisms. On the outside, the trademark 'Lambo' scissor doors, a lowering spoiler for overall top speed and opening front and rear compartments (ready to receive that Lamborghini overnight bag) are visible. Mechanically, the trademark V12 engine has been recreated with moving pistons, we've got an 8 speed paddle shift gearbox complete with a window left on the underside of the model to observe its workings even once the model is complete.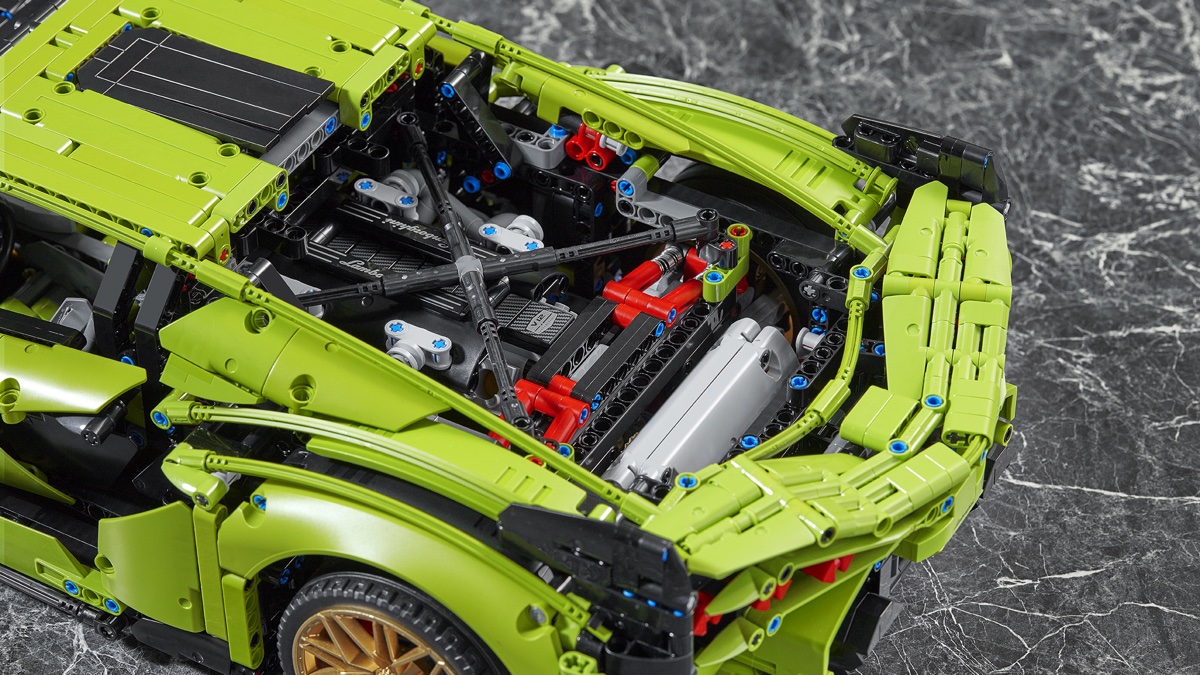 LEGO have also included front and rear suspension, using a pushrod setup which is sure to be fun to build. Detailed brake discs lie behind those custom, huge gold wheels and the interior cabin has been recreated, with the digital dash and (unsurprisingly) fully working steering. There are a ton of unique small details around the model, one of our favourites was the Italian tricolore built into the seams between some of the panels on the model - this kind of detail is exactly what sets these halo Technic sets apart.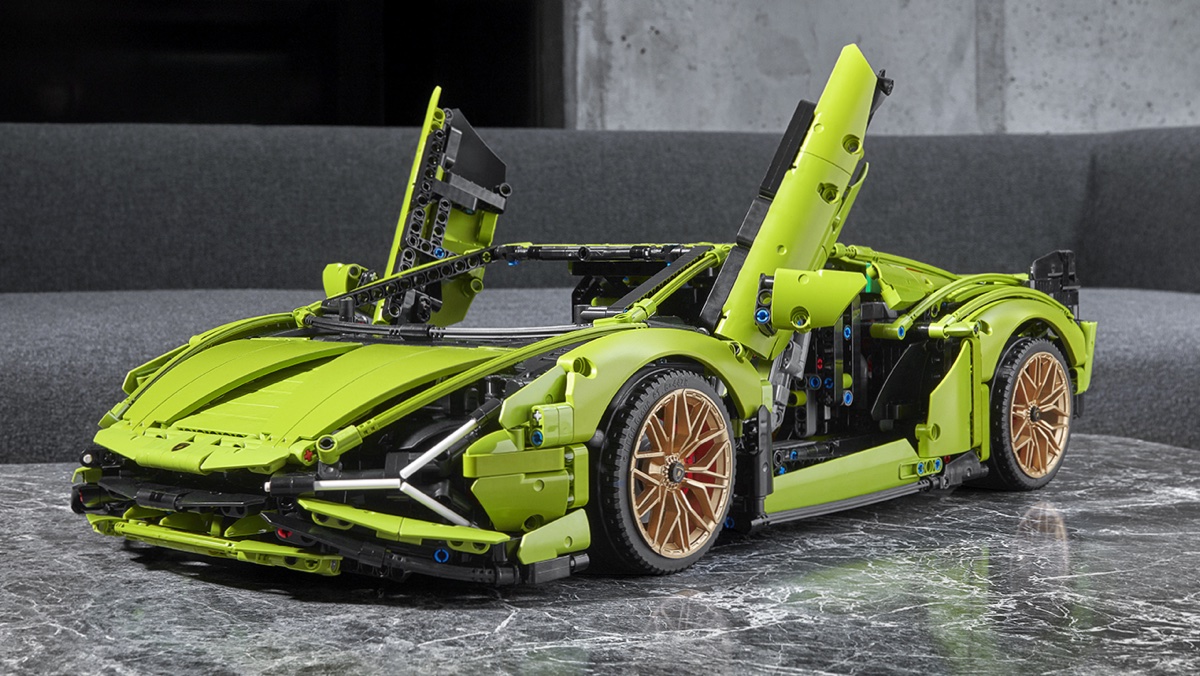 This set comes with a collectors booklet just like we saw with the Chiron - complete with a unique serial number providing access to online content, located on a tile under the hood. There's a series of 13 videos that support the build stages of the model and explain the design inspirations and choices made when designing the set. Interestingly, in one of the behind the scenes videos, we can see that the LEGO designer responsible actually had a Aventador SVJ prototype built at this scale, clearly LEGO and Lamborghini made the call to go with the more futuristic, prototype Sian FKP-37. If I had to guess, I'd say the Sian may more closely represents the design direction for Lamborghini's future Aventador replacement.
Last but not least, this set features a unique box design, with the entire top being a replication of the hood of the Sian, and the side the rear end - many people thought it was fake due to this variation on branding. On a shelf this set can definitely look like Technic or almost a real model Lamborghini thanks to this variation on the LEGO branding. AT 349 GBP / 379.99 USD /489.99 CAD it's unlikely that anyone who doesn't have a knowledge of what this set is will pick it up on a whim and no doubt it'll be gracing display cases in LEGO stores far and wide as the halo vehicle for the series - in some markets it's more expensive than 2018's Bugatti Chiron set, other's its cheaper so you'll have to check the LEGO online store to see the damage to your wallet.