Mercedes AMG Petronas Formula One Team Review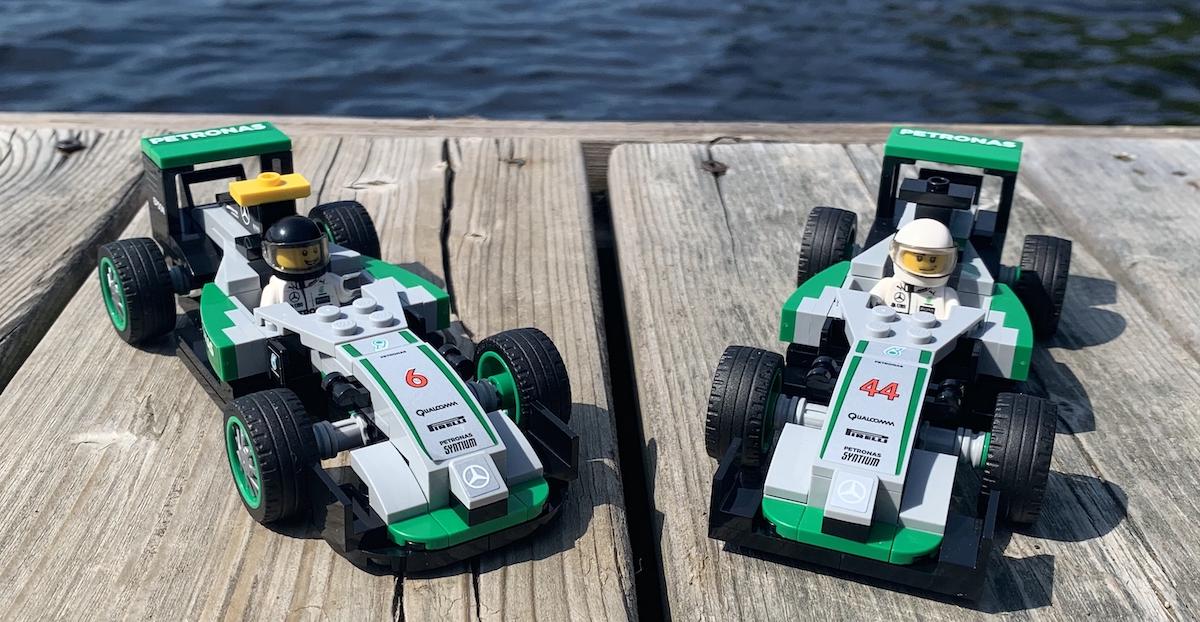 With the way the 2019 Formula One World Championship is going, you would be forgiven for rolling your eyes at today's review. With the British GP coming up this weekend, it seems timely to cover this set from 2017; 75883 - the Mercedes AMG Petronas Formula One Team. With this LEGO set now retired and hard to find across retailers, we went out hunting for retired Speed Champions models in Toronto and managed to find this brand new sealed in box version. Without further ado let's have a look at everything you get in this set.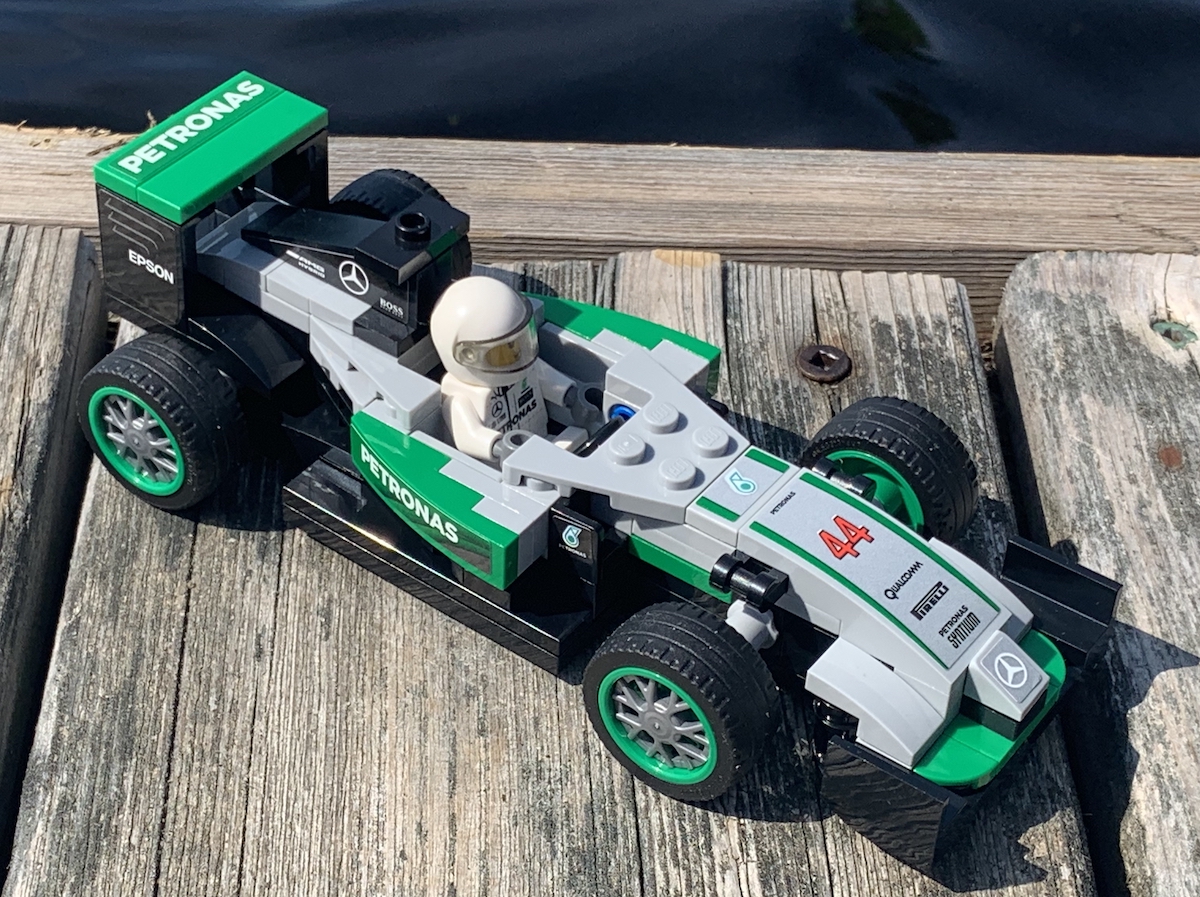 This is a 941 piece set, which when you consider it only has two Speed Champions vehicles is a bit puzzling. All is revealed however when you see the size of the box and it illustrated all the way out. Not only does this have the two 2016 Mercedes AMG F1 cars, it comes with a total of eight (yes, 8!) mini figures. These are distributed across the set. You receive a race garage style setup with a bay for working on the car, tool kits, a lighting rig build in as well as multiple display screens. Connected at either side of this pit set up via clips comes racing kerbs and setups behind the fences. If I was to hazard a guess, I'd say this set was inspired by the Monaco Grand Prix, however the box art only shows a paddock behind the set so we're just left guessing.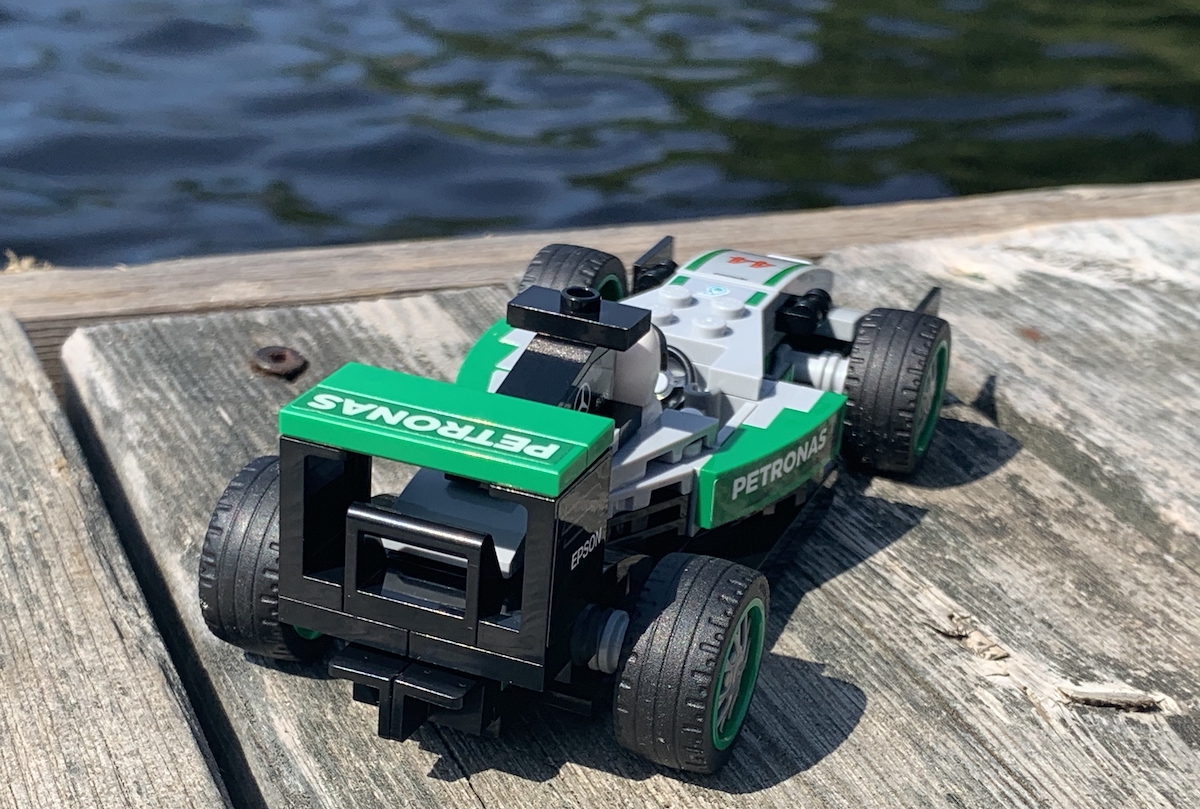 The kerb setups are quite cool, a set of red and white kerbs connect to high walls and on the left hand side of the kit you'll get a camera operator and a remote controlled camera set up on an axis that can go up and down and follow the cars. There are miniature fire extinguishers and tools on the other side of the wall, as well as monitors, fencing and sponsor logos which you attach via stickers. On the right hand side, you get a full double height podium setup, with stairs up to the level where the podium and lighting is held and underneath you get another TV platform.
The set also has a random addition, an orange shirted LEGO man standing in the background of the set with a hot dog stand. The hot dog stand comes complete with multiple miniature hot dogs, a tomato ketchup and mustard dispenser and a parasol. Maybe LEGO had some spare parts to use up to increase the piece count, because in all of my visits to F1 races I've never seen a hot dog stand (it seems a little low-rent when it costs up to £20 million a year in order to host a race!). The designers of this set made a neat reference here, a nod to multiple world champion Lewis Hamilton, as the stand is named 'Roscoe's Dogs'. Lewis Hamilton owns a bulldog called Roscoe that sometimes comes along with him to race weekends. It's quite a cool in-joke of the designers of the set because, as you will note, LEGO did not license the likeness of either Lewis Hamilton or his team mate Valtteri Bottas.

Let's start the meat of this review by looking at the F1 W07 Hybrid car models. You get both a number 44 and a number 6 Mercedes W07 Hybrid. They have a good amount of realistic sponsor branding on them, with Pirelli, Petronas (title sponsor) Qualcomm and Hugo Boss just like the real cars.
It's impossible to get past this section of the review without acknowledging that these cars feature the wrong color for the title sponsor, Petronas. In real life, Petronas use a very bright aqua turquoise color for their branding, not green, and it means this set does look a little like an Octan GP set at times (the stickers help to fix this). Without LEGO introducing an entirely new colorway for the elements it's hard to know what they could have done here.
Apart from the small issue of colouring, it's a fairly standard F1 car setup at Speed Champions scale, and is a step forward from the very first Ferrari (and truck) set. Overall, I think the W07 Hybrid here isn't quite as refined as the Ferrari SF16-H set (75879) that came out around the same time. The cars are differentiated by different coloured (yellow or black) elements at the top of the engine, representing the TV cameras that would go on top of the car.
Buying these sets in 2019, they do feel dated due to the addition of the Halo to F1 cars years after Felipe Massa's horror crash, which removed the top mounted camera on F1 cars. I'd be very keen to compare this car to the 75995 Mercedes-AMG Petronas Team Gift 2017 set containing just the #44 car from the next year - hopefully funds and time permitting we'll get a chance to do that review!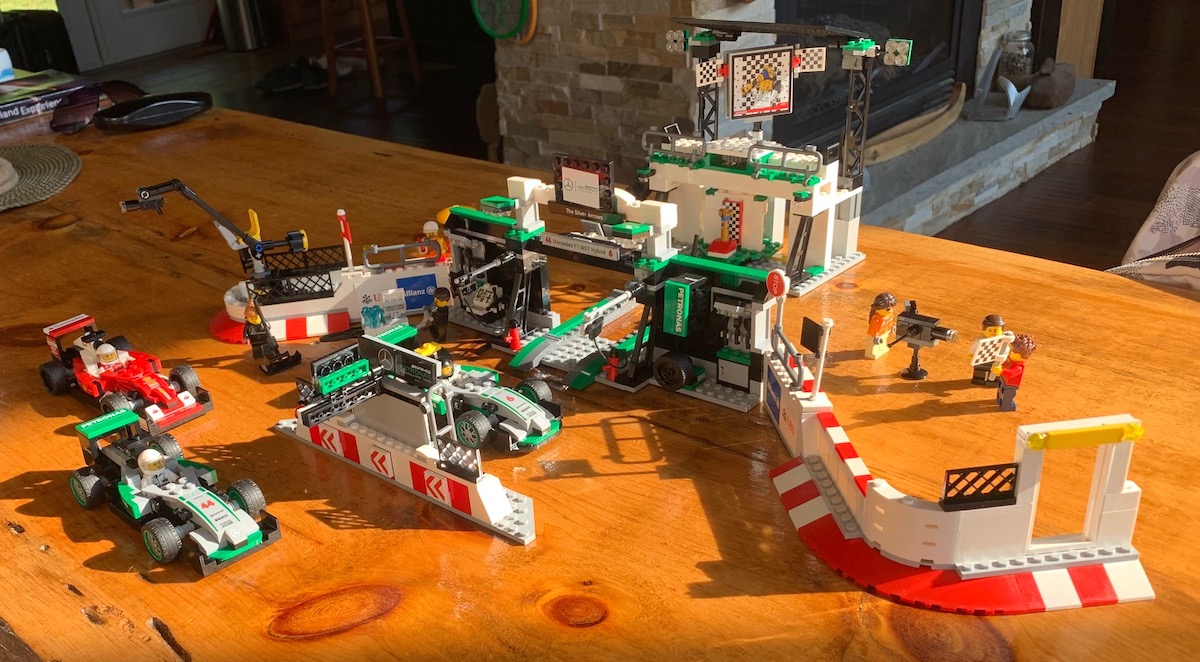 If you've read the site a lot, you'll know the accessories are rarely something we buy into as we are mainly fans of the cars, however with a few days away at a lakeside cottage we put together this entire set. If you have a raceway set up like some people do, you'll love putting this in and displaying the whole set, but otherwise it is quite cumbersome and takes up a lot of room. Technically, it is brilliant, I love the pit lane setup and the lighting, and the corners and fences look really good when they are built up fully vertical.
The retail price of CA$ 129 is quite heavy though, and reflects that the set is almost 1,000 pieces. I would not be surprised if an average Speed Champions fan felt quite short changed by the set if they're mainly fans of the car models themselves. At least LEGO have you covered with the individual Ferrari F1 car set. If you're not into Formula One racing, and/or not a fan of the Mercedes-AMG team, this set may not feel like good value for you. I'd say you may be better of going onto an auction site or brick marketplace and just purchasing the vehicles themselves (or finding the original McLaren Mercedes Pit set for some old-school collector action).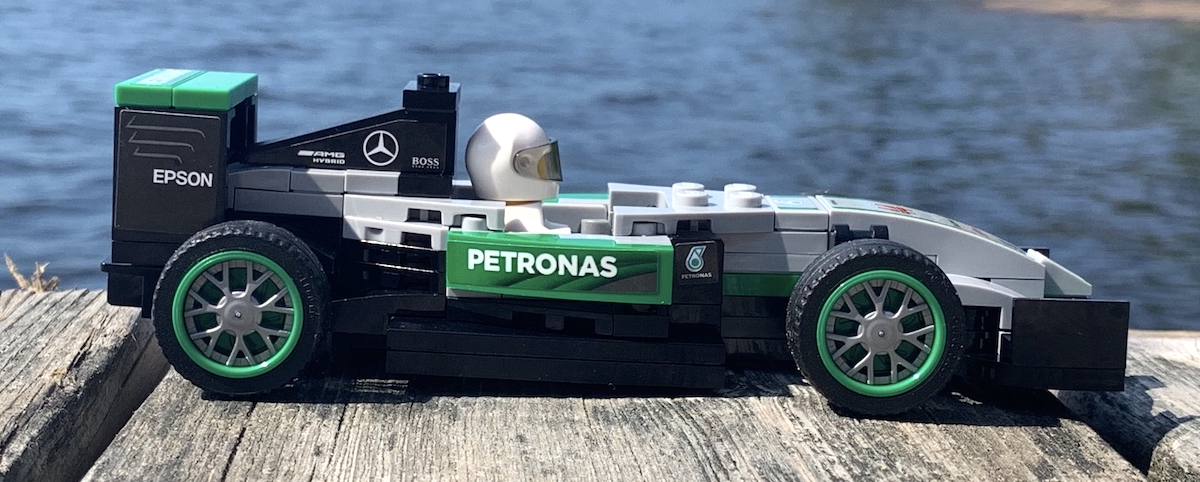 As of Summer 2019, you will struggle to find this set in any shops in Europe, it's been retired for a while. In the US and Canada you can still find it in the big retailers, however the only stock of the toy set are the ones on shelves so once these sell out, you'll be restricted to looking second hand like the rest of us to find it. Second hand and out of box the set isn't really fetching a premium yet, but I have no doubt due to the initial cost this set will go up in value and those who keep it sealed will do well in terms of return on investment. With the winning nature of Mercedes AMG in the hybrid era, especially Lewis Hamilton coming close to the legendary Michael Schumacher in terms of total World Championships won, this set will definitely be in demand by collectors for many years to come.