Ferrari F40 Competizione Review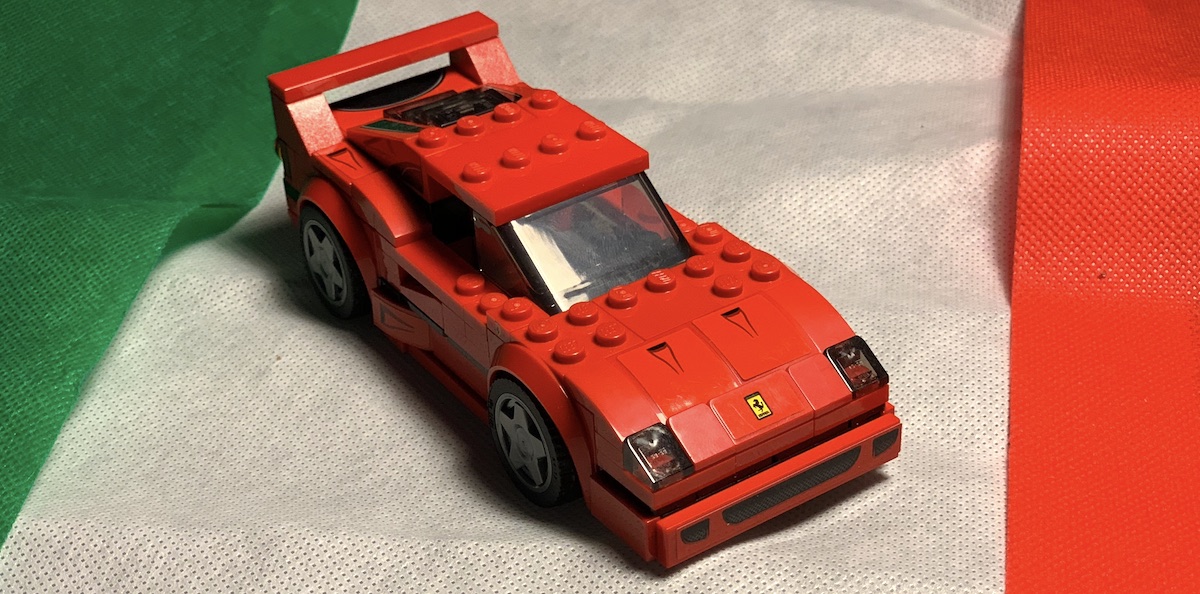 I'm going to start the review of the 75890 Ferrari F40 Competizione set with my brutally honest thoughts. If you're a LEGO fan, I'm just going to ask you to think back to July 2015 and the 1158 part expert set that featured a stock F40. What in the world were LEGO thinking releasing a Speed Champions set when there is a perfectly good recreation of one of the most iconic and possibly one of the original 'supercars' of all time. I'm not judging the Speed Champions rendition here, I just think the decision making is poor.
Yes the F40 massively lends itself to the brick form, especially when compared to the aerodynamic masterpieces that followed with the F50, Enzo and LaFerrari, so I get that they want to cash in. I also completely understand the expert set was around 10 times more expensive than a Speed Champions kit would be, and it having been released in 2015 and the Speed Champions edition coming out in early 2019 meant there will not have been many people who could get their hands on the Expert edition without paying a second hand premium.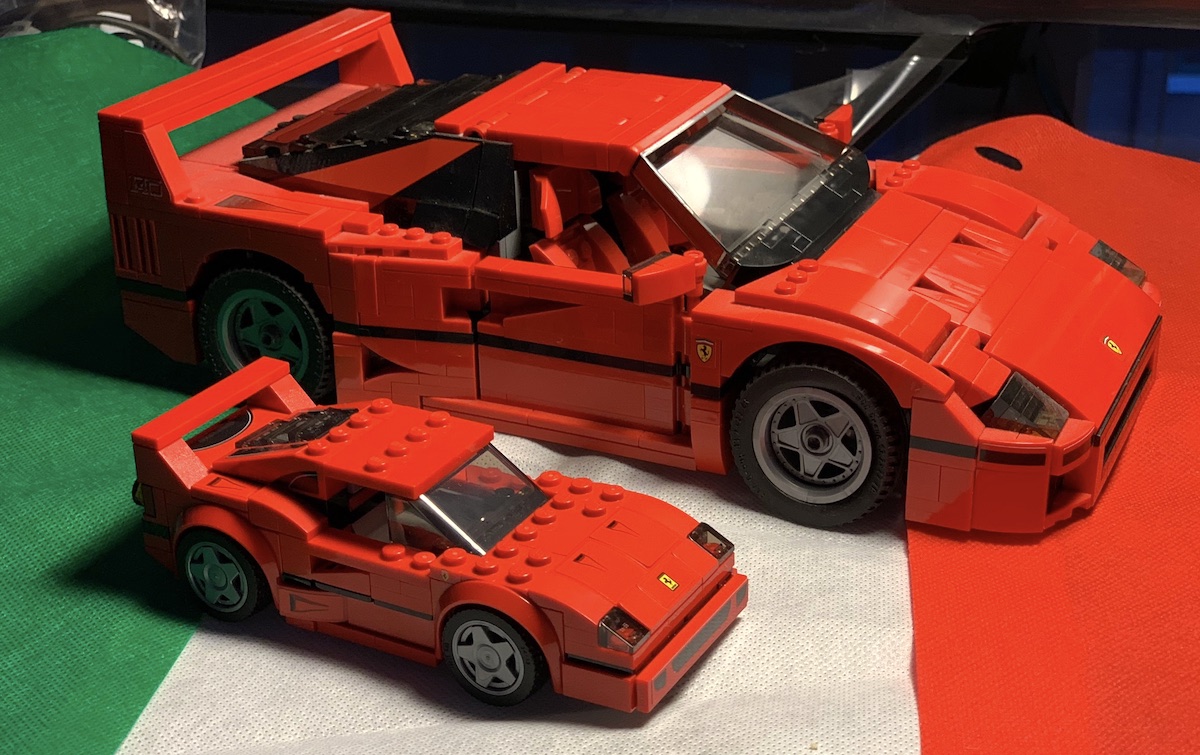 Some of their decision making is valid here, but I have to agree with prominent YouTubers when I question why - with the entire model range of Ferrari available - they didn't choose some of the most iconic models past and present that hadn't already been put in the LEGO form. The F12 TDF, the fastest V12 model ever made, the Testarossa - iconic 80's legend, and featured in The Wolf of Wall Street, or even my personal favourite Ferrari of all time, the 355 Berlinetta or Spyder. In fact, it would have been an awesome achievement to make the first convertible Speed Champions set, maybe with a removable roof. Now being a fan I don't have access behind closed doors and I'm not too sure how much the guys at Maranello would dictate with models of Ferrari get given sets and which don't, but I really wish LEGO had been more inventive, especially over 4 years into the model cycle of the range.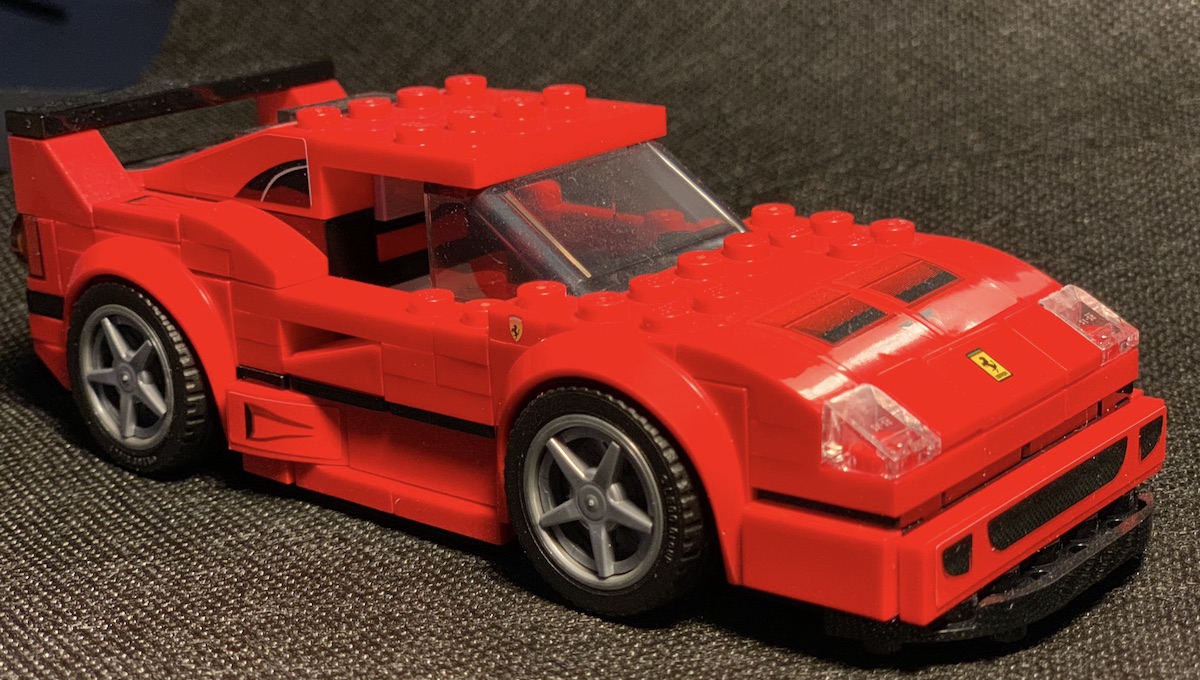 That rant aside, let's review the 75890 set and see what you get inside the box. LEGO are clearly self aware here as they have released this model as the F40 Competizione. In real life, released in 1989 and famed for it's hung front splitter (very Max Power) and massive 5 spoke OZ racing wheels as well as a carbon spoiler, the Competizione model was an absolute beast, and is probably now with private collectors and extremely wealthy owners around the world. If you think it's rare to see an F40 on the streets, these will be like unicorns.
The F40 Competizione has more famously become known as the F40 LM. Ferrari originally created the car for a French dealership owner, who quite appropriately wanted to race it in the epic 24 hours of Le Mans endurance race. Other Ferrari customers wanted a piece of the action and started ordering the car, which came with an uprated engine, suspension and the aerodynamic upgrades. Ferrari then felt that the Le Mans (LM) tag pigeonholed the car and named it the Competizione. Clearly this didn't stick with collectors and they've over the 30 years since gone back to calling it the LM mainly, and the demand hasn't dropped since. If you like your LEGO version of the F40 and want to daily drive a real one, you'll be looking at stumping up around 5.5 million euros, which is around £5 million or US$ 6 million, so get saving those pennies.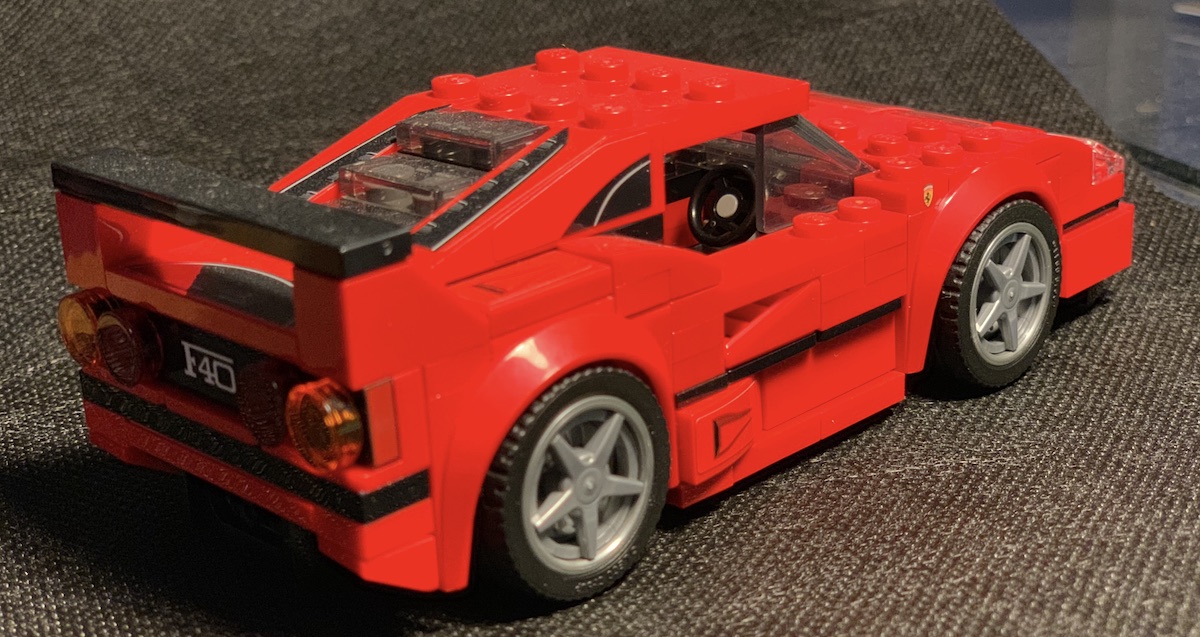 Noting my earlier frustrations. Why does this set have to be red? I understand it's the iconic Ferrari colour and probably in their contract with LEGO, but the famous French Blue F40 LM with racing livery is such a breathtaking car. It might not have sold as much on shop shelves but if you put this set out with some of the racing liveries it had on it during it's lifetime and a different colour style, it would be an absolute must buy for some collectors and probably a whole lot more valuable down the line.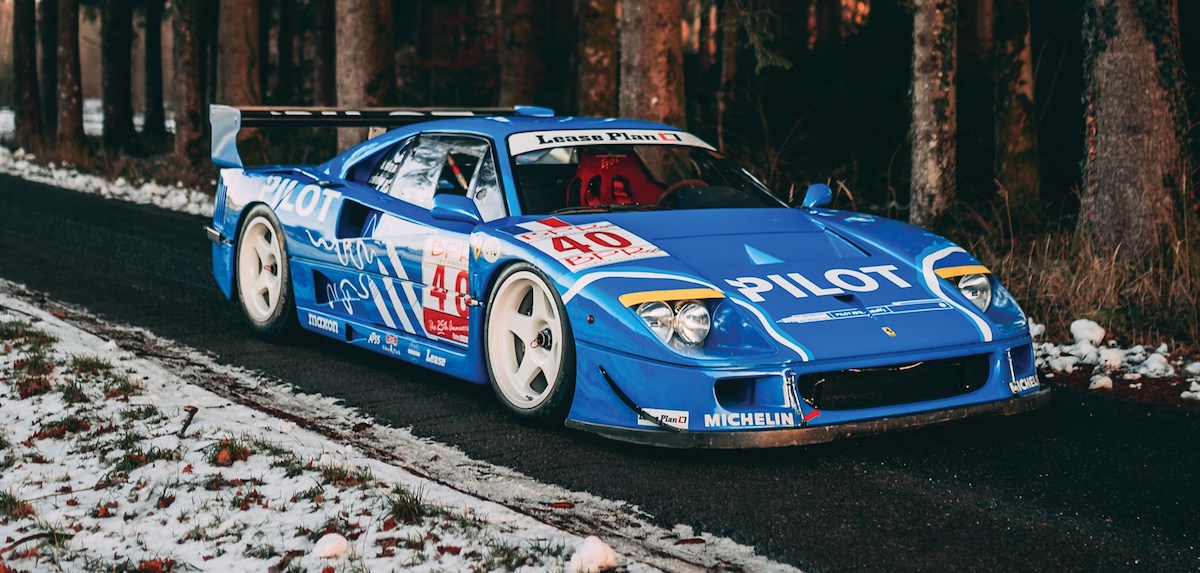 Let's go back to the set. You can see it here compared to the expert model. It's fun to build, faithful to the car and has done a really good job of miniaturising it. I like the changeable parts they've put on, so you can take off the 'carbon' look parts and front splitter and add darkened front headlights to make it either road going or purely race track. The Speed Champions range is at too small a scale to start trying to make recessed headlamps, as differentiated the Competizione from the original F40.


If you haven't had the Expert model, this is a must buy. You don't get a lot in the way of accessories because of the duplicate parts to change on the car, but I like that, I feel some of the accessories can be cheesy. You get a little Scuderia Ferrari mechanic with his wrench, who would clearly be charging an exorbitant amount per hour to work on such a machine, and in a rare move for Speed Champions you get 3 sets of wheels. The thin 'road style' 5 spokes are the best, there's a very strange set of multi spoke alloys that look like the prototype Porsche 718 GT4 wheels, and then replicas of the OZ Racing 5 Spokes. If you own the set, put the chunky OZ Racing 5 spokes on and tell me it doesn't make the model look strange, which is a real let down.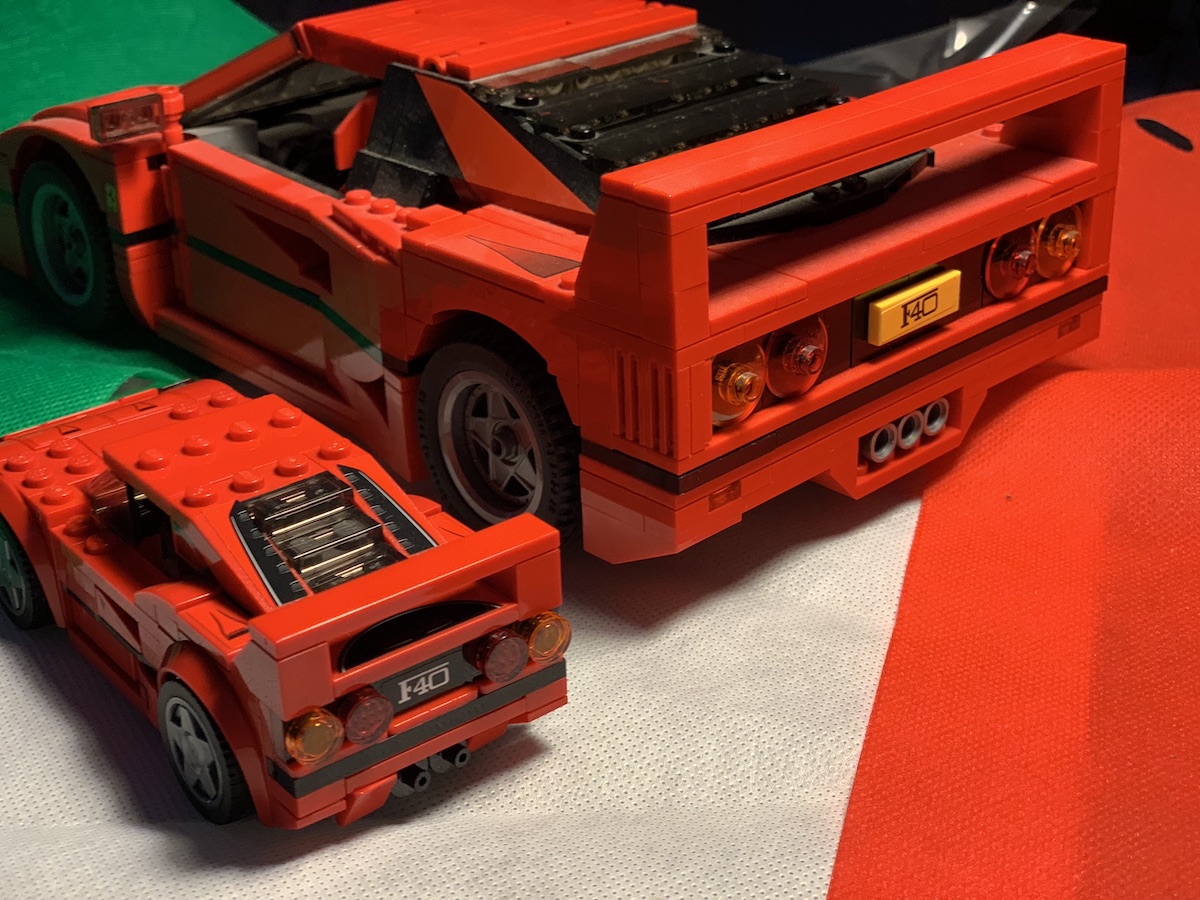 Real-life
 Stats

Produced: 1987-1992 (Competizione circa 1989 onwards)

Engine: Twin turbo V8, 2.9 litre, 700hp

Top Speed: 367km/h

Price: Over £5 million at auction