It Was The Tide? Smash 10 Sandcastles in the '67 Corvette Stingray in Forza Horizon 4
Another Forza Horizon 4 LEGO Speed Champions expansion challenge post today. This time it's "... It was the tide?", a challenge requiring you to drive the Chevrolet Corvette '67 Stingray and smash 10 sandcastles with no time limit, the reward is 30 bricks toward building that house and getting full completion of all the challenges in the game.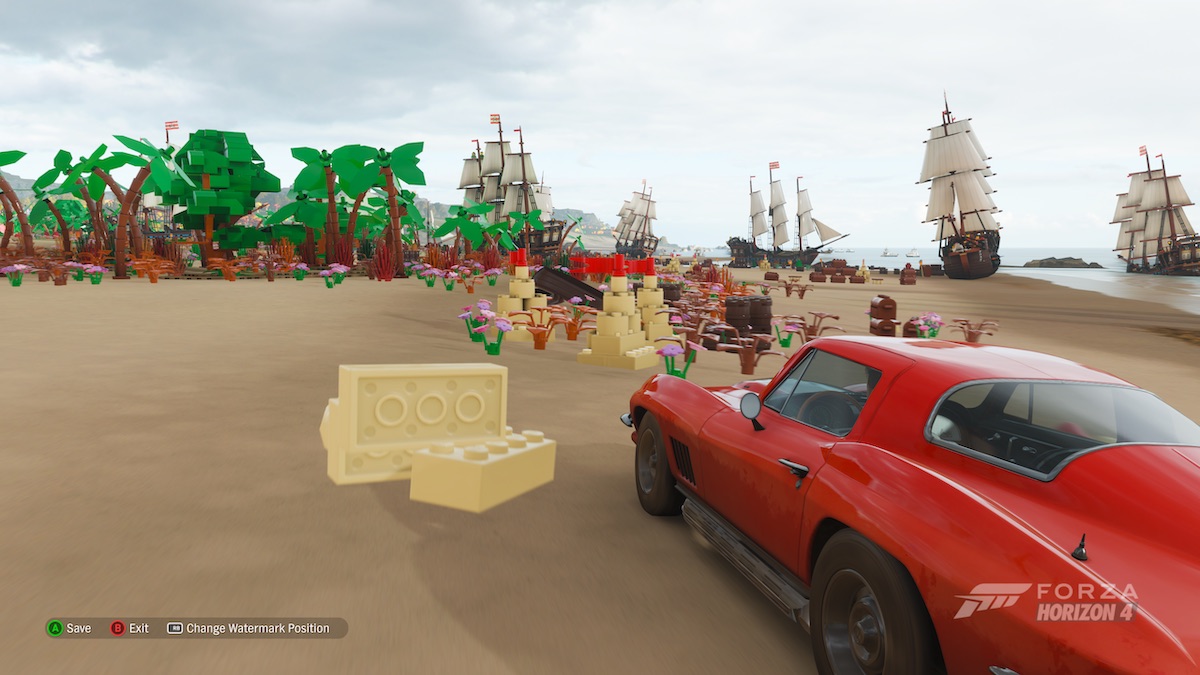 The Corvette '67 Stingray is available under Chevrolet from the Master Builder's house costing you 150,000 credits. We've included an image of what the Sand Castles look like above - you'll find them in and around the beach, specifically around where the pirate ships are. Since there's no time limit, take it easy and enjoy sliding around the beach in this muscle car before you collect that 30 brick reward.
The 1969 Corvette Stingray Coupe was a 5.7 litre notchback and was the car of choice of astronauts and pilots. There was a good amount of technology in the vehicle for the time, with fully independent suspension and a Posi-Traction rear axle. Stingray started appearing on the cars more and for the first time in 1969, more people started buying the coupe with the removable roof panels rather than the fully convertible car.
Why's the car associated with sand? This was the American dream car, cruising down a Florida highway towards the beach, and features in films such as First Man because allegedly Corvette gave them to free to the Apollo astronauts, which massively helped in the Q factor of making the vehicle cool.
It's nice for Forza to honour this vehicle in such a way, most of the cars in Forza Horizon are all the latest and greatest hypercars to attract the gaming crowd - and the challenges are setup for cars that'll either win in a straight line or a circuit. Let's be honest the 1969 Corvette Stingray wasn't build to on the Nurburgring or win any street races - but it was iconic and this challenge is all about showing off what this car meant to the people of the day.